•••••••••••••••••••••••••••••••••••••••••••
Another day and another round of layouts based on the two-page sketch.
Today's layouts are great examples of how to add your own style and finishing touches to the sketch to fit you and your theme.
Two-page Sketch #7
You can download and print this sketch by clicking on the two-page sketches link found under the "printable sketches" tab on the right sidebar.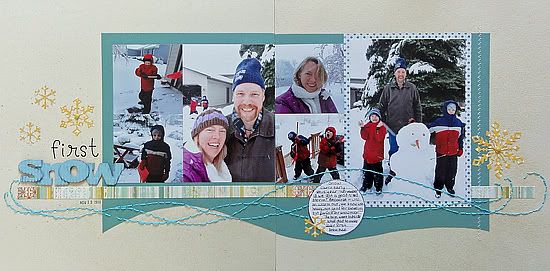 "First Snow"
by Jennifer Larson
Supplies -
Cardstock:
Stampin' Up! and Bazzill;
Patterned Paper:
Studio Calico, Crate Paper, and Basic Grey;
Die cuts:
Quickutz;
Corrugated letters:
Jillibean Soup;
Rub-on letters:
KI Memories;
Floss:
Karen Foster;
Journaling stamp:
Autumn Leaves;
Ink:
Stampin' Up!;
Mist:
Studio Calico; Zig;
Pen: Brads:
Craft Supply;
1. The snowflakes in the sketch made me think about the first snowfall this year, which came rather early. I wanted to add another photo than the sketch, so I replaced the journaling spot with another photo and added the stamped circle along the bottom.
2. I used a couple mists on the background, yellow and aqua, to make the background paper a little less bright. It also helped the photos stand out more.
3. I loved the bottom curve in the sketch, which I hand drew and cut. It reminded me of blowing snow, so I hand drew a few swirls on the finished layout, punched holes 1/4' apart, then stitched the swirls in blue.
• • • • • • • • • • • • • • • • • •
• • • • • • • • • • • • • • • • • • • • • • • • • • •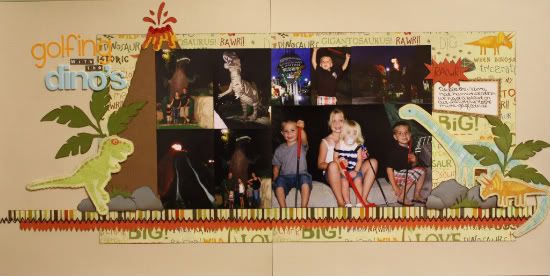 "Golfing with the Dinos"
by Christina Hoffman
Supply list
–
Cardstock:
Bazzill;
Patterned paper:
Imaginisce;
Dinosaurs:
Imaginisce;
Alphabets:
Doodlebug Design, KaiserCraft and Thickers;
Ink:
Colorbox Fluid Chalk Ink (chestnut roan, charcoal, and creamy brown);
Adhesive:
Scrapbook Adhesives by 3L;
Floss:
DMC;
Cutting Machine:
Cricut
Variation #1
– I made several changes to this layout and the first noticeable change was to the patterned paper. The original sketch was for the left side of the paper to be cut at 7 ½ x 9" and the right side of the page was supposed to be cut at 9 ¼ x 9". I kept the measurements the same for the left side of the page but I did make changes to the right side by adjusting mine to 10 ½ x 9'.
Variation #2
– I also added an extra layer of paper cut into zig zags under the striped strip and then stitched a zig zag in between both of the strips.
Variation #3
– My next noticeable change would be to my pictures. I did not have pictures to fit the original sketch so I knew I was going to have to make a few adjustments. The sketch calls for three 3 x 3" photos, one 4 x 6" photo and one 5 x 7" photo. I ended up using four 2 ½ x 3 ½" photos, two 1 ¾ x 2 ½" photos, one 3 ½ x 2 ½" photo, and a 4 ½ x 7" photo.
Variation #4
– I hand cut the volcano, lava, rocks and the journaling block. I used my Cricut machine to cut the grass and bamboo leaves.
Variation # 5
– Since I had steered away from the original sketch so much I had to make adjustments to my title and my journaling block. As you can tell, I moved my journaling block to the far right side of the page instead of using it in the middle where it was suggested on the sketch. I also moved my title closer to the top of the left side of the page.
• • • • • • • • • • • • • • • • • •
• • • • • • • • • • • • • • • • • • • • • • • • • • •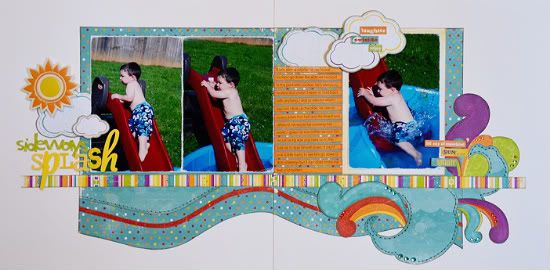 "Sideways Splash"
by Allison Davis
Supply list
-
Cardstock:
Bazzill;
Patterned paper:
BoBunny Press;
Sticker alphabet:
BoBunny Press (sideways) and Prima ("L" in splash);
Foam alphabet
: American Crafts (s,p,a,s, and h in splash);
Word stickers:
BoBunny Press;
Cardstock stickers:
We R Memory Keepers (sun);
Jewels:
Kaisercraft;
Embroidery floss:
DMC;
Tool:
BoBunny flex ruler
It is freezing here in my neck of the woods so I was hoping that creating a summery layout would temporarily transport me to warmer weather. It might have backfired since now all I can think about is how much I'm looking forward to the spring and summer.
Variation #1
- One thing I always like to show with our sketches is that they are almost always adaptable to an all 4 x 6" photo layout. Usually it only takes a few minor adjustments and is really easy to do.
I had to expand the width on the left back ground piece one inch and take one inch off the width of the right side. Most of the time it's only comes down to an inch here or there to adjust things to fit 4 x 6" only and really an inch is tiny compared to the total package - a 24 x 12" layout.
Variation #2
- I only had three photos of Jackson sideways sliding so I extended my journaling to take the place of the 3 x 3" on the right page.
Variation #3
- Since I had a splashing theme I thought it might be fun to create a big splash at the end of the wavy line.
I used a combination of designs cut out of patterned paper and my own designs to create the big splash. To add a finishing touch I added jewels and hand stitching.
Variation #4 - To finish off my summer theme I used clouds and a sun for my embellishments. I moved the bottom embellishment on the sketch to the top on my layout. I wanted to have a summer scene on my page and thought the clouds might look a little silly down at the bottom of the page.
• • • • • • • • • • • • • • • • • •
• • • • • • • • • • • • • • • • • • • • • • • • • • •
Sponsor Giveaway - Bo Bunny Press
This week I've mentioned the
BoBunny
flex ruler and how great it is for projects like the sketch we've used this week. I use mine for not only creating wavy or odd shapes on my papers but also for hand stitching wavy lines or swirl type of shapes. It really is a fantastic tool to have on hand.
Today we are giving 12, (No that wasn't a typo. I really said 12!), BoBunny flex rulers. You've got today and Saturday to leave a comment, we'll randomly pick 12 winners, and then post them on Sunday.
••••••••••••••••••••••••••••••••••••••••