••••••••••••••••••••••••••••••••••••••••••••••••••••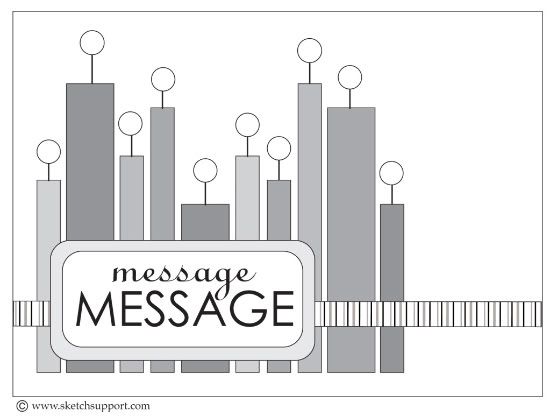 You can download and print this sketch by clicking on the card sketches link found under the "printable sketches" tab on the right sidebar.
With the candles across the card, Card Sketch #4 has a birthday theme however it can be used for many other occasions and themes by using different elements in place of the candles. Like houses or buildings, flowers, or fireworks. You can also stray from the measurements suggested on the sketch and use candles in all the same width or cutting the width as they are on the sketch but keeping the height of all the candles the same.
If you do follow the sketch as it is and use candles, the fun part is coming up with different ways you can construct them. The wicks can be made with stitching, craft wire, Memory Thread, or twine. The "flames" can be made with stitching, brads, small flower or star punches, buttons, or jewels. Those are just a few ideas and I'm sure you all can come up with many more.
Tomorrow we begin the first day of Card Week and I just know you'll love the different projects the Creative Team has made. It's going to be a great week!
• • • • • • • • • • • • • • • • • •
• • • • • • • • • • • • • • • • • • • • • • • • • • •
March Guest Designer - Megan Bickers
My name is Megan and I am thrilled to be a Guest Designer this month for Sketch Support! I have been scrapbooking since I was a little girl, although back then my supplies mainly included Elmer's glue, greeting cards, wrapping paper, newspaper articles and random photos. And I can't forget those large manila albums I glued everything down to! Now I have a much larger, sophisticated collection of supplies and my pages contain multiple photos and my favorite supply... stamps! I also really enjoy working with sketches as it gives me creative freedom with an idea to begin with.
I have been married for 13 years to my best friend, Mike, and we have two children (Jacob and Abbey). Of course, our family wouldn't be complete without our dog, Scrappy. We live in Texas and enjoy spending as much time as we can outdoors or playing board games together.
I had to share with you all the card that Megan made when we did our Creative Team call. It is so cute and it instantly made me smile. I love it!
We're so excited to share what Megan has created with the sketches. You'll see her work featured here throughout the month of March.
•••••••••••••••••••••••••••••••••••••••••