••••••••••••••••••••••••••••••••••••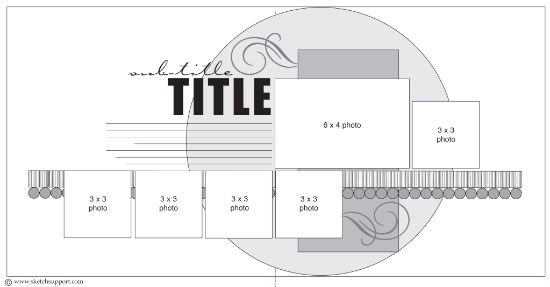 You can download and print this sketch by clicking on the two-page sketches link found under the "printable sketches" tab on the right sidebar.
Tomorrow brings the beginning of two-page week and we have a lot of layouts to share based on the sketch above.
Two-page sketch #8 includes six photos with most of them being smaller, cropped photos. It's a great sketch for adding lots of detail shots or the row of four 3 x 3 photos along the bottom are set up perfectly for action shots.
If you don't like to crop your photos that small or only work with 4 x 6 there are still plenty of options for you to use this sketch. You might try using two 6 x 4 photos in place of the four 3 x 3 photos. If you keep them as they are on the sketch that would mean you would have to split a photo between the pages, which is fine, but I would recommend moving the row to right so you don't have to do that. You could even include a 4 x 4, the easiest size to crop from a 4 x 6, to the left side of the 6 x 4 to help maintain the balance of the layout.
Another option for those that don't want to mess with cropping is to use wallet size photos in place of the 3 x 3 photos. Most photo printing places offer that option at a low cost. I love wallet size prints because they allow you to use smaller photos without have to crop anything out of the picture, like a mini 4 x 6.
Tomorrow we'll start the first round of layouts the creative team has put together. It's going to be a week full of fun layouts!
••••••••••••••••••••••••••••••••••••••••