•••••••••••••••••••••••••••••
Today we are sharing a layout from adorable 5-year-old Hayden, son of creative team member, Shari Thurman.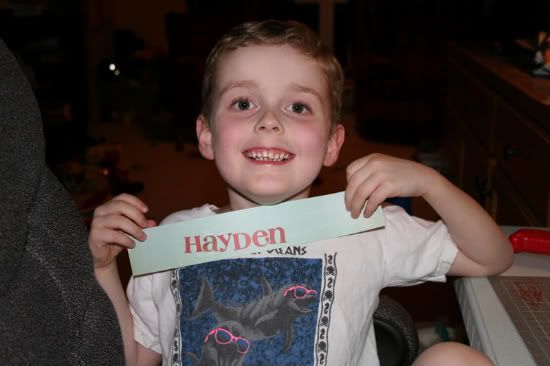 Hayden used the March one-page sketch to create his funny layout about eating noodles. Hayden did a fantastic job and Shari gives us a great peek into how he worked with the sketch.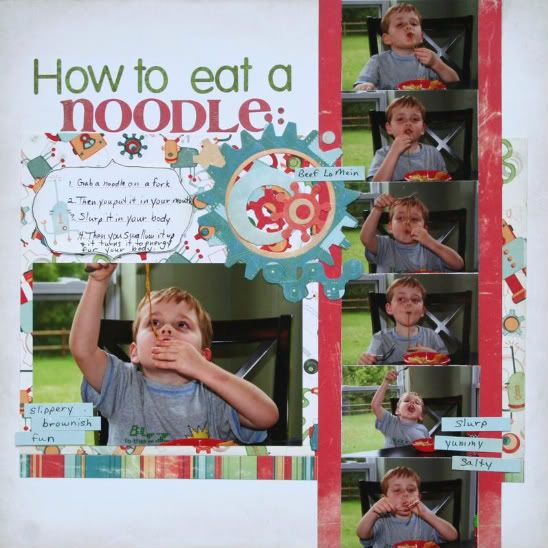 "How to Eat a Noodle"
by Hayden Thurman, age 5
Supply List
-
Pattern paper, Journal card and Die cut shapes:
Cosmo Cricket;
Alphabet Stickers:
Basic Grey
What do you like about scrapbooking?
Mommy and me have fun.
How much does your Mom scrapbook?
A lot, every night.
What is your favorite color?
Light blue.
What is your favorite scrapbooking supply?
Glue
What is your favorite thing about this sketch?
It gives me all the instructions. We scrapbook the same as the sketch.
If you could have your mom make a page about anything what would it be?
Star Wars or Buzz Lightyear
What is your best tip for other scrapbookers?
Scrapbooking is really fun. Why don't we go scrapbook right now.
Scrapbooking with my son turned out to be really enjoyable. I was amazed by how easy it was using one of Allison's sketches. I have a tendency of being a control freak, so letting my son loose with my scrapbooking supplies kind of scares me. Hayden was able to look at the pictures and follow the directions without either one of us getting stressed out. I was excited to see how much he enjoyed it and how pleased he was with his scrapbook page.
To simplify the process I picked out a set of photos and had Hayden choose his favorite pictures. I then let him choose a paper collection that he liked. I cut all the paper with my trimmer, but let him use my sharp scissors to cut out the journal card. I was amazed by his cutting skills at age 5.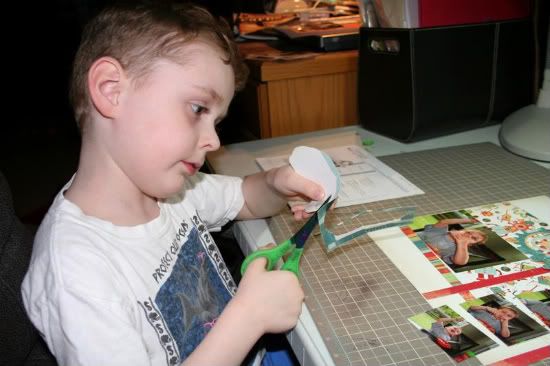 I gave him the sketch and explained that these were the directions. He decided where everything would go on the page and put adhesive on everything (literally). I think I still have glue on me.
He listed all the steps for eating a noodle and I wrote them down. He also was very concerned with the little word strips around the page. He took the sketch very literally and made sure that we added them. Allison's sketches are amazingly easy to use, no matter what your age.
• • • • • • • • • • • • • • • • • • • • • • • • • • •
Scrapbooking With Kids tips
• Try limiting younger kids choices to two or three when it comes to picking out photos or paper collections. They will often get overwhelmed if they have too much to choose from. Plus it can help to keep them away from papers that you aren't willing to part with.
• Set aside a special time free from the distraction of other siblings. Shari says, "We scrapbooked while daddy put the younger two boys to bed. Often Hayden will get to stay up later than his brothers and play video games if he has had good behavior and it's not a school night. This time he was able to scrapbook with mommy."
••••••••••••••••••••••••••••••••••••••••••