•••••••••••••••••••••••••
Add-on Sketch #8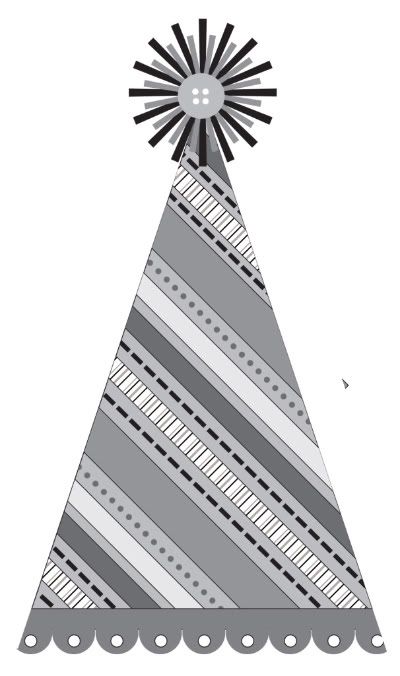 You can download and print this sketch by clicking on the add-on sketches link found under the "printable sketches" tab on the right sidebar.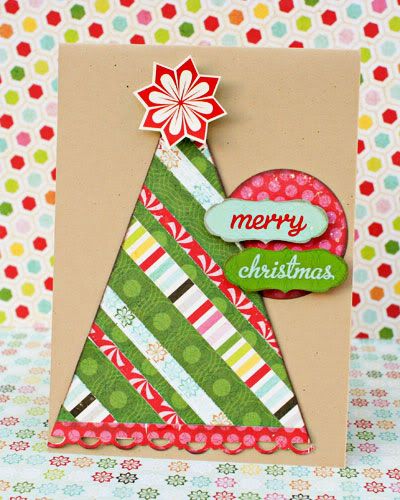 "Merry Christmas" card
by Christine Chain
Supplies
-
paper and stickers:
Echo Park;
ink:
Tsukineko;
scallop punch:
Stampin' Up!
After doing my Christmas two-page layout, I had a ton of scraps sitting on my desk. What better way to use them than in this month's add-on sketch? So instead of making a party hat, I made a fun Christmas tree!
The first thing I did was cut a sheet of scrap paper to 3 1/2" x 5". I cut my triangle base from that using the directions on the original sketch. Then, using the sketch as a guideline, I started laying leftover strips of paper across the base paper. I used more green than the other prints to keep it looking more like a tree than just a bunch of paper. Once everything was adhered, I trimmed the edges and inked them. I punched one strip with a scallop punch for the bottom of the tree.
I added a sticker to the top of the tree, on pop dots, for the star. I used two more stickers, also on pop dots, for the sentiment.
• • • • • • • • • • • • • • • • • • • • • • • • • • • • • •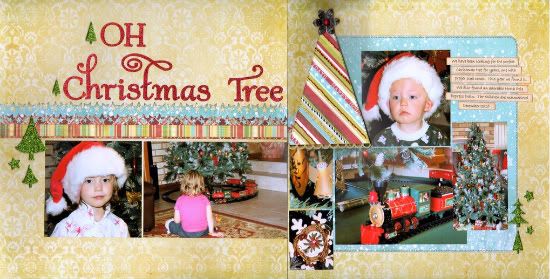 "Oh Christmas Tree"
by Lynette Jacobs
Supply list: Printed papers: Fancy Pants (Traditions); Tree embellishments: Making Memories (Falala); Letters: Making Memories (Falala); Brad used as star: The Paper Company; Bling: Kaiser Craft; Other: Metallic DMC thread
• I followed the sizing of the tree and used diagonal striped paper.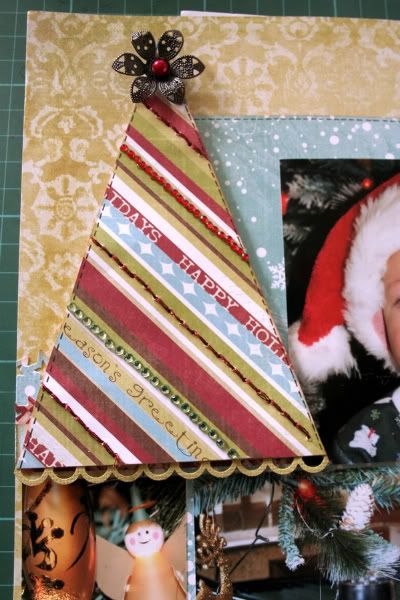 • I sewed along some of the lines with metalic thread.
• I added bling to some lines.
• I finished it off with a punched border along the bottom and a "star" on the top of the tree.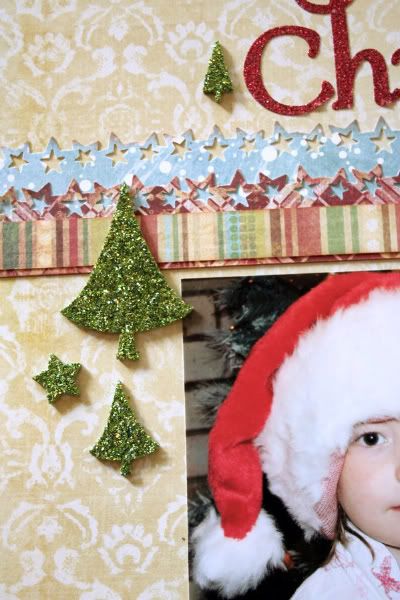 • • • • • • • • • • • • • • • • • • • • • • • • • • • • • •
"Believe"
by Carolyn Wolff
Supply List -Patterned Paper: Imaginisce (Santa's Little Helper), My Mind's Eye (tree); Cardstock: Bazzill, Coredinations; Die-cuts: Imaginisce (Santa's Little Helper); Stamp: Close to my Heart; Sparklets: Kaisercraft; Brads: Basic Grey; Ink: Ranger Distress Ink (Vintage Photo, Memento); Floss/Twine: DMC, Maya Road; Glitter accent: Stickles, Ranger (Red & Green); Template for Stitching: Crafters Workshop; Glitter: Diamond Dust; Liquid Appliqué: Uchinda
As soon as I saw this sketch I immediately thought of a Christmas tree. I decided to make the add-on a focal point on a 2-page layout.
Here are my tips for this layout:
Variation #1
– The most obvious variation is that I did not create a birthday hat. I decided to make a Christmas tree instead. I made my tree a bit taller that the dimensions given on the sketch. I stuck with the 4-inch width, but I started with a 7-inch height.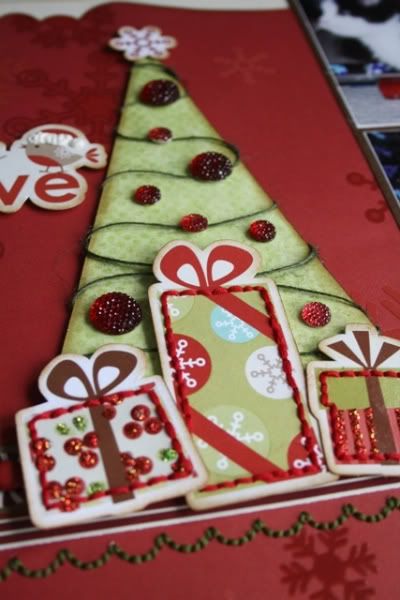 Variation #2
– I did not create the pattern shown on the sketch. Instead I used some dark green twine and wrapped it around my tree like garland. I added Sparklets for ornaments.
Variation #3
– Instead of the scalloped border along the bottom, I replaced it with presents. I also replaced the pom pom on top with a die-cut snowflake for the star on my tree.
Other details:
• The sketch I used for my layout was from one of Allison's sketch books.
• I added liquid Appliqué to the sleigh, Santa and bird die-cuts. I heat embossed it and that is what creates the bubbled effect. On the sleigh I added some glitter before I applied the heat.
• I added brads to the center of the candy border in matching colours.
• I accented my page with stitching. I used red twine for the top of my layout and a template and floss for the bottom. I also added some stitching to the present die-cuts under the tree.
•••••••••••••••••••••