••••••••••••••••
Add-on Sketch #10
You can download and print this sketch by clicking on the add-on sketches link found under the "printable sketches" tab on the right sidebar.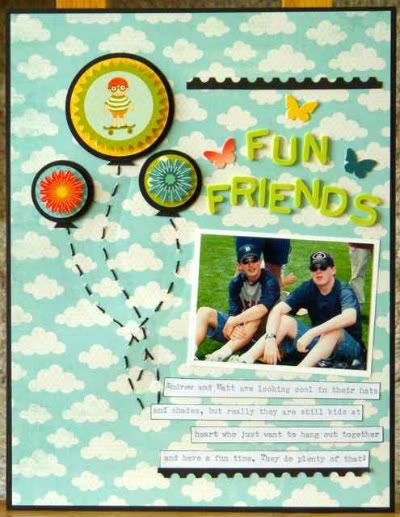 "Fun Friends"
by Sue Althouse
Supplies used
-
Cardstock:
Bazzill;
Patterned Paper:
Pink Paislee (Hometown Summer), My Mind's Eye (Lime Twist Fly A Kite);
Embellishments:
Pink Paislee (Hometown Summer Punchouts), Cosmo Cricket (Salt Air Butterflies & Doilies);
Letters:
American Crafts (Thickers);
Punch:
Fiskars;
Other:
Sew Easy
When I started playing with this one, I had no idea if I was going to make a card or a layout. I decided to create some balloons that I liked and see where it would lead me. What I ended up with seemed too large for a card, but got lost on a 12x12 page. But when I found the cloud background paper and went with 8.5x11, things fell into place quickly. As for the add-on itself, I only adjusted the original sketch slightly.
Variation #1:
the smaller balloons are slightly larger to accommodate the sizes on my Creative Memories circle cutter.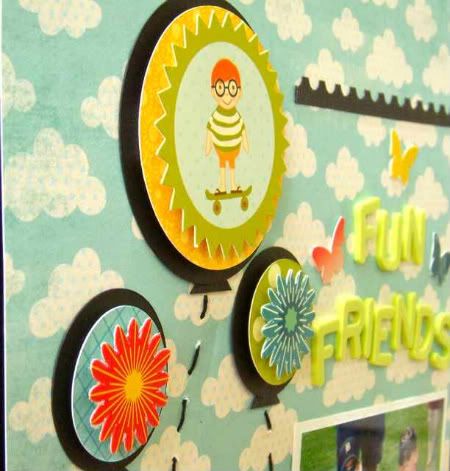 Variation #2:
the smallest circle of each balloon is a pre-made embellishment
•••••••••••••••••••