•••••••••••
One-page Sketch #14
You can download and print this sketch by clicking on the one-page sketches link found under the "printable sketches" tab on the right sidebar.
"Summer"
by Sue Althouse
Supplies used
-
Cardstock:
American Crafts;
Patterned Paper:
Pink Paislee (Hometown Summer);
Embellishments:
Pink Paislee (Hometown Summer Border Stickers), American Crafts (Remarks);
Letters:
American Crafts (Thickers)
I've so enjoyed being the Guest Designer this month! The sketches are fabulous and so versatile, what's not to love? For this 1-page sketch, I made some significant changes to the original design, using what Allison calls in her sketch class an enhanced or extreme approach.
Variation #1
- Flipped the sketch.
Variation #2
- Added an extra border at the top and moved the banner to the bottom.
Variation #3
- Kept the photo groupings, but adjusted the size and orientation to fit my photos and the page.
Variation #4
- Mounted each photo on white cardstock.
Variation #5
- Kept the title vertical, but changed the length and orientation of the journaling strips.
Variation #6
- Changed the embellishments and their placement on the page.
Variation #7
- Omitted the sewing and added embellishments.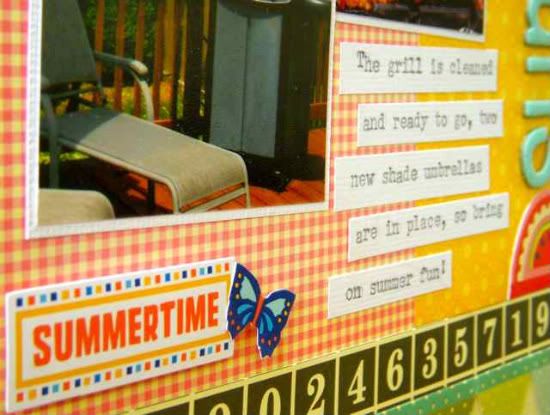 •••••••••••••••••••••