••••••••••••••••
One-page Sketch #16
You can download and print this sketch by clicking on the one-page sketches link found under the "printable sketches" tab on the right sidebar.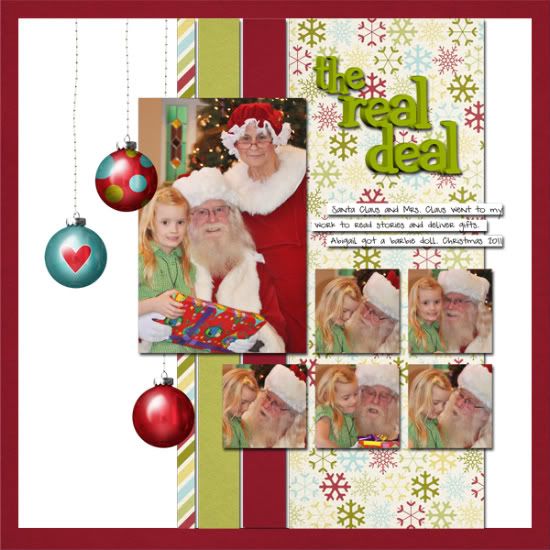 "The Real Deal"
by Jill Sarginson
Supplies Used
-
Digital Kit:
Kristin Aagard's Merry Christmas;
Font:
DJB How Cute Am I
Variations:
I shrunk the entire sketch to add a border.
• • • • • • • • • • • • • • • • • • • • • • • • • • • • • •
"'Tis the Season"
by Jennifer Larson
Supplies
-
Cardstock:
Bazzill;
Patterned paper:
GCD Studios;
Chipboard alphabet:
American Crafts;
Journaling spot:
Jillibean Soup;
Circle cutter:
Coluzzle;
Floss:
DMC;
Baker's twine:
Unknown;
Star and button brads:
Making Memories;
Pen:
Zig;
Pearls:
Stampin' Up!
Variation #1:
I stuck to the sketch pretty closely. I didn't measure the size of the ornaments or their location; I just eyeballed it. To add balance, I put another couple of ornaments on the right.
Variation #2:
I didn't want to stitch the threads down, so I drew lines with a ruler, laid down some glue, then stuck the twine on it. I tied bows separately and glued them down.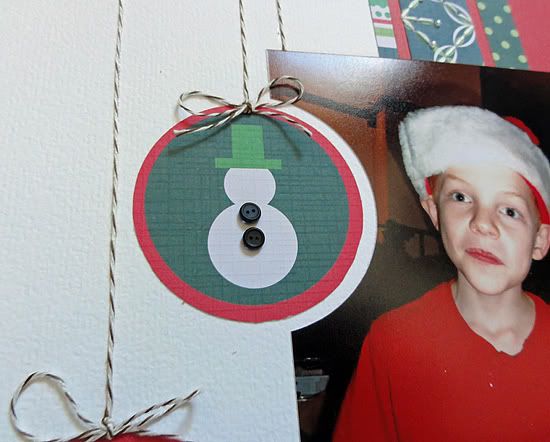 Variation #3:
I used my circle cutter to cut out slightly larger circles from the picture and the main patterned paper block to house the ornaments.
••••••••••••••••••••••