••••••••••••••••
One-page Sketch #16
You can download and print this sketch by clicking on the one-page sketches link found under the "printable sketches" tab on the right sidebar.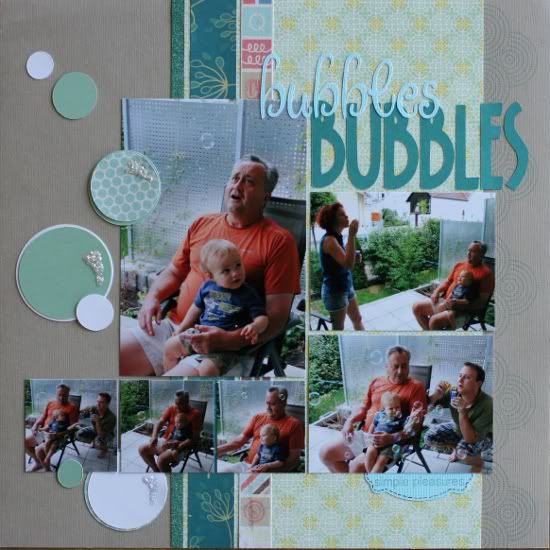 "Bubbles Bubbles"
by Noey Hunt
Products used
-
Patterned papers:
Basic Grey (grid), We R Memory Keepers (blue), American Crafts (glitter), SEI (teal, yellow), Crate Paper (dots);
Stamps:
Close to My Heart;
Glitter:
Stickles;
Tools:
Cricut Opposites Attract, Lyrical Letters and CTMH Art Philosophy cartridges
Variation #1:
I shifted the smaller photos around the 4x6 focal photo to allow for more, larger photos to complete my theme.
Variation #2:
I swapped out the ornaments for some bubble accents.
Variation #3:
To soften the lines in this layout and repeat the bubble pattern throughout, I stamped along the right edge of the accent papers with a circular stamp.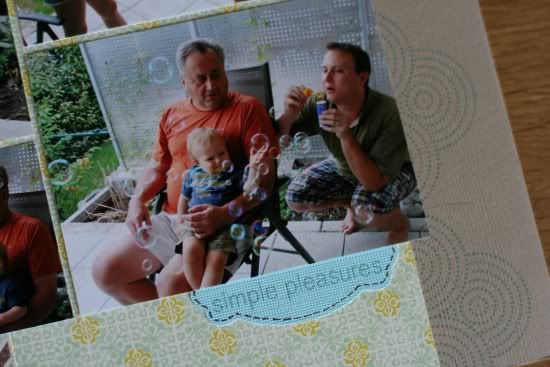 • • • • • • • • • • • • • • • • • • • • • • • • • • • • • •
"Joy"
by Suzanna Lee
Supply List
-
Cardstock:
Bazzill;
Patterned paper:
SEI, Teresa Collins, Echo Park, Pebbles Inc, Basic Grey;
Letter stickers:
Jenni Bowlin;
Ribbon and tag:
Making Memories;
Stickers:
Jolee's;
Die Cut:
Anna Griffin;
Label Sticker:
Paper Source
Variation #1:
I put the whole layout on an extra background layer for some added depth to the layout.
Variation #2:
I didn't use the 2x2 pictures but one slightly larger picture instead.
Variation #3:
Because my background piece (with the writing) is so busy, I needed to ground everything. I used the black Making Memories ribbon across the page to accomplish this.
Variation #4:
I have the trio of embellishments but only one of them is placed as shown on the sketch (that beside the 4x6 picture). Having shifted things around a bit, the poinsetta's looked more at home in other places.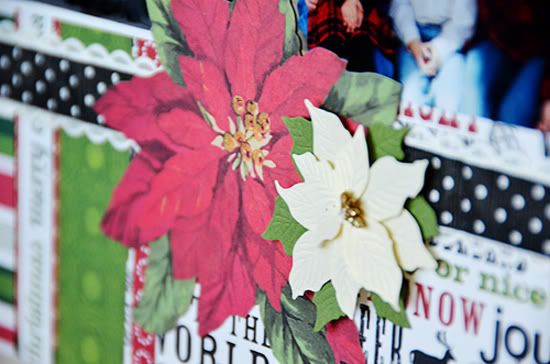 Variation #5:
The journaling couldn't be where the sketch called for it with such a busy background. I added a long, skinny label to the side of the main ground with some simple jounraling.
••••••••••••••••••••••