••••••••••••••••
Card Sketch #16
You can download and print this sketch by clicking on the card sketches link found under the "printable sketches" tab on the right sidebar.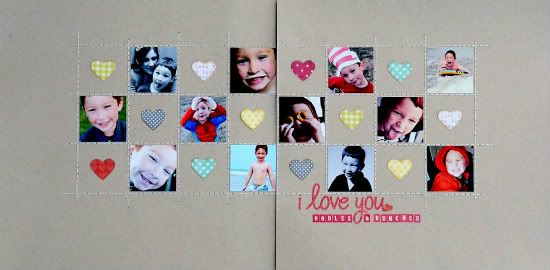 "I Love You..."
by Allison Davis
Supplies
-
Cardstock:
Bazzill;
Patterned paper:
My Mind's Eye and American Crafts;
Alphabet stickers:
Basic Grey (i love you) and Authentique (oodles & bunches);
Embroidery floss:
DMC
Variation #1
- I stretched the design of the card to fit a two-page layout.
Variation #2
- I didn't use just hearts for my grid. I wanted the layout to be about the special way that Drew and I say I love you so I also added in several 2 x 2" photos of him. This was great for using up some favorite pictures that I had left over from other layouts.
Variation #3
- Instead of stitching through the hearts I created a grid/frame around the pictures and the hearts with hand stitching.
• • • • • • • • • • • • • • • • • • • • • • • • • • • • • •
Mixed Media Project
by Lynette Jacobs
Supply List
-
Printed papers:
Fabscraps;
Mist:
Tattered Angels;
Stamps:
Prima;
Other:
Mod Podge, various acrylic paints, Doilie mask, white journal pen.
Variation #1:
I resized my paper to 9x9.
Variation #2:
I cut a big heart to paste on the background paper and mod podged over it. I painted around the heart and smudged the paint into the heart.
Variation #3:
I drew the grid onto the background with white pen and added nine hearts to the grid.
Variation #4:
I misted over the whole page in charcoal mist.
Variation #5:
I painted around the nine hearts and smudged the paint.
Variation #6:
I aged the entire page and then added the journaling with a white pen.
• • • • • • • • • • • • • • • • • • • • • • • • • • • • • •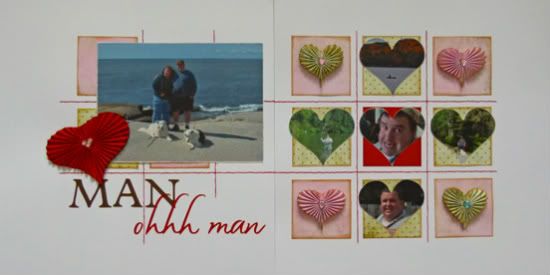 "MAN, Ohhh Man"
by Michele Edwards
Supplies
-
Cardstock:
Bazzill;
Patterned Paper:
Basic Grey and Fancy Pants;
Embellishments:
Bling by Basic Grey;
Alphabets:
Cricut (Plantin Schoolbook and Calligraphy Collection);
Floss:
DMC.
My husband and I celebrated our 20th year together last week and I wanted to make a layout just for him! I love how this turned out.
Grid Variations
1. Instead of a card, I made a two-page layout.
2. I made a grid with nine squares on the right page and filled each grid with square of paper and either a heart shaped photo or an accordian heart with a bling center.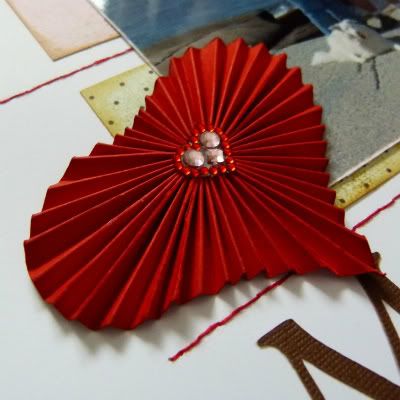 •••••••••••••••••••••