••••••••••••••
One-page Sketch #19
You can download and print this sketch by clicking on the one-page sketches link found under the "printable sketches" tab on the right sidebar.
"Going Gluten Free"
by Megan Bickers
Supplies Used
-
Cardstock:
Paper Studio (Blue);
Patterned Paper:
October Afternoon (5 & Dime: Wax Bottles; Modern Homemaker: Percolator, Flour Sack);
Inks:
Marvy Uchida (Black), Ranger (Distress Inkpad: Walnut Stain);
Stickers:
K & Company (Bungalow Word Swatch Book), Making Memories (Just Chillin'; Puffy Alpha; Mini Shimmer Alpha: Black School House; Tiny Alpha: Pink Ledger), American Crafts (Puffy Letter Thickers: Honey);
Tools:
Ranger (Foam Blending Tool);
Markers:
American Craft (Precision Pen: Black);
Embellishments:
Unknown (Cream Buttons), Mark Richards (Crystal Stickers: Brown), Martha Stewart (Ribbon Tags: Blue Sky), 3L (Photo Corners: Black), Coats & Clark (Crochet Thread: Black);
Adhesive:
3M (Foam Tape)
Variation #1:
I turned the sketch on its side with the flag ends facing to the right.
Variation #2:
I used a single piece of striped pattern paper to create my "ribbons". I cut slivers of paper out between each section to give some space between the stripes and trimmed the ends into flag shapes.
Variation #3:
I used a vertical photo instead of a horizontal one.
Variation #4:
I added my journaling underneath my photo and the second portion of my extended title.
Here's a closer look at some of the details: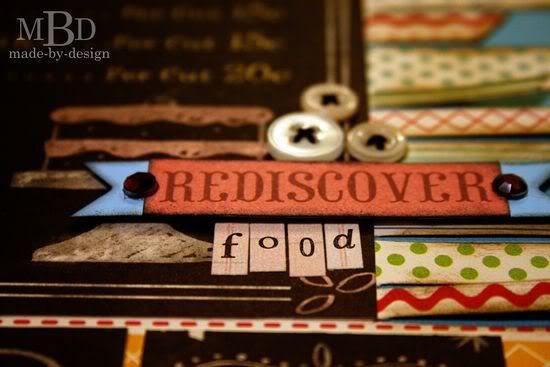 • • • • • • • • • • • • • • • • • • • • • • • • • • • • • •
"She Is 5"
by Suzanna Lee
Supply List
-
Patterned paper:
Bella Boulevard, Around the Block, Lilli Bee;
Number and letter stickers:
American Crafts, Cosmo Cricket;
Stickers:
Crate Paper;
Die Cuts:
K & Co, Cosmo Cricket:
Flowers:
Maya Road, Petaloo;
Brad:
My Minds Eye;
Border:
Reminisce
Variation 1:
I rotated the sketch 90 degrees to the right and then everything went wonky from there! LOL!!
Variation 2:
I used a 12x6 picture that I trimmed down. The size of my picture changed the dimensions of the flags to keep things proportional. I didn't like the bits of flag poking out on the other side of the picture so they remained to one side only.
Variation 3:
Again because of picture size, I didn't have room for the journaling where the sketch called for it. I made one of the flags into a journaling spot instead.
Variation 4:
The layout needed a bit of "grounding" without the bits on the right hand side of the picture so I used the backside of an old Reminisce border.
Variation 5:
Title placement is different. That big ol' pink balloon is a bit of an eye sore as is but the perfect place to put a title!
• • • • • • • • • • • • • • • • • • • • • • • • • • • • • •
"Day in the Sun"
by Katrina Hunt
Supplies
-
Patterned Paper:
American Crafts (Fox Park Forest, Brilliance, Gee Whiz), My Mind's Eye (Catch a Wave, Beach Huts), Sassafras (Line Up), Studio Calico (London Calling);
Buttons:
My Mind's Eye;
Mini Alphas:
Sassafras;
Vinyl and Chipboard Letters:
American Crafts;
Twine:
The Twinery Baker's Twine (Cantaloupe);
Chipboard Sun:
Basically Bare;
Adhesives:
Scotch, Fabri-Tac and Scrapbook Adhesives;
Tools:
Martha Stewart Border Punch
Variation 1
- Rotated sketch.
Variation 2
- Changed 4 x 6 picture to three smaller pictures.
Variation 3
- Added a few extra layers everywhere, including the banner area.
Variation 4
- If you look, my title and journaling are basically in the same place if you rotate the sketch 90 degrees to the left.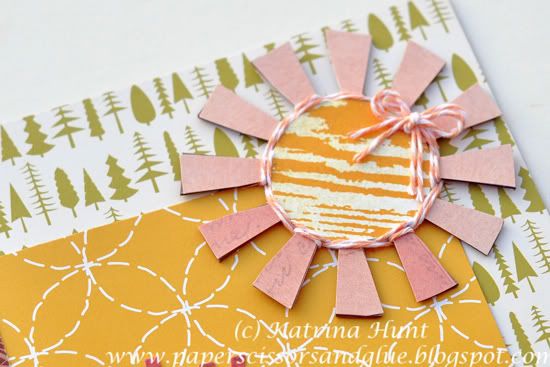 ••••••••••••••••