•••••••••••••••••
Card Sketch #18
You can download and print this sketch by clicking on the card sketches link found under the "printable sketches" tab on the right sidebar.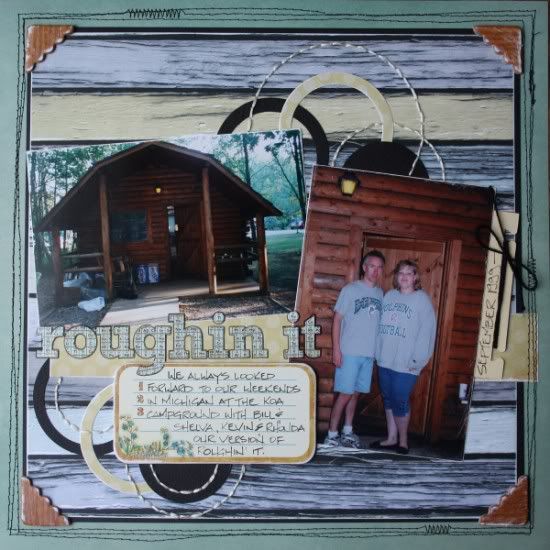 "Roughin It"
by Janette Kincaid
Supplies
-
Cardstock:
Bazzill;
Patterned paper:
My Mind's Eye, We R Memory Keepers;
Alphabet stickers:
Jillibean Soup;
Chipboard Embellishments:
My Mind's Eye;
Ink:
Ranger Distress Ink;
Embroidery floss:
DMC;
Black Thread:
Gutermann, Aunt Lydia's Crochet Thread;
Journal Pen:
Zig;
Adhesive:
Glue Arts, Helmar;
Circle Punches:
Marvy
This sketch was an easy transition after doing the flags in last week's sketch. The notched banners are almost the same just on a larger scale (and of course there's no flag pole!)
Variation #1
– I used the card sketch to create a one-page layout.
Variation #2
– I took inspiration from the vertical strips in the sketch and placed my paneled patterned paper horizontally.
Variation #3
– I replaced the message rectangle with my title and journaling.
Variation #4
– Rather than adding straight lines, my stitching repeats the cardstock and patterned paper circle embellishments.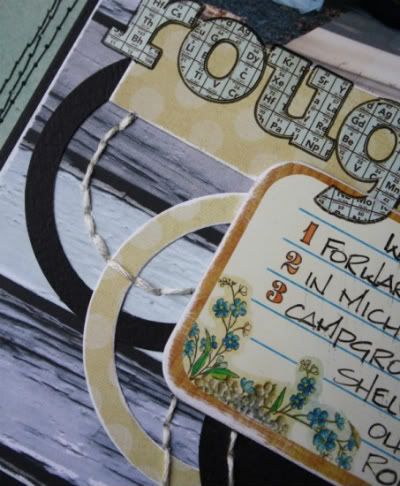 • • • • • • • • • • • • • • • • • • • • • • • • • • • • • •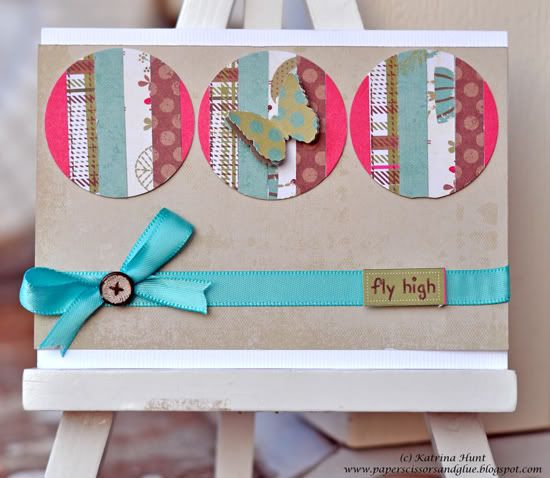 "Fly High card"
by Katrina Hunt
Supplies
-
Patterned Paper:
Little Yellow Bicycle (Paradise);
Cardstock:
American Crafts;
Buttons:
Nikki Sivils, Scrapbooker;
Adhesives:
Scotch and Fabri Tac;
Ribbon:
Hobby Lobby;
Punches:
EK Success, Martha Stewart
Variation 1
- Rotated card orientation.
Variation 2
- No strips of paper running up and down on width of card. I cut strips, adhered to card stock and then punch circled out.
Variation 3
- Added a bow and button.
Variation 4
- Message is very small.
• • • • • • • • • • • • • • • • • • • • • • • • • • • • • •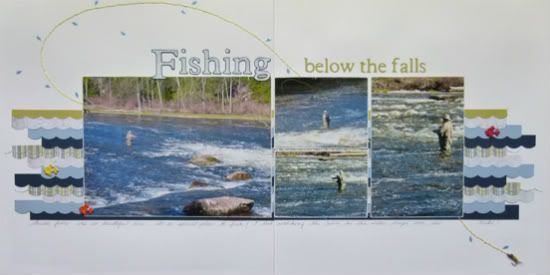 "Fishing Below the Falls"
by Michele Edwards
Supplies
-
Cardstock:
American Crafts, Bazzill;
Patterned paper:
Scrapbook Walls;
Fish brads:
unknown;
Embellishments:
fly was made by my husband;
Alphabets:
Cricut (Plantin Schoolbook);
Floss:
DMC
Spring has sprung, and that means that the trout fishing season will soon be here! We love our visits to Sauble Falls. My husband spends hours fishing, while I watch, both him and the river. I'm always amazed when I see the trout leaping up the falls! I can never get a photo of THAT though, lol!
Variations
1. Instead of a card, I turned the sketch on its side to create a background for my two-page layout.
2. I made the strips wider, and punched a scalloped edge to further the water theme.
3. I stitched a scalloped wave pattern through some of the waves, and continued the stitching into the photographs.
•••••••••••••••••••••••••••••