•••••••••••••••••••
Card Sketch #19
You can download and print this sketch by clicking on the card sketches link found under the "printable sketches" tab on the right sidebar.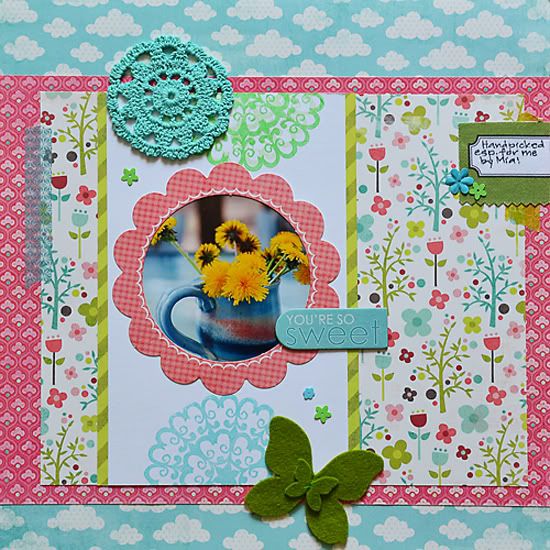 "You're So Sweet"
by Suzanna Lee
Supply List
-
Cardstock:
Bazzill Basics;
Patterned paper and Die Cut Shape:
My Minds Eye;
Ink:
Martha Stewart, Colorbox;
Stamp:
Unity;
Doily:
We R Memory Keepers;
Washi Tape:
SEI, American Crafts;
Chipboard:
Bella Boulevard;
Felt:
Twinkle Brands;
Canvas Tag:
Ormolu
Variation 1:
I extrapolated and made a layout with this weeks card sketch. Someday, I will actually venture into the world of card making and enjoy it... Until then, layouts reign!
Variation 2:
Rather than use patterned paper for the semi-circles above and below the main circle, I used a large Unity stamp.
Variation 3:
The stitching just got lost on the busy backgrounds that I used so I went with small strips of complimentary paper instead.
• • • • • • • • • • • • • • • • • • • • • • • • • • • • • •
"Retired"
by Sue Althouse
Supplies
- Most of my supplies came from the Studio Calico March main kit.
Cardstock:
American Crafts;
Patterned Paper:
Echo Park, Bella Blvd., Sassafras;
Alphabet:
Basic Grey;
Inks, Mists:
Mister Huey's Opaque White Mist, Creative Memories Black Chalking Ink;
Tools:
Creative Memories Circle Cutter, Fiskars Postage Stamp Border Punch;
Stickers/Tags:
My Mind's Eye, Sassafras;
Brads:
My Mind's Eye;
Ribbon/Twine:
We Are Memory Keepers Sew Easy;
Other:
Freckled Fawn Aqua Airmail Washi Tape
I took the design elements of the card sketch and made this page about my parents enjoying their retirement years.
Variation #1
- Used the circles for photo and embellishments.
Variation #2
- Added a title and journaling.
Variation #3
- Added a punched border to the paper strip.
Here's a closer look at the details: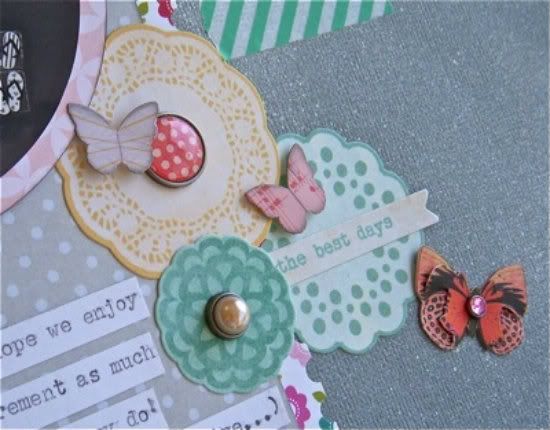 •••••••••••••••••••