•••••••••••••••••••••••••••••••••••••••••••••
I'm thrilled to be revealing our first add-on sketch.
Add-on Sketch #1 - Mug with steam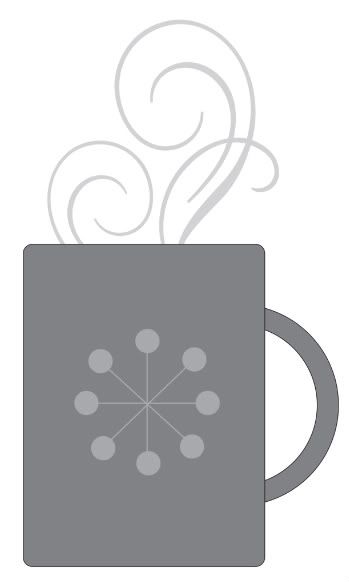 You can download and print this sketch by clicking on the add-on sketches link found under the "printable sketches" tab on the right sidebar.
The add-on sketches can be used on anything like a layout, a card, a tag, home decor, etc. Really any project! They will be great for making your own embellishments or adding a decorative element to your project. I really think they are going to be a lot of fun.
For the most part I use pre-made embellishments because I love the ease that comes with them. However, there are always those cases when you run into a project that you just aren't sure what embellishment or elements to add to it. Or maybe you just don't have the right embellishments in your stash. That's when I put on my creative thinking hat and make my own. The beauty of making your own and using our add-on sketches is that you can adapt them to your own style, the colors on your project, or even the right size you need.
The January add-on sketch is a mug with steam coming out of the top. The mug could work with themes like hot chocolate, winter, or coffee. While the theme that this sketch is used with might be a little limiting, the finishing touches are not. The steam can be created with rub-on flourishes, brads, jewels, stitching, Memory Thread, craft wire, or even journaling. The snowflake in the middle can be replaced with whatever element you need to use to fit your theme. If you follow the directions on the sketch the mug is smaller but to adjust the size you only need to keep the same proportions, which is very easy to do.
I can't wait for this coming week and to share what our creative team and guest designer have created with this sketch. You'll see it used in so many unique and creative ways and on so many different types of projects. We'll start the add-on sketch fun tomorrow, you won't want to miss it!
••••••••••••••••••••••••••••••••••••••••••