•••••••••••••••••••••••••••••••••••
I don't know about you but I'm ready to jump into add-on week! Since I like to make my own embellishments from time to time, it's really exciting for me to share my ideas in sketch form with you. Today's projects from Carolyn Wolff and Melissa Elsner show two completely different ways to use the add-on sketch and are great examples of how they made the sketch fit their style.
Add-on Sketch #1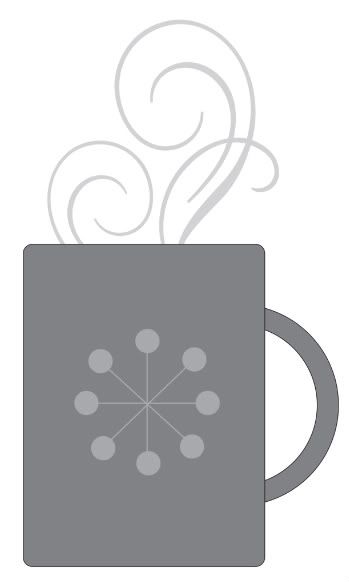 You can download and print this sketch by clicking on the add-on sketches link found under the "printable sketches" tab on the right sidebar.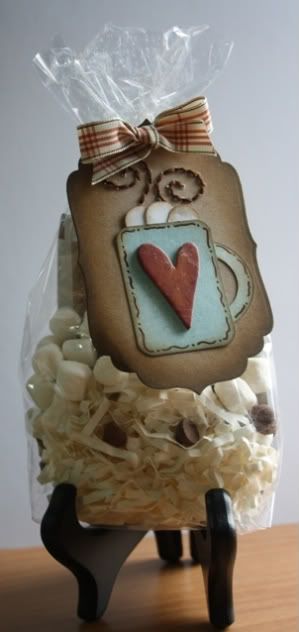 Hot Chocolate tag
by Carolyn Wolff
Supply List
-
Cardstock:
Bazzill;
Patterned paper:
unknown;
Chipboard:
Fancy Pants
;
Ink:
Tim Holtz Distress Ink; 

Tools:
die-cut, Nestabilities;

Ribbon:
Making Memories;
Floss:
Bazzill;
Marker:
American Crafts;
Other:
bag, baking supply store
Variation #1
– I had never worked with this sort of sketch before so I stuck to the instructions that were along the right side of the page. Once I assembled the mug I realized that it was small and I immediately thought of making a tag. I used a Nestabilities die-cut to create the background of the tag. I inked the edges with 2 shades of brown ink to soften it and give it some depth.
Variation #2
– When I did the stitching I just used one of the swirls and poked the holes in different directions and heights (like a mirror image).
Variation #3
–I added a chipboard heart to the front of the mug and did some detailing with a brown marker.
Variation #4
– Because I was attaching my tag to a bag with hot chocolate, marshmallows and chocolate chips, I wanted to add some marshmallows to my mug on the tag. I cut out some white cardstock, used a corner rounder and inked them with brown ink (they look a little like floating boiled eggs, but I am happy with them).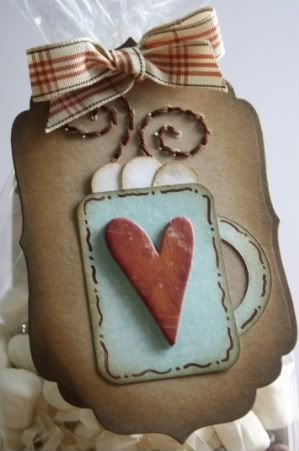 I put all the contents for my hot chocolate treat into a clear bag and tied it with at piece of ribbon from my stash. My youngest son has been bugging me since I made this up to 'please let me try it'. He says I have been torturing him.
• • • • • • • • • • • • • • • • • •
• • • • • • • • • • • • • • • • • • • • • • • • • • •
Let's Get Together card
by Melissa Elsner
Supplies
-
Cardstock:
Core'dinations;
Patterned paper, chipboard:
Crate Paper;
Rhinestone flourishes, pearls:
Kaisercraft;
Letter stickers:
October Afternoon;
Glitter glue:
Stickles (Ranger Industries);
Tool:
Silhouette SD
• Variation #1:
My card is 6" x 6" and so in order to make the mug the focal point, I added an inch to each dimension.
• Variation #2:
For the handle, I didn't have circle punches that matched the dimensions exact but that's just another beauty of these sketches. Use what you have and you might love the way it turns out. I love the way my handle changes thickness from the center to the edges.
• Variation #3:
I cut the bling flourish from Kaisercraft in half and used them for the swirly steam puffs. I just have two since that's all that could fit.
• Variation #4:
I stayed true to the snowflake going in the center of the mug and found a cute snowflake with the Crate Paper collection. Worked perfect and after adding a little bit of Stickles, it looks pretty cute!
••••••••••••••••••••••••••••••••••••••