•••••••••••••••••••••••••••••••••••••••
We are kicking things off with the card sketch today. All week you'll see the same sketch used in so many different ways, and just because it's a card sketch doesn't mean you'll only see cards. I myself am not a big card maker but love using card sketches for other projects. They are terrific for smaller projects like mini-albums, home decor, or even as an element on a layout. Just like a layout sketch, card sketches can provide endless possibilities.
With each project posted there will be a description from the creator. They will explain, in their own words, how they made the sketch work for them.
Card Sketch #2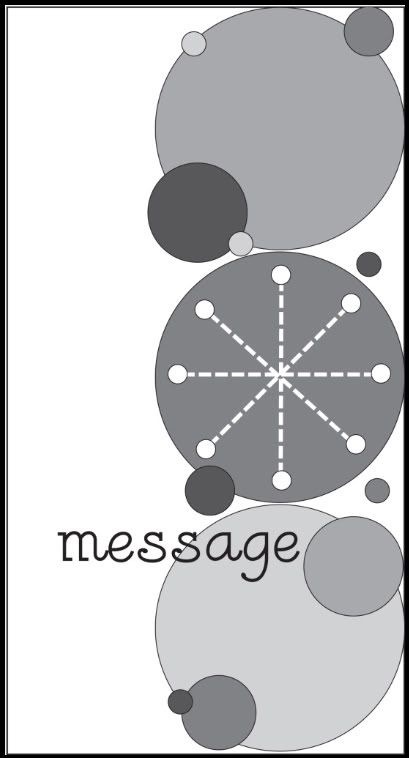 You can download and print this sketch by clicking on the card sketches link found under the "printable sketches" tab on the right sidebar.
The three cards today are excellent examples of following a sketch yet adding your own style and flare to it.
Believe
by Suzanna Lee
Supply list
-
Patterned paper:
Basic Grey, On the Dot Paper, and Echo Park;
Cardstock:
Bazzill;
Button:
Oriental Trading;
Journal Spot:
Jillibean Soup;
Brad:
Imaginisce;
Sticker:
Little Yellow Bicycle;
Punch:
Martha Stewart, EK Success;
Misc:
sequins
Variation One:
The 2nd circle is smaller with a punched border. Rather than stitch a snowflake I chose to use the branch with a cardinal sitting on it.
Variation Two:
The top circle has a very simple patterned paper which allowed me to use the bell with greenery and a ribbon as embellishments. The bell is circular in shape which stuck with the circular theme that resonates throughout the card.
Variation Three:
The bottom circle is a scalloped journal spot rather than a circle.
Variation Four:
I have fewer smaller circles than the sketch called for to maintain balance. With the embellishments within the circles, there was less need for them outside.
Variation Five:
Per the embellishment ideas, rather than additional circles of patterned paper, I chose to use various support embellishments that continued with my winter theme and color scheme.
Variation Six:
Because I have so many visual elements on the card, the message had to be "contained". To further draw your eye to it, I backed it on white to give it a fine white border for contrast and then pop dotted it.
Thank U
Snow Much
by Jill Sarginson
• I kept the same dimensions however I added a layer (the blue pattern paper - I just trimmed about 1/2 centimeter off each side.
• I pop-dotted and inked the circles to make them more dimensional.
• I added scattered snowflakes and two buttons to make up the round embellishments from the sketch.
Happy Birthday
by Carolyn Wolff
Supply list
-
Cardstock:
Bazzill;
Patterned paper:
Pink Paislee
;
Stamps:
Lawn Fawn; 

Ink:
Tim Holtz Distress Ink;
Memento
Tools:
Tim Holtz Tiny Attacher (stapler);
Stitching tools:
Bazzill In Stitchz circle template and piercing tool
;
Stickles:
Fruit Punch; 

Floss:
Bazzill & We R Memory Keepers;
Ribbon:
dollar store;
Foam adhesive:
3L
Variation #1
– I followed the measurements given for the card. To create the large circles I decided to stitch them. I love to stitch. I overlapped my circles instead of keeping them separate as shown on the sketch.
I used coordinating pattern papers for the smaller circles shown on the sketch. I used foam adhesive to pop them up and create more dimension.
Variation #2
–My daughter's birthday is in February so I decided to make this card for her (you know, get ahead of things for a change). I replaced the snowflake in the center with a stamped image of cupcakes (she has a slight obsession with cupcakes).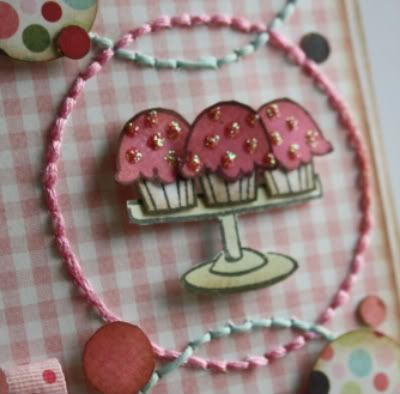 I stamped the image and then cut it out and pieced them together. Then I used foam adhesive to give them dimension. I added a little sparkle to each cupcake with Stickles.
••••••••••••••••••••••••••••••••••••••••••••••••••••••••