••••••••••••••••••••••••••••••••
Today features three cards that go a little beyond the sketch. Christina, Katrina, and Melissa all created cards that add a few adjustments or extras to the sketch.
Card Sketch #2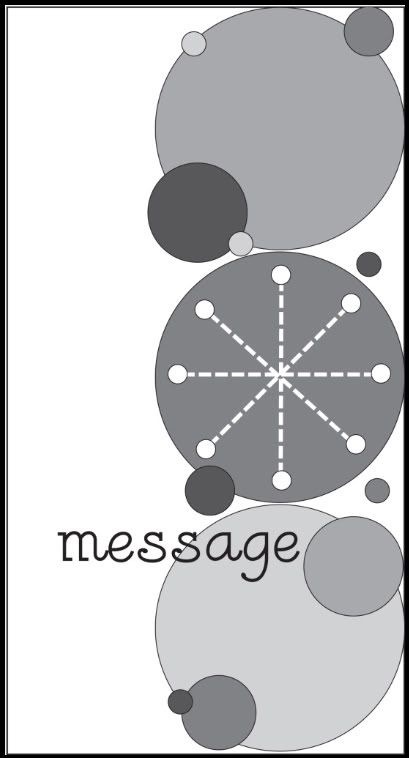 You can download and print this sketch by clicking on the card sketches link found under the "printable sketches" tab on the right sidebar.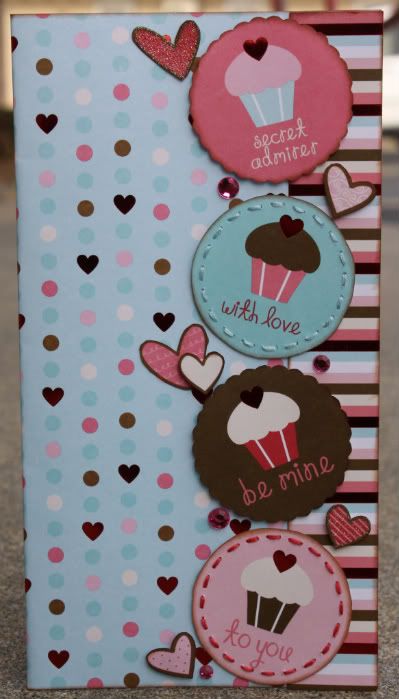 Valentine Card
by Christina Hoffman
Supply list - Patterned cardstock: KI Memories; Jewels: The Paper Studio; Ink: Colorbox Fluid Chalk Ink (Chestnut Roan); Adhesive: Scrapbook Adhesives by 3L; Floss: DMC
Variation #1 - I used four smaller circles on my card instead of the three larger circles on the sketch.
Variation #2 - Since I had little Valentine messages on each circle I didn't add the message as suggested on the sketch.
Variation #3 - I used a mix of jewels and hearts for the smaller circles on the sketch. I also added some detail to the card with hand-stitching around two of the circles.
Variation #4 - Instead of a solid background I used two coordinating patterned papers.
Be Funky
by Katrina Hunt
Supply list - Cardstock: We R Memory Keepers; Patterned paper and sticker: Echo Park; Stamp: Unity Stamp Co.; Adhesive: Scotch and Scrapbook Adhesives pop dots; Other: buttons
This is such a fun sketch to work with, it has endless possibilities! I wasn't quite in a "snowy" mood yet, so I decided to leave out the middle circle and snowflake. I replaced it with a cardstock sticker from the "Life is Good" collection from Echo Park that reminded me of a flower. I used various sizes of buttons and just arranged them around until I liked how they looked. I stamped my sentiment and then adhered it to pattern paper and trimmed out around the outline.
I am a person that thinks nothing is complete without a little ribbon, twine, etc! So, I added the ribbon on the side with the bow, an easy addition to the sketch!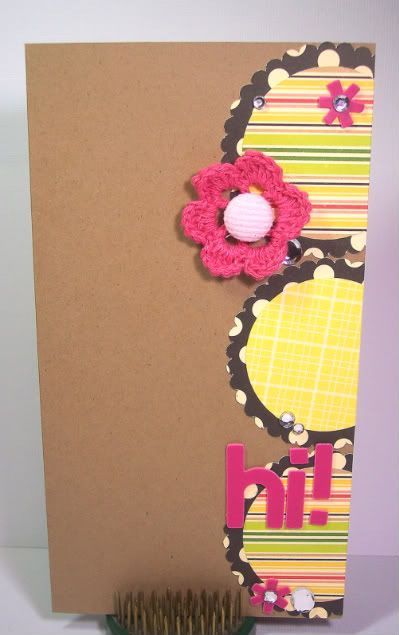 Hi
by Melissa Elsner
Supply list - Cardstock: Recollections; Patterned Paper: October Afternoon; Alphabet and star stickers: American Crafts; Crochet flower and brad: Creative Imaginations; Bling: Kaisercraft and Studio116; Electronic Cutter: Silhouette SD
I rarely like to follow the rules and such is the case with this sketch. For the most part, I did use the same measurements and ideas with the circles - even the location of the sentiment, but to take it a step further in my rebellious ways, I pushed the circles off the edge. The colors of the papers from October Afternoon work way too perfectly with the kraft background. I love the white space on this.
•••••••••••••••••••••••••••••••••••••••••••