•••••••••••••••••••••••••••••••••••
I'm so very excited to reveal the January one-page sketch. Just like the add-on sketches, these are something new to us.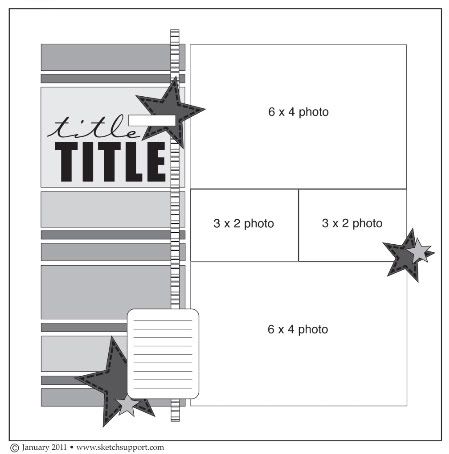 You can download and print this sketch by clicking on the one-page sketches link found under the "printable sketches" tab on the right sidebar.
With several different sized strips on the left and the four photos on the right, this sketch has lots of possibilities.
The photo block should be very easy to adapt to fit the photos you want to use. There are tons of photo size combinations you can use to get the same 6" x 10" block of photos without having to adjust the sketch to fit them. I always look at photo blocks as a puzzle to figure out. Usually it is easier to start with the largest one or two and then build around them with smaller photos.
The strips are great for playing around with your creativity and adding your own style and finishing touches. Like the photos, you could use so many different combinations of sizes or maybe strips of all the same size or even one big block of paper. And the strips are perfect for pulling out those scraps and putting them to good use.
This week we'll show you lots of layouts based on this sketch from our creative team and we've also got some fantastic giveaways from
American Crafts
and
My Mind's Eye
(trust me you won't want to miss those!) Check back tomorrow for the beginning of our one-page week of fun!
•••••••••••••••••••••••••••••••••••