••••••••••••••••••••••••••••••••••••••••••••••••••
Welcome to One-Page Week. We've got a ton of layouts, 18 to be exact, to share with you this week, all based on the sketch below. It's going to be a fun week! Today the layouts from Mireille, Christina, and Jill are great examples of following the sketch all while adding your own style and flare.
One-page sketch #2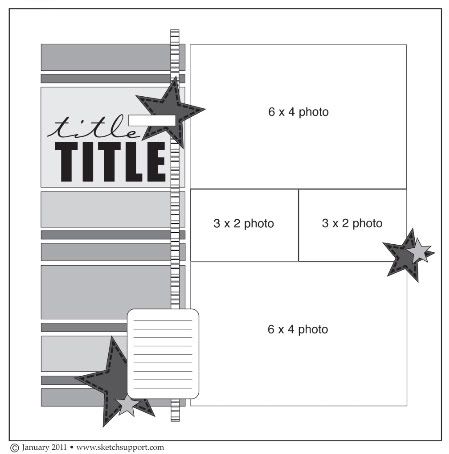 You can download and print this sketch by clicking on the one-page sketches link found under the "printable sketches" tab on the right sidebar.
"Monster Jam"
by Christina Hoffman
Supply list
-
Cardstock:
Bazzill (white) and Archiver's (purple);
Patterned Cardstock
: We R Memory Keepers (Funfetti);
Alphabets:
Doodlebug Designs (monster) and American Crafts (jam);
Paint:
Making Memories (for tires and wheels);
Ink:
Colorbox (charcoal) and Staz-On (timber brown);
Adhesive:
Scrapbook Adhesives by 3L;
Chipboard (for wheels
): unknown
Layout Details:
Patterned Papers:
I knew when I found the pictures for this project that I did not want to use some busy patterned papers that could possibly take away from the pictures. So, I opted for bright/bold papers with simple little polka dots. All papers were chalked with Colorbox Chalk Ink in charcoal.
Pictures:
I kept all of my pictures the size that was suggested on the sketch. All pictures were inked with Staz-On in timber brown.
Title and Journaling:
I wanted my title to stand out but I didn't want it to be too overwhelming so I opted to use a smaller font for the longest word, "Monster" and a larger font for the shortest word, "Jam".
I also used one of the stars for my journaling block since I knew I wasn't going to write much about this page. I wanted the tickets to stand out more than the journaling. The tickets and stars were chalked with Colorbox Chalk Ink in charcoal.
Embellishments:
I used my Cricut to make the monster truck. The actual truck already had tires but I cut them off and recreated a more rugged look.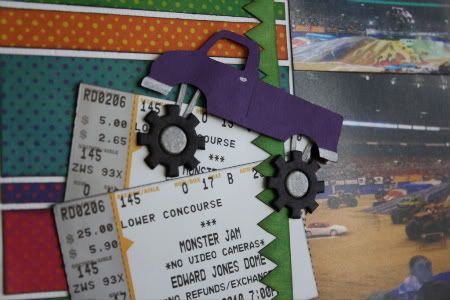 Since the chipboard was already thick I went ahead and applied pop dots behind the truck body to give it a 3-D look. I cut the banner and the stars out from opposite sides of the polka dot papers. All embellishments were chalked with Colorbox Chalk Ink in charcoal and pop doted.
• • • • • • • • • • • • • • • • • •
• • • • • • • • • • • • • • • • • • • • • • • • • • •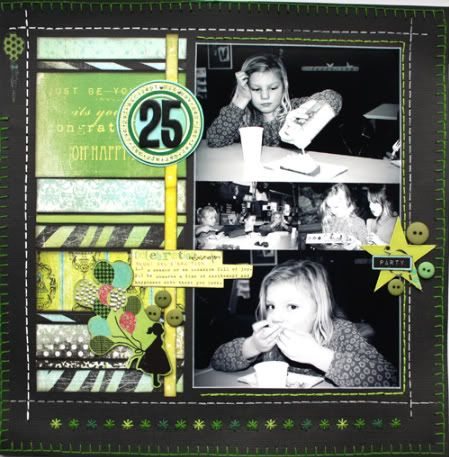 "October 25"
by Mireille Divjak
Supply list
-
Cardstock:
Bazzill;
Patterned Paper:
Glitz - Hoopla collection;
Alpha's:
American Crafts Thickers - Giftbox;
Rubons:
Glitz - Hoopla;
Ink:
Colorbox;
Pens:
American Crafts and Sakura;
Liquid Pearls:
Ranger- silver;
Buttons:
Bo Bunny Press;
Star:
Heidi Swapp Transparant Star;
Paint:
Making Memories;
Stickles:
Ranger;
Floss:
We R Memory Keepers;
Tools:
Sew Easy - We R Memory Keepers
I didn't change anything, I just used the sketch. It was perfect just the way it was.
The pictures are from Amber's birthday party. She celebrated her 6th birthday.
• • • • • • • • • • • • • • • • • •
• • • • • • • • • • • • • • • • • • • • • • • • • • •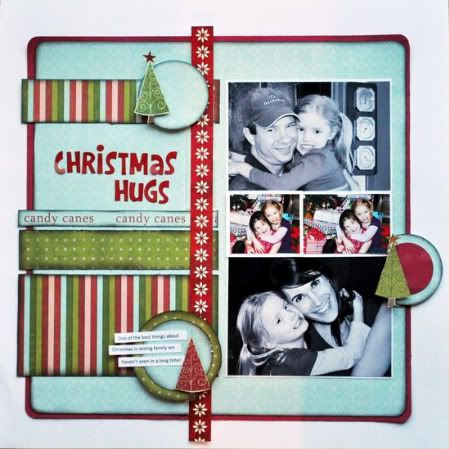 "Christmas Hugs"
by Jill Sarginson
•••••••••••••••••••••••••••••••••••••••••••••••