••••••••••••••••••••••••••••••••••••••••••
Let the two-page fun begin! This week we are moving on to the two-page sketch. We've got a week packed with fabulous layouts based on the sketch. With a snow storm getting ready to pass through here I'm thinking it's not only a great opportunity for more snow pictures to use with the January two-page sketch but also a great excuse to be warm and cozy in my scrapbook room.
Two-page Sketch #7
You can download and print this sketch by clicking on the two-page sketches link found under the "printable sketches" tab on the right sidebar.
"Snow Alarm"
by Mireille Divjak
Supply list
-
Patterned Paper:
Bo Bunny (Midnight Frost);
Chipboard and layered chipboard:
Bo Bunny (Midnight Frost);
Pen:
American Crafts and Sakura;
Floss:
DMC;
Buttons:
Tessa Ann;
Alphabets:
American Crafts;
Tools:
Sew Easy, We R Memory Keepers and Adobe Photoshop
I used the sketch the way it is. I used faux stitching and real stitching with the Sew Easy tool from We R Memory Keepers.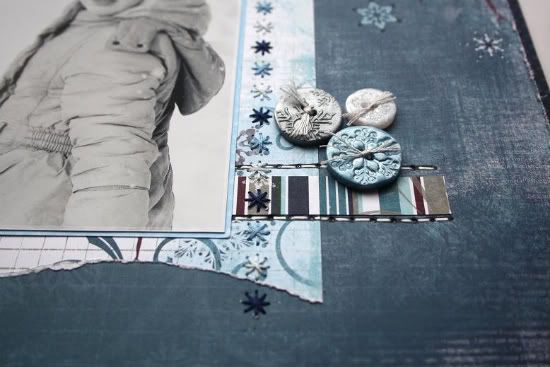 The story behind the pictures:
We live in the north of the Netherlands a few steps from the sea. Because of the sea climate we hardly ever get snow, and when it does snow it disappears almost before it hits the ground.
When we want to play in the snow we usually have to travel...until Friday the 3rd of december.
It snowed and snowed and snowed. After a few hours my parents called to ask me if we were okay. Radio and TV were warning people that there was a weather alarm due to heavy snow fall for our small city. I was so totally surprised. Our city where it hardly ever snows...a snow alarm. I had to switch on the tv and check myself.
The kids, however, where totally happy and took their sleigh to the dike for some serious sledding. Of course I had to turn this into a scrapbook page and I was totally happy with this beautiful multi-photo 2 pager.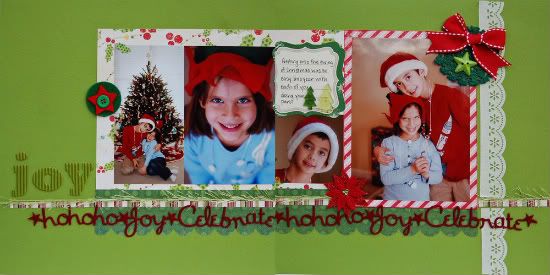 "Joy"
by Suzanna Lee
Supply list
-
Cardstock:
Bazzill;
Patterned paper:
Echo Park, Making Memories;
Felt:
Creative Imaginations;
Eyelash:
Fibers Inc;
Lace Sticker:
Little Yellow Bicycle;
Buttons:
Favorite Things;
Doily/Felt Embellishment:
Purple Pumpkin, Papyrus;
Journal Spot:
Anna Griffin
Variations
• Instead of two 3x3 photo's on top of each other as suggested in the sketch, I used a 3x6 in order to accommodate my picture selection.
• Rather than stitch down the right hand side of the page I chose to use a border sticker.
• The sketch has just one vertical strip across the page which I added eyelash to for visual interest.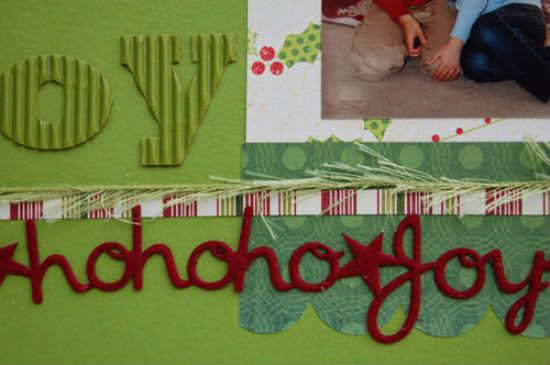 It looks a bit like swag, doesn't it? I also added the felt border below for some contrast color.
• The visual triangle in the sketch is made up of snowflakes. I didn't use consistent elements or place them as such on the sketch. My embellishments are all the same color scheme and still create that visual triangle.
• Rather than the wavy line of the background, I chose to use the scalloped edge with the movement of the felt replacing the movement that the wavy edge created.
"Cars. Cars. Cars."
by Allison Davis
Supply list
-
Cardstock:
Bazzill;
Patterned paper:
BasicGrey;
Alphabet stickers:
BasicGrey;
Stickers and embellishments:
BasicGrey;
Tools:
Bo Bunny flex ruler;
Embroidery floss:
DMC
I would be lost this week without the help of one my favorite tools, the Bo Bunny flex ruler. I used it to create the wavy edge along the bottom of the background piece on my layout. A wavy line, like the one on this sketch, is a fun way to add not only movement but also an eye catching element to a layout and the flex ruler makes it super easy.
Variation #1
- I have endless amounts of pictures of Jackson playing with his cars and I wanted to make sure I got as many of those pictures on this page as possible. To do that I substituted 2 x 2 photos for every photo on the sketch except for the 5 x 7. I went from a five photo sketch to a 17 photo layout.
Variation #2
- The biggest adjustment I had to make was due to an extra inch of photos added to each side of the layout. To make it work I just added an extra inch to the width of the background pieces.
Variation #3
- Instead of using a 3 x 3 journaling block like the sketch, I used a 4 x 2 block. Using the 2 x 2 photos took an inch off the height of my journaling space but it also added an inch to the width.
Variation #4
- I added some hand stitching and car stickers along the wavy line. For the stitching I used my flex ruler to draw a wavy line and since it was already formed to the shape of the waves on the paper it was effortless.
Sponsor Giveaway - BasicGrey
How about another fantastic giveaway from BasicGrey? Today's giveaway is everything you see in the picture below from the Wander collection.
To be eligible for the giveaway leave a comment, we'll randomly select a winner, and then will announce the winner on Wednesday.
••••••••••••••••••••••••••••••••••••••••••••••