•••••••••••••••••••••••••••••••••••••
Today's projects share a cool website for creating fun word collages with ease, a great way to use those rub-ons, and a super simple frame with the color version of the sketch.
Add-on Sketch #2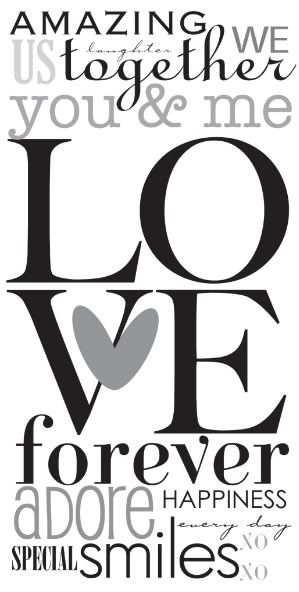 You can download and print this sketch by clicking on the add-on sketches link found under the "printable sketches" tab on the right sidebar.
"Always and Forever" card
by Shari Thurman
Supply list
-
Cardstock:
unknown;
Assorted ribbon;
unknown;
Word cloud program:
www.wordle.net;
Other:
Sewing Machine
I used an online "word cloud" (collage) program,
www.wordle.net
to create this Valentine's card. You simply type in the words you want to use and it creates a collage for you. You can then make changes to the font and color and randomize the collage as much as you want. I chose 2 shades of red, pink and gray. It was really fun to play with. It would be an awesome way to add fun journaling to scrapbook pages also. If you just print, it will print on standard 8 1/2 x 11 paper, which was too large for my project. For this card, I clicked on properties for my printer and chose to print 2 per page, so that it would be card size.
I hand cut my collage into the shape of a heart and attached it to pink cardstock. I had to snip the inside of the pink velvet scalloped ribbon to make it curve into the heart shape.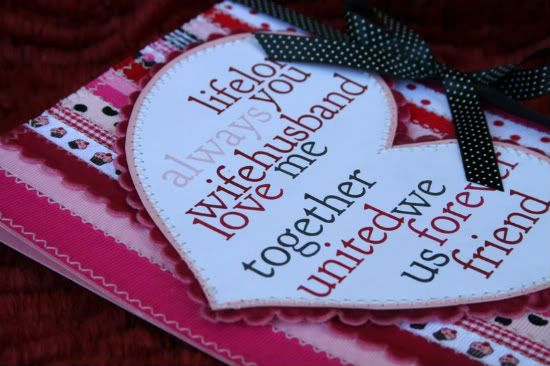 I attached ribbon in various colors of pink and red to the card base and then stitched in place. I attached the heart to the middle of the card and topped with a black and white polka dot bow. The weight of the ribbon and stitching was heavy, so I had to line the inside of the card with cardstock to support it. This also hid the stitching, creating a clean finish to the inside of the card.
• • • • • • • • • • • • • • • • • • • • • • • • • • • • • • • • • • • • • • • • • • • • •
•••••••••••••••••••••••••••••••••••••••••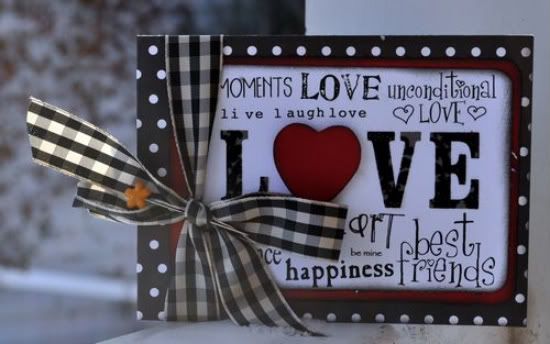 "Love" card
by Jill Sarginson
Supply list
-
Cardstock:
Bazzill;
Pattern paper:
Webster's;
Alphabets:
unknown;
Ink:
Versamark;
Pin
(unknown);
Rub-ons:
Forever In Time;
Corner Rounder:
Creative Memories;
Ribbon:
Bazzill;
Other:
Pop dots
Notes:
I decided to make a Valentine's Day card with this add-on. I had an fairly big collection of rub-ons so I chose to use these as the words within the add-on. I opted to have my card open from the side so I made the word "LOVE" span across the width of the card. To add the finishing touches, I cut out a heart and pop-dotted it, added some ribbon and a decorative pin.
Wedding frame
by Allison Davis
Supplies
-
Cardstock:
Bazzill;
Frame:
Target
I love these frames at Target (they come in several different sizes) and use them a lot around our house. The frame has two pieces of glass that your pictures are sandwiched between. I love them because there isn't a specific area you have to put your pictures. Since it's just glass you can arrange them in any design you want. I've used the really big frames to make scrapbook pages on glass and really like the way they look on the wall.
I went super simple on this project with the color printout of the sketch. All I did was print out the word collage and add it next to the picture. It took probably five minutes at the most. I kept the frame simple for two reasons:
1.
You can't really layer too much in between the two pieces of glass so your options for embellishments can be pretty slim.
2.
I love that the picture and word collage look like they are floating in the frame. I didn't want to cover up anymore of the glass because they would have lost that look.
•••••••••••••••••••••••••••••••••••••••••••