•••••••••••••••••••••••••••••••••••••
After the blizzard that swept across our area, Jody's layout has me anxious for Spring to get here. Her layout is an excellent example of incorporating the theme of the layout into the design. That is one of my favorite ways to approach a sketch. It might not be something I do all the time but it is a fun way to create a layout that is a totally unique version of the sketch. I highly encourage you all to give it a try sometime!
Two-page Sketch #8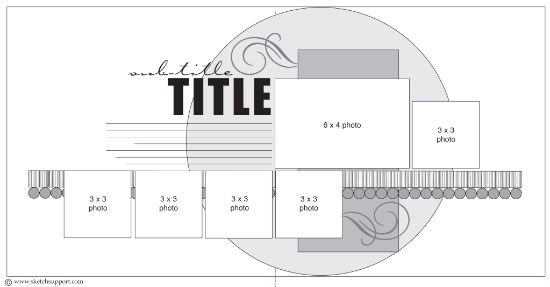 You can download and print this sketch by clicking on the two-page sketches link found under the "printable sketches" tab on the right sidebar.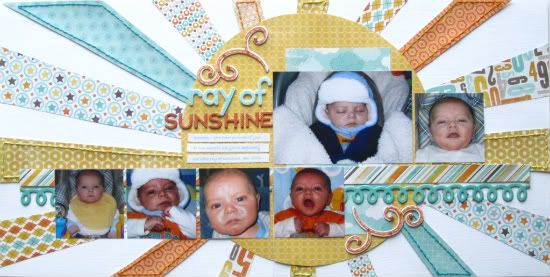 "Ray of Sunshine"
by Jody Benjamin
Supply List
-
Cardstock:
Bazzill;
Patterned Paper, Chipboard Shapes, Bling:
My Minds Eye;
Chipboard Letters:
Basic Grey;
Foam Letters:
Creative Imaginations;
Thread:
We R Memory Keepers, Bazzill;
Adhesive:
Scrapbook Adhesives by 3L
I've wanted to do a layout like this ever since I saw the one Allison did for
May Sketch Week
. I thought this would be the perfect sketch for me to give it a try.
Variation #1:
Only a slight variation to the circle, I cut it to just shy of 11". For some reason I don't have a circle cutter, so I went to the kitchen, grabbed a dinner plate and traced it on to my patterned paper and cut it out.
Variation #2:
I added sun rays to the layout. And I stitched a border around only the more solid colored patterned paper rays. I thought it would be too much if I stitched around all of the rays.
Variation #3:
I cut the rectangle piece to 4 ½ x 8, because my circle was smaller than the original on the sketch.
Variation #4:
I added a little bling to the chipboard swirls and placed them on the page.
•••••••••••••••••••••••••••••••••••••