•••••••••••••••••••••••••••••••••••••••••••
Today we are sharing the layout from 4-year-old Abigail, daughter of creative team member, Jill Sarginson. She used One-page sketch #4 to create her bright and cheery layout about swimming. Just wait until you see her adorable, handmade sun!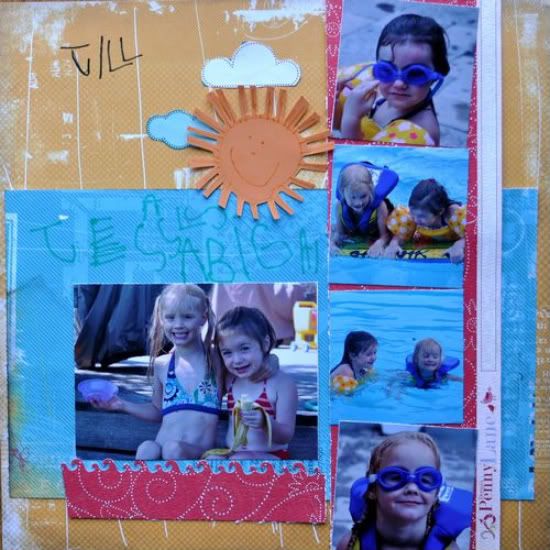 "Jessa and Abigail"
by Abigail Sarginson, age 4
Supply list
-
Patterned Paper:
Cosmo Cricket, My Mind's Eye, Bella Boulevard;
Tools:
Fiskars Boundary Waters border punch, Creative Memories circle punches
Hi, I'm Abigail and I'm 4 years old. I love to scrapbook with my mommy. This is the first time I've ever used a sketch.
(Mom adds: Abigail was really upset that her sun didn't look exactly the same as the sketch. She also wanted to make her title "Title", the same as the sketch).
What do you like about scrapbooking?
Pretty pictures from downstairs. I like cutting papers.
How much does your Mom scrapbook?
Lots. (long pause) Lots.
What is your favorite color?
Pink. And purple.
What is your favorite scrapbooking supply?
Flowers.
(Mommy adds: and my buttons and bling!)
What is your favorite thing about this sketch?
The sun.
If you could have your mom make a page about anything what would it be?
Don't know. A butterfly.
What is your best tip for other scrapbookers?
Don't know.
• • • • • • • • • • • • • • • • • • • • • • • • • • •
Scrapbooking With Kids tips:
At a younger age, sketches might be a little frustrating at first. Like Jill mentioned, her daughter was upset that her sun wasn't exactly like the sun on the sketch and she wanted to actually use the word "title" as her title since that is what is on the sketch.
• The younger the age, the more time you might need to take to explain what the sketch is for. If you've used a sketch before you might try showing your child the layout you made and the sketch you used. Point out areas on your layout that aren't exactly like the sketch and explain that you changed them to fit your pictures. Be patient, it might take awhile for your child to understand. And if it just isn't working and your child is still getting frustrated let them create without the sketch. You can always try them again when they get a little older.
• Be prepared, whether you are using a sketch or not, to help them a lot. The first few times you scrapbook together chances are you won't be doing a lot on your own pages.
• Keep in mind that kids are usually more entertained and interested with the creative process than the finished page. Let them do their own thing and resist the urge to suggest other ways to do it. Even though it's hard sometimes to watch them do what we have programed as "wrong", it makes it a much more enjoyable time for both parties.
• Encourage your kids to make their own embellishments, like the sun on Abigail's layout. Kids usually have a much larger imagination that adults do and you might be surprised at the different things they create to go with their layouts.
••••••••••••••••••••••••••••••••••