The creative team has made so many great layouts off this sketch that I can't wait to jump right in and get to showing them. Today, the three layouts have all followed the sketch pretty close with a few minor adjustments based on the designer's own style and the different elements they chose to use.
Two-page Sketch #10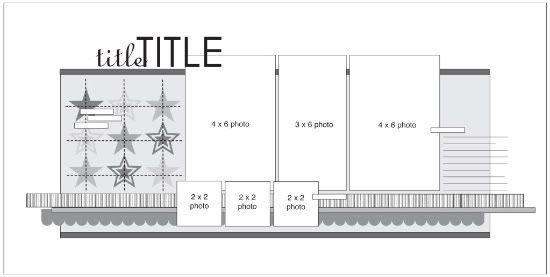 You can download and print this sketch by clicking on the two-page sketches link found under the "printable sketches" tab on the right sidebar.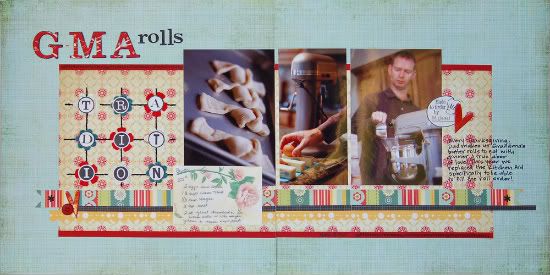 "GMa Rolls"
by Suzanna Lee
Supplies
-
Cardstock:
Bazzill;
Patterned paper:
Basic Grey, Cosmo Cricket, and Scenic Route;
Stamp:
Prima;
Alphabet stickers:
Cosmo Cricket, MM;
Chipboard:
Heidi Swapp;
Brads:
MM;
Flowers:
Buzz & Bloom, MM
Variations
1.)
I used the flowers with circle letters as their centers in place of the stars. Though I did hand stitch the tic tac toe grid as the sketch has, how could I not?!
2.)
Rather than the three 2x2 photos at the bottom of the layout, I used the recipe card for the rolls. The card is originally white so I had to use distress ink to "age" it a bit.
3.)
That striped strip across the page always seems to float to me so to ground it a bit, I used the brads and snipped the ends.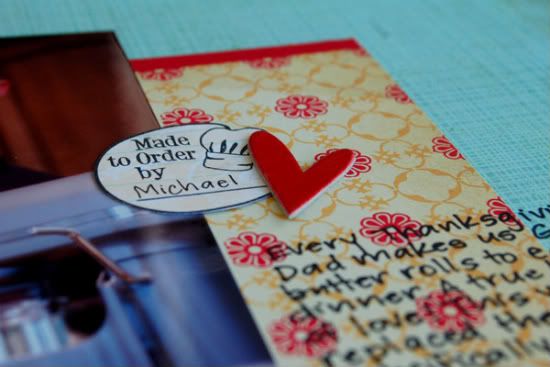 •••••••••••••••••••••••••••••••••••••
• • • • • • • • • • • • • • • • • • • • • • • • • • • • • • • • • • • • • • • • • • • • •
•••••••••••••••••••••••••••••••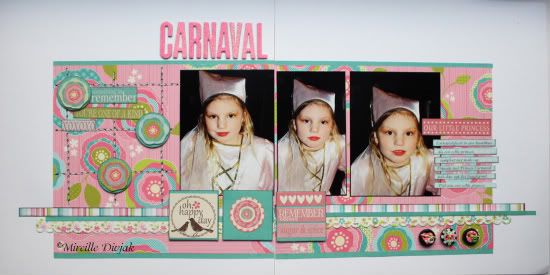 "Carnaval"
by Mireille Divjak
Supply list
-
Cardstock:
Bazzill;
Patterned paper:
Three Bugs in a Rug (Cloe line: bloomers, sloe stripe, mini florals);
Element stickers:
Three Bugs in a Rug (Cloe);
punch:
Fiskars;
Alphabets:
American Crafts (Thickers: shoebox glitter pink);
pens:
American Crafts and Sakura;
Waxed cord:
blue bird;
Buttons:
Tessa Ann;
Ink:
Vivid and Colorbox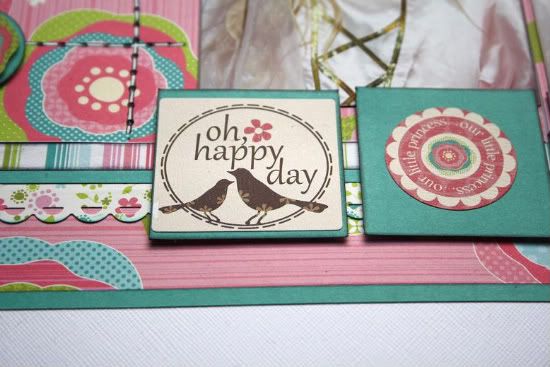 Story:
Carnaval arrived ( I don't know how you call that in English. Mardi Gras?) Amber wanted to dress up as a princess. She got to wear "real make up". She went to her first "big kids carnaval party " in the evening and danced with a real princess. Princess Carnaval!
•••••••••••••••••••••••••••••
• • • • • • • • • • • • • • • • • • • • • • • • • • • • • • • • • • • • • • • • • • • • •
"Always in the Dirt"
by Allison Davis
Supplies
-
Cardstock:
Bazzill;
Patterned paper:
My Mind's Eye;
Alphabets:
Prima (always), Scrap Within Reach (dirt) and unknown (in, the);
Brad:
My Mind's Eye;
Word stickers:
7Gypsies and Scrap Within Reach;
Variation #1
- I only had four pictures I wanted to use for this layout so instead of having three 2 x 2 photos on the bottom, I used one picture cut to 6 x 2 1/2. It worked out perfectly that the one picture I had left was a horizontal photo and would fill in the space for those three pictures.
The photo is split between the two pages. Usually, I wouldn't recommend splitting a picture but since it's not the focal photo and it's not split across an important part of the picture, like a face, I was okay with doing it.
Variation #2
- The stars in the grid ended up being slightly larger than the sketch suggests. There was a little bit of extra room in that space where the grid is so it all worked out.
•
••••••••••••••••••••••••••••••••••••••••••