A lot of times, and I mean a lot, I take a ton of pictures at a time. However, there are always those times that I just have only a few pictures of a particular event. I don't ever let the number of photos guide which sketch I use. You can always remove photos on a sketch and still end up with a well-balanced layout. Today, the layouts all have in common the removal of the three 2 x 2 photos and you can see how it didn't alter the overall look of the pages.
Two-page Sketch #10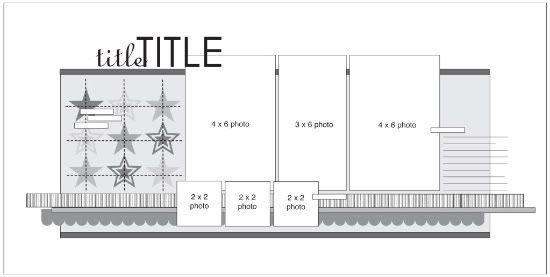 You can download and print this sketch by clicking on the two-page sketches link found under the "printable sketches" tab on the right sidebar.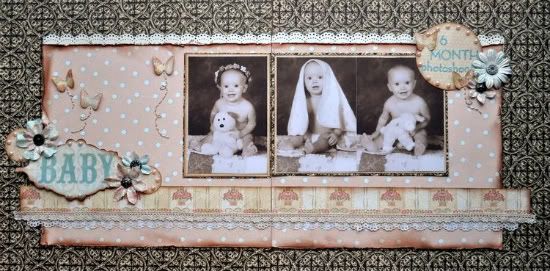 "6 Month Photoshoot"
by Jill Sarginson
Supply list
-
Cardstock:
Bazzill Basics;
Patterned Paper:
Graphic 45, Websters;
Alphabets:
Making Memories;
Embellishments:
My Mind's Eye (Baby die-cut);
Ribbon:
Craft;
Punches:
Martha Stewart butterfly punch, Martha Stewart lace punch;
Floss:
DMC;
Ink:
Vibrance;
Brads:
Forever In Time;
Pearls:
Craft;
Flowers:
Prima
Variation #1:
As opposed to the stitching/stars grid, I opted to punch out butterflies and stitch a trail under them.
Variation #2:
I brought the title down and used flowers/circles to make it more of an embellishment cluster.
Variation #3:
To balance out the layout, I raised my journaling cluster on the right hand side.
Variation #4:
I printed my photos smaller (3.5x5 and opted to omit the smaller 3 photos).
• • • • • • • • • • • • • • • • • • • • • • • • • • • • • • • • • • • • • • • • • • • • •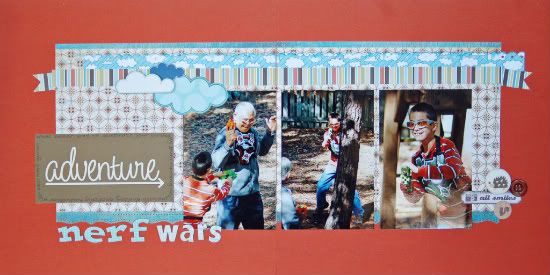 "Nerf Wars"
by Suzanna Lee
Supplies
-
Cardstock:
Bazzill;
Patterned paper:
Bella Blvd, Girls Paperie, Basic Grey;
Stickers:
My Mind's Eye;
Buttons:
Purple Pumpkin, My Mind's Eye;
Wood Seal:
Girl of All Work;
Punches:
Fiskars, Martha Stewart;
Letter stickers:
American Crafts, Cosmo Cricket;
Ink;
Distress
Variations:
1.) I rotated the sketch 180 degrees and then flipped it so the border is at the top but it kept the open space on the left.
2.) Instead of stitching and stars in the open space on the left I used a Bella Blvd. paper with journaling around it.
3.) I replaced the three pictures with three clouds since I didn't have smaller sized pictures that worked with the main pictures.
4.) The journaling was removed from it's original spot on the sketch as I had a better home for it.
5.) Cluster of embellishments for visual interest.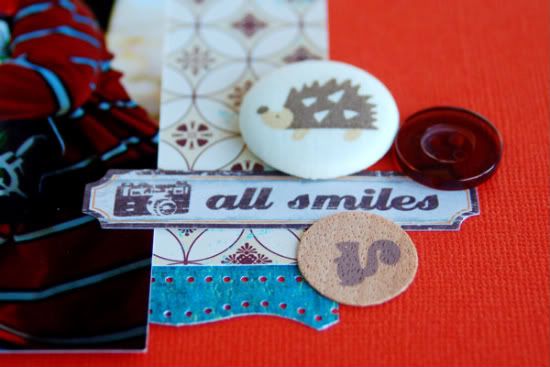 • • • • • • • • • • • • • • • • • • • • • • • • • • • • • • • • • • • • • • • • • • • • •
•••••••••••••••••••••••••••••••••••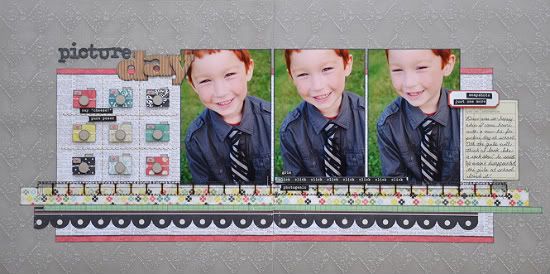 "Picture Day"
by Allison Davis
Supplies
-
Cardstock:
Core'dination;
Patterned paper:
Echo Park;
Alphabets:
Prima (picture) and Jillibean Soup (day);
Word stickers:
7Gypsies;
Label sticker:
Echo Park;
Film strip:
Tim Holtz
Variation #1
- I only had three photos so I created my layout without the three 2 x 2 photos on the sketch. The only thing I altered because of the missing photos is the strip sticker on the right of the 2 x 2 photos on the sketch. I moved it to the bottom of the middle 4 x 6 photo so it wasn't just floating out there all alone.
Variation #2
- I decided to use all 4 x 6 photos instead of cropping the middle one to a 3 x 6. There is plenty of room for the extra inch so I didn't have to worry about adjusting anything or covering up too much.
Variation #3
- I could have used stars, they would have worked with the theme of my layout just fine, but I always like to have a little fun with the theme of my layouts and see just how much I can enhance it. To go with the "picture day" theme, I created little cameras with patterned papers to use in place of the stars.
I didn't want to stitch over the top of the cameras like the stitching on the sketch so I opted to stitch a grid in between the cameras.
Variation #4 - I added an extra strip at the bottom with a film strip attached with staples.
• • • • • • • • • • • • • • • • • • • • • • • • • • • • • • • • • • • • • • • • • • • • •
My Creative Classroom Giveaway
Did you know that the name "Sketch Support" actually came from an online class I taught at My Creative Classroom? After two sold out sessions of the class last Fall we decided to go ahead and offer a third session this Spring too.
Here's some information about the class:
In this five week course you'll learn to stop wasting valuable time on page design and how to use sketches to increase your productivity, expand your style, and multiply your personal satisfaction. You'll see how easy it is to adapt a sketch to your own style or skill level and how to add simple to extreme variations to get multiple uses out of one sketch.
Start Date:
Tuesday, March 22
Fee:
$30
Length:
5 weeks
Also:
• you will get 5 new sketches that aren't in any of the Sketches for Scrapbooking books.
• there will be lots of time with me so I can help you with areas you might be struggling with.
• most of the class is focusing on getting the most out of sketches but there will also be tips and tricks for design, techniques, finishing touches, picking out papers, and more.
• each week will focus on a specific area of the sketch like photos, papers, embellishments, etc.
Plus, everyone who signs up for the class will get 10% off any Sketches for Scrapbooking order!
You can check it out by
clicking here.
And while you're there, be sure to check out the wide range of classes offered at
My Creative Classroom!
They offer so many interactive and in-depth courses that are instructor led and filled with wonderful projects and techniques to help you get the most out of your supplies. And during the month of March in celebration of National Craft Month, they have a great customer appreciation program with opportunities to get free seats to some classes. You can find the information for it by
clicking here.
I bet you're ready for me to get on to the giveaway! Today we've got not one, but
two seats
in my online class, Sketch Support, up for grabs. Leave a comment on this post, we'll randomly pick two winners, and announce them on Sunday.
•••••••••••••••••••••••••••••••••••••••••