•••••••••••••••••••••••••••••••••
The embellishments on a sketch are always easy to adapt to your theme since they are basically just there as a guide for the placement of those elements on your page. The obvious changes are what type of elements you use, like hearts instead of stars, but you can also get away with using smaller or larger embellishments. The guideline I follow is "if it's in the same general area as the embellishments on the sketch, it will work."
Today, the layouts from Christina and Carolyn both show different ways to skip the grid and replace it with a larger embellishment in that space.
(And their layouts have me eager to say, "Hello, Spring!")
Two-page Sketch #10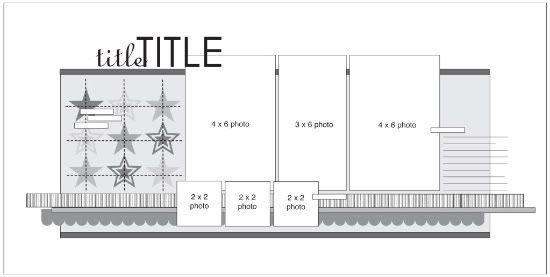 You can download and print this sketch by clicking on the two-page sketches link found under the "printable sketches" tab on the right sidebar.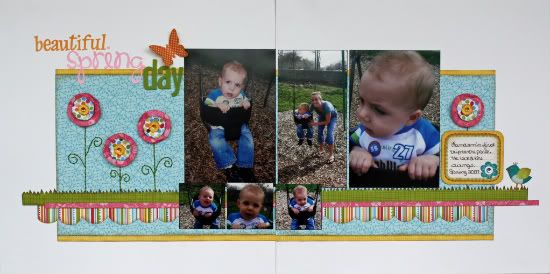 "Beautiful Spring Day"
by Christina Hoffman
Supplies
-
Cardstock:
Bazzill;
Patterned paper:
Bella Blvd;
Alphabets:
The Paper Studio, Doodlebug and American Crafts;
Emboridary Thread:
DMC;
Jewels:
Kaisercraft
The only changes I made was I created flowers and stems in place of the stars, I cut my top strip to look like grass and I created my own journaling block.
Here's a closer look at some of the details:
• • • • • • • • • • • • • • • • • • • • • • • • • • • • • • • • • • • • • • • • • • • • •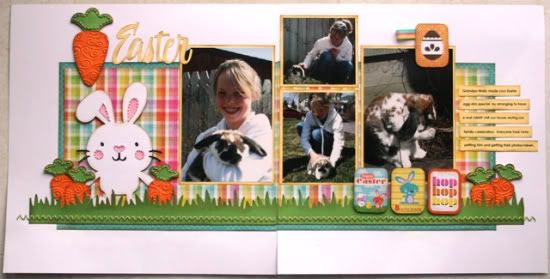 "Easter"
by Carolyn Wolff
Supply List
-
Patterned Papers:
We R Memory Keepers, Bo Bunny;
Cardstock:
Bazzill;
Die-Cuts:
Cricut Create A Critter, AccuCut Border Die;
Floss:
DMC;
Title:
Cricut Calendar Cartridge;
Adhesive:
3L
This is another fabulous 2-page sketch. I made quite a few changes to my version of this layout.
Variation #1
– When I created my background I used two layers (one solid paper with a pattern paper on top).
Variation #2
– I used a grass die-cut to create the border along the bottom of my layout. I added a zig zag stitch to add another layer and create some dimension.
Variation #3
– The biggest change I made was to create a large embellishment on page 1. I used my Cricut and created the rabbit to go with the Easter theme.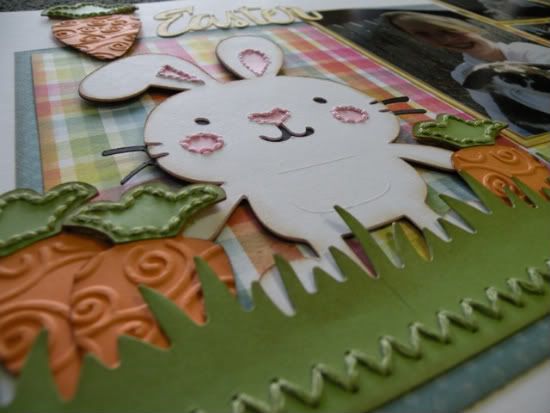 I added stitching to the ears, nose and cheeks to create some texture. I cut out some carrots that I embossed with my Cuttlebug and stitched the tops.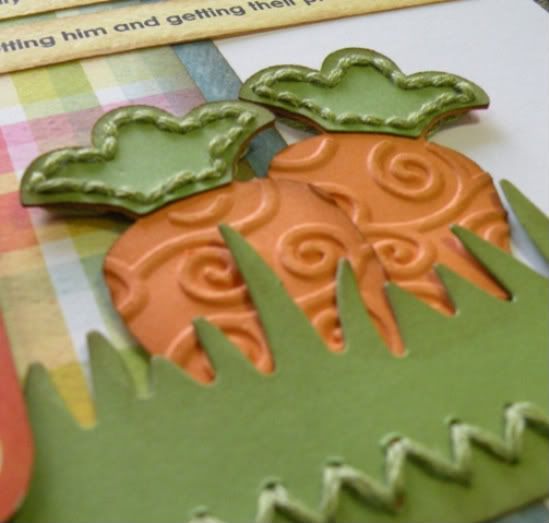 Variation #4
– I used a larger carrot and a die-cut title to create the title for my layout. I embossed and stitched the carrot to match the smaller ones shown on the page.
Variation #5
– For the photos, I left the two 4x6 photos the same. I matted them with yellow cardstock. For the 3x6 photo, I turned it into two photos, even though they did not remain even along the top edges as shown on the sketch.
Variation #6
– I replaced the three small photos with die-cuts from the pattern paper and placed them all on page 2.
I love using journaling strips. I did my journaling on the computer and them cut the strips out and placed them on page 2.
••••••••••••••••••••••••••••••••••