••••••••••••••••••••••••••••••••
We are wrapping up two-page week with a layout from our March Guest Designer, Megan Bickers. Megan's layout is a great interpretation of the sketch and the amount of detail is amazing!
Two-page Sketch #10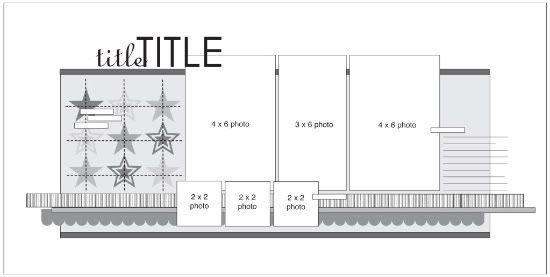 You can download and print this sketch by clicking on the two-page sketches link found under the "printable sketches" tab on the right sidebar.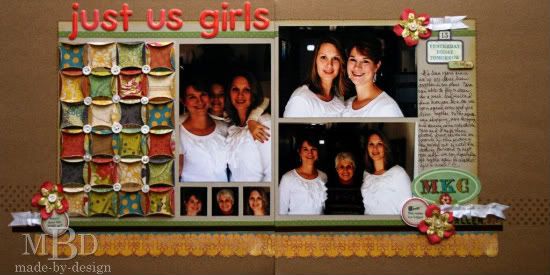 "Just Us Girls"
by Megan Bickers
Supplies Used
-
Cardstock:
Close To My Heart (white), DMD Inc. (kraft), Bazzill (dark brown and green embossed Dotted Swiss), and unknown (gray);
Patterned Papers:
Crate Paper Restoration (Chaplin, Garbo, Bette, Elements, and 6x6 pad);
Stamps:
Technique Tuesday Alphabet (Underground Caps), Studio G (Monogram letters), Paper Trey Ink (Polka Dots), and Fontwerks (Ruler Border Stamp);
Inks:
Ranger Distress Inkpads (Walnut Stain, Peeled Paint), Tsukineko (Versamark Inkpad);
Markers:
EK Success Zig Markers (Brown, Pink, Blue, Yellow);
Punches:
EK Success (1 ¾ circle, 1 ¼ square);
Embellishments:
American Crafts (Chit Chat Grapefruit Puffy Letter Alphabet Stickers) Making Memories (Paper Flowers), and Crate Paper Restoration (Stickers and Die Cuts);
Buttons:
Craft stash;
Ribbon:
Martha Stewart (white);
Other:
White crochet thread and Martha Stewart Scoring Board
Photos:
• I used 5 photos total,
• I used one 4x6 vertical photo and two 4x6 horizontal photos
• For the smaller photos, I punched each of our faces from an extra photo (1 ¼" squares)
• Instead of overlapping these smaller photos, I lined them up under the vertical photo.
Title:
• I loved how these puffy pink thickers matched the papers so well and are a reminder of my sticker-collection days with my sister growing up. We loved the puffy stickers the most!
• Journaling was written on the extra space provided on the grey cardstock.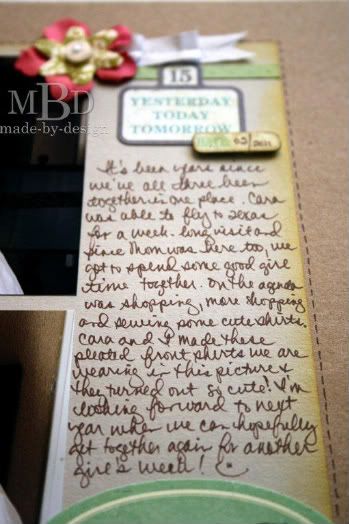 • I also stamped the words "Allen girls" in the bottom right corner.
Papers:
• Instead of using a stripe paper as shown in the sketch, I stamped a ruler pattern on the dark brown cardstock to create my own striped paper with a tone-on-tone look.
• I added a scallop border along the bottom of the layout that was fussy-cut from a pattern paper.
• I added ribbon in addition to the paper borders along the bottom. I used white ribbon that I ruffled with a sewing machine to mimic the ruffles in the shirts my sister and I made together.
• I also stamped a polka dot section along the background where the photos and paper borders meet.
Embellishments
:
• Instead of the stars in the grid shape that were shown on the sketch, I was inspired with the stitching element and decided to create a quilt with paper. I used paper circles folded to resemble a Cathedral Window quilt pattern, just like a quilt my mom has made. I stitched buttons at each intersection for added embellishment.
• I added 3 clusters of embellishments to the layout that weren't originally drawn in the sketch to draw your eye around the page.
• Layered flowers with sewn buttons, circle stickers mounted on white cardstock circles, and ribbon ruffles completed these embellishment clusters.
• I also added a couple of die cut shapes on the 2nd page along with an oval sticker that I stamped our initials on, embossed and colored in with markers. The colors I used for each letter coordinated with the colors of our rooms when we were growing up.
• To finish off the layout, I drew faux stitching lines around the gray cardstock with a brown marker. I also inked the edges of the gray cardstock with a green ink pad and a sponge.
••••••••••••••••••••••••••••