•••••••••••••••••••••••••••••••
There is no doubt that stitching is a great way to accent the umbrella. It adds a finished look to the umbrella and there are several ways to add it other than the lines on the sketch. On the projects posted today you'll see two different ways to added some stitching accents that are sure to make that umbrella stand out!
Add-on Sketch #4
You can download and print this sketch by clicking on the add-on sketches link found under the "printable sketches" tab on the right sidebar.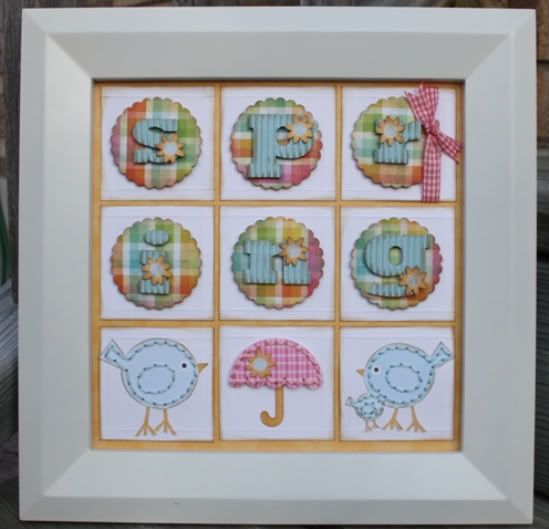 "Spring" frame
by Carolyn Wolff
Supply List
-
Patterned Paper:
3 Bugs in a Rug, We R Memory Keepers;
Cardstock:
American Crafts;
Alphabet:
Jillibean Soup;
Ribbon:
unknown;
Button:
BasicGrey;
Floss:
DMC;
Embossing:
ScorPal;
Adhesive:
Foam squares 3L, Zots 3D dots;
Ink:
Ranger Distress Ink, Vintage Photo;
Frame:
Fancy Pants;
Border Punch:
Fiskars
Oh, I had fun with this Add-on sketch. I was feeling kind of 'springy' and thought I would try a home decor item.
Here are my variations on the sketch:
Variation #1
– In order to make the little umbrella (so cute), I punched out a circle and then used a scalloped border punch to create the scalloped edge.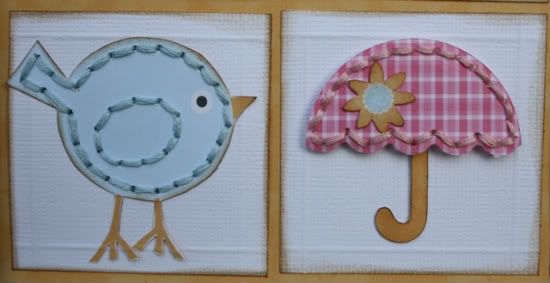 I added some pink stitching to give it dimension. I cut the handle using a cartridge (Create A Critter) for the Cricut. I added the flower from the patter paper that the birds were cut out of.
Variation #2
– After cutting the white squares for all my elements, I used the ScorPal and embossed a border on all of them.
The top 6 squares all contain a punched plaid circle, a letter and a cut out flower. I added ribbon to the top right square to match my handmade umbrella embellishment.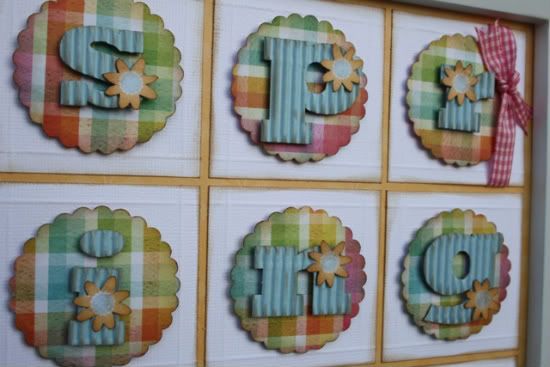 The bottom row of squares contains the icons that represent spring. I cut the birds out of pattern paper and then added the stitching.
This is one of my first attempts at a home decor item and although it was a bit of a struggle to put together, it turned out pretty good. I see more of this type of thing in my scrapbooking future.
• • • • • • • • • • • • • • • • • • • • • • • • • • • • • • • • • • • • • • • • • • • • •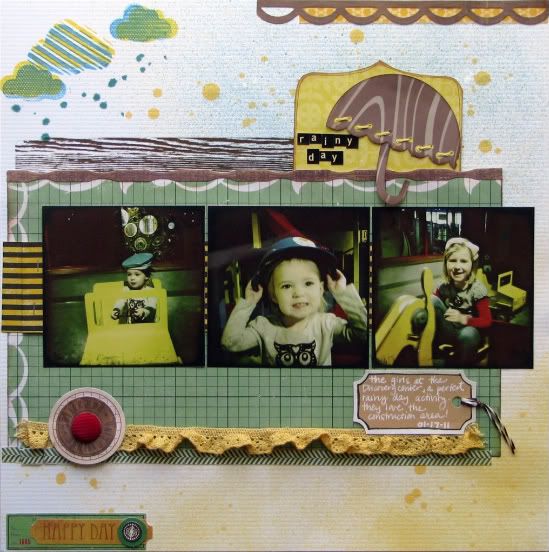 "Rainy Day"
by Christy Arthur
Products
-
Cardstock:
Bazzill;
Studio Calico:
Fabrips Documentary, Cloud stamp, Countryside wildflowers, Mister Huey Lemonade, bluegrass and calico white and woodgrain rub ons;
Jenni Bowlin:
ranger ink lemon drop;
Colorbox:
Queue Chocolate and Blueberries;
Crate Paper:
Portrait and Toy Box border stickers and Emma' Shoppe Phrase Stickers, Portrait Honeymoon paper;
Echo Park:
for the record Fabric Store and Lace Stripes;
My Minds Eye:
Stella and Rose Label Stickers and Mabel Trims;
Cosmo Cricket:
Tiny Type
I created a layout focused around a rainy day activity for our girls.
I stamped some clouds in the corner and added a few drops of mist to look like raindrops. I used a journal card I cut out of patterned paper behind the umbrella add on embellishment to help it stand out on the page.
I used a large circle punch to get the shape of the umbrella and cut that in half. Then I took a scalloped dot punch to make the bottom part of the umbrella. I free handed the handle and cut that out of paper. Since there were dots punched, I added a little stitching though it for a different touch.
The strip of paper behind the photos is actually black and white, but I took my yellow stamp pad and dabbed it all over it so it would blend a little more in with the colors of the layout.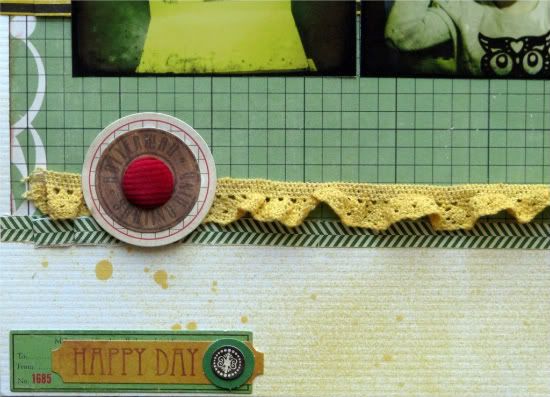 •••••••••••••••••••••••••••••••••