Have you ever started with a sketch but ended up going in a different direction and ended up with a project that didn't follow the sketch at all? A lot of times a sketch can be used as the spark to ignite an idea, and that includes the add-on sketches. Making your own embellishments can be a lot of fun but we all know that it's much easier and faster to use something pre-made. And who isn't for saving some time?
The two projects today all used the add-on sketch more for inspiration instead of looking at the sketch as a guide.
Add-on Sketch #4
You can download and print this sketch by clicking on the add-on sketches link found under the "printable sketches" tab on the right sidebar.
"When it Rains it Pours"
by Carolyn Wolff
Supply List - Patterned Paper: Nikki Sivils, Scrapbooker; Cardstock: Bazzill, Core-dinations; Alphabet: Alphalicious Cricut Cartridge; Floss: DMC; Embossing: ScorPal; Ink: Ranger Distress Ink, Vintage Photo, Papertrey; Raindrops: Dew Drops, Glossy Accents; Punch: Scalloped Circle Ek Success
As soon as I saw this sketch I thought of this adorable turtle holding an umbrella. The sketch inspired me to create this entire layout surrounding the umbrella.
Here are my variations on the sketch:
Variation #1
– I hand cut out the turtle and umbrella. I added Glossy Accents to the polka dots on the umbrella and his rubber boots to make them look like they were wet.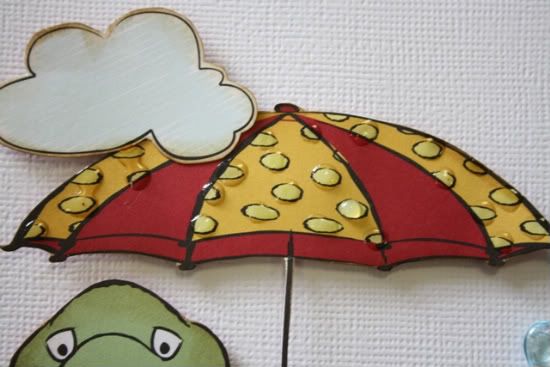 Variation #2
– I accented the squares with red stitching along with creating a border using a scalloped die-cut to poke the holes.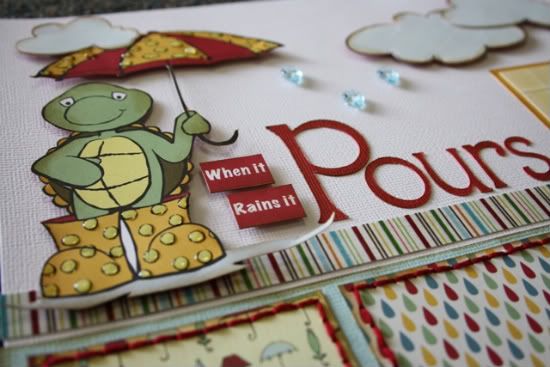 Variation #3
- I used a lot of foam adhesive to pop up my paper embellishments. This gives them lots of dimension and they appear to pop right off the page.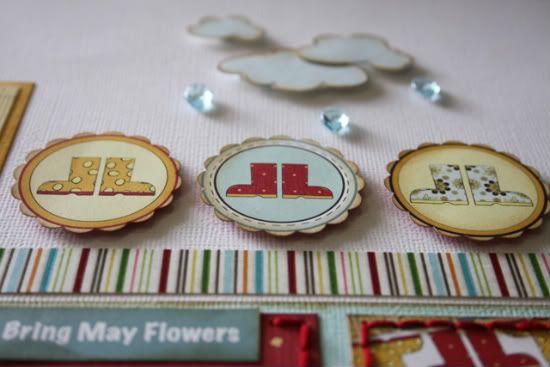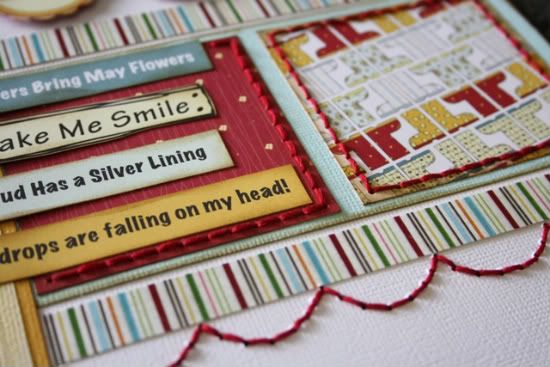 Variation #4
– I used my ScorPal to emboss a border on all of the photo mats. I accented the embossed line with white ink. This creates another layer for my photos without adding more paper.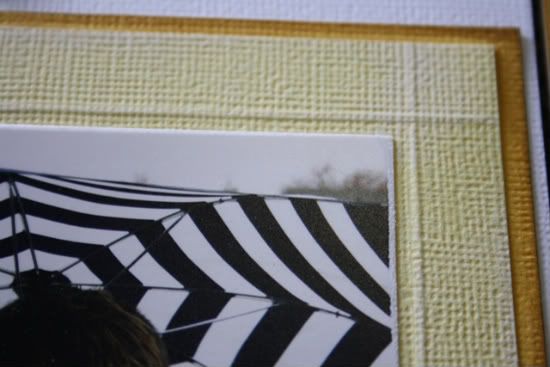 • • • • • • • • • • • • • • • • • • • • • • • • • • • • • • • • • • • • • • • • • • • • •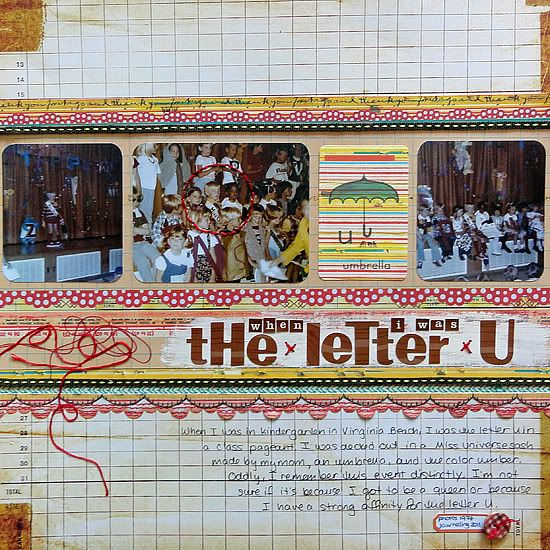 "When I Was the Letter U"
by Jennifer Larson
Supplies
-
Patterned paper:
Sassafras, Fancy Pants;
Paint:
Claudine Hellmuth;
Letter Stickers:
October Afternoon, Cosmo Cricket;
Ribbon:
Crate Paper;
Thread:
DMC;
Label Sticker:
Scenic Route;
Button:
Crate Paper;
Corner Rounder:
EK Success;
Die Cut Card:
Sassafras;
Stitching Template:
Bazzill;
Pens:
Zig, American Crafts.
1. The umbrella made me think about the time I had to be the letter U in a Kindergarten show. The whole story came back to me, so I dug out these pictures and the umbrella die cut.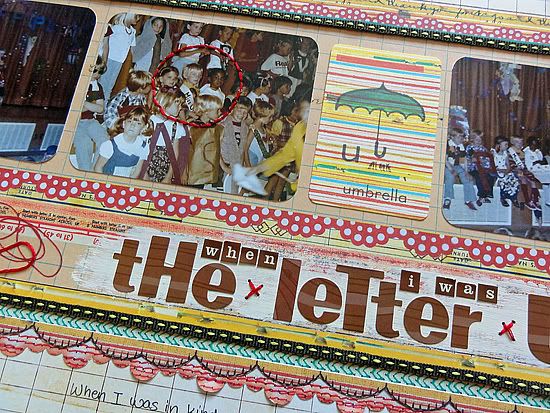 2. Using Photoshop Elements 7, I did an Auto Correct, then a Color Correction on the photos, which were from the 1970s. These two edits fixed many of the problems quickly.
3. I only used two pieces of patterned paper; one had many different strips in it, so I trimmed them to look like layers of different patterned paper. I even lay two pieces together to house the photos on a mat; if you look close, you can see the seam.
4. To make the thread on the patterned paper more dimensional, I glued down some DMC in random squiggles.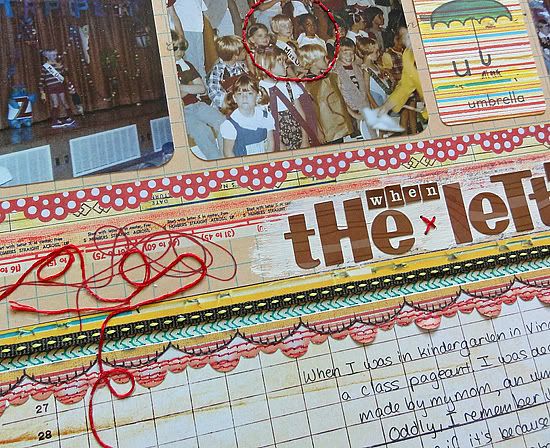 5. To make me stand out more in the center photo, I stitched a circle around me.
6. I also painted over the patterned paper to make the letter stickers stand out more.