••••••••••••••••••••••••••••••••••••
Today's post is a long one! There's so much to share!
At first glance the add-on sketch might seem a little limiting because it's so specific, but an umbrella is not the only thing you can use this sketch for. We've got three projects today that used the general shape of the umbrella as inspiration and just like the layout and card sketches, this add-on sketch is flippable too!
There's also another book I made using the
PhotoBook Creator
with the add-on sketch and a fabulous giveaway you won't want to miss out on!
Add-on Sketch #4
You can download and print this sketch by clicking on the add-on sketches link found under the "printable sketches" tab on the right sidebar.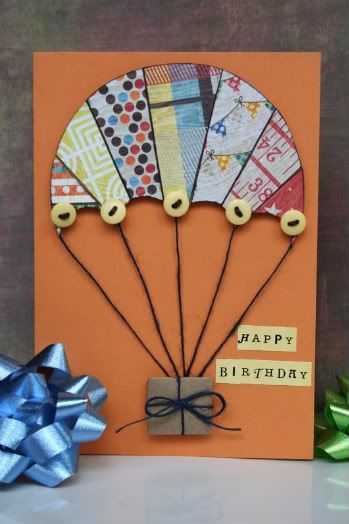 "Happy Birthday" card
by Shari Thurman
Supply List
-
Pattern Paper:
Basic Grey;
Alphabet stickers:
My Little Shoebox;
Ink:
Colorbox Chalk Ink, dark brown;
Other:
Cardstock, buttons, jute
The inspiration for this card came from the Hanna Andersson children's catalog. I saw a baby boy jacket with a cute appliqued monkey and parachute. I knew I could adjust this sketch to make a parachute.
I started my scallop lower on the circle and curved the scalloped edge a bit. To create my scallop border, I lined up 4 circles and traced around them giving me the curve that I wanted. I reversed the angles of the lines on the parachute from the sketch. Attached jute, buttons and my package. I then finished it by adding my sentiment.
• • • • • • • • • • • • • • • • • • • • • • • • • • • • • • • • • • • • • • • • • • • • •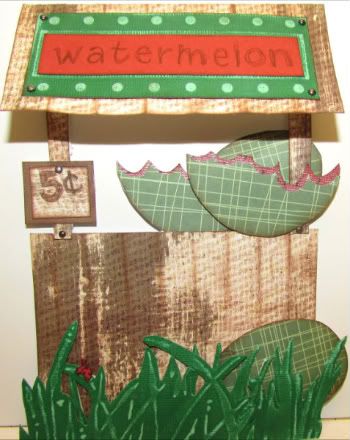 "Watermelon"
by Amy Roller
Supplies
-
Pattern paper:
Creative Imaginations;
Cardstock:
Bazzill, Stampin UP!;
Embossing folder:
Provo Craft;
Mini brads:
Oriental Trading Co.;
Stamps:
Close To My Heart;
Black pen:
American Crafts
I decided to take the umbrella add-on and make it a watermelon. I made a cute little watermelon stand out of patterned paper.
• I accordion folded the "roof" the give it a 3D feel and overhang.
• I used an embossing folder and cardstock for the grass. I sanded it before I cut out around the embossed part and then added a stamped ladybug.
• I added mini brad for the nails and another embossing folder/stamps for the sign.
• For the watermelons themselves, I just hand cut the shape from patterned paper then used a circle punch and scissors to make the broken bite marks.
I then added Bazzill shimmer cardstock for the pink part of the fruit.
• • • • • • • • • • • • • • • • • • • • • • • • • • • • • • • • • • • • • • • • • • • • •
"Home"
by Amy Roller
Supplies
-
Cardstock:
Bazzill, Stampin Up!;
Stamps:
Stampin Up!;
Ink/Markers:
Stampin
Up! Versamark;
Wood Embellishments:
House of 3;
Patterned paper:
Echo Park;
Metal Embellishments:
Making Memories;
Brads:
Oriental Trading Co.;
Ribbon:
unknown
I used the add-on as a lamp shade this time. I just altered the size to fit and hand cut the shape. Then I punched stitching lines for detail on the shade but because it is such a small piece, the holes were likely to rip if I tried to stitch them so I just used a marker and "faux stitched." For the actual lamp I just cut a small strip, fold it vertically and then hand cut the details along the open side. Unfold and you have the finished base.
I wanted a view from inside so I added a flourish stamp to the "walls" that I embossed so they would show up better and look like wallpaper. I also added a window with curtains. You can see through the window to an outside view.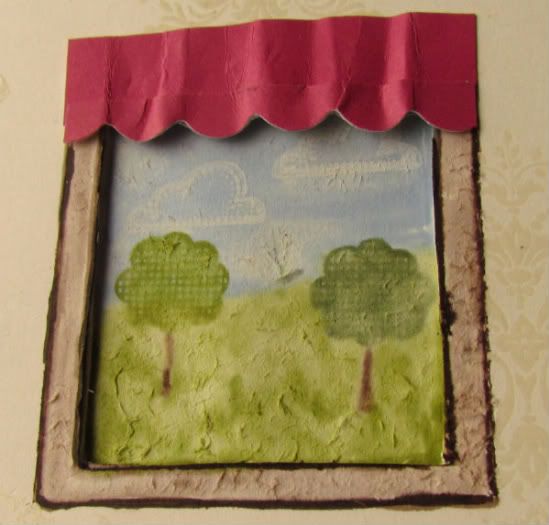 For this I water colored the sky/grass and stamped the trees and clouds.
For the inside I added a small table that is a pre-made wood embellishment that I colored with Glimmer Mist. I then pop dotted the lamp base onto the table and added a light bulb that I hand cut from patterned paper. I also added a pull switch that I made out of wire.
To finish, I added the lampshade with pop dots. I then made a picture frame out of silver paper and used a tiny picture from a picture index sheet. (You can have these printed with your pictures when you develop them.)
The walls and floor needed a little attention as well so I used small metal embellishments as wall art that I "hung" with wire and a brad for the nail. For the floor, I made a rug. I stamped a background stamp and then added twill ribbon to the end that I frayed out beforehand by pulling several strands off after trimming off the edge of it. The last thing was the sentiment, which I stamped and then added a scalloped border to match the scalloped base of the project.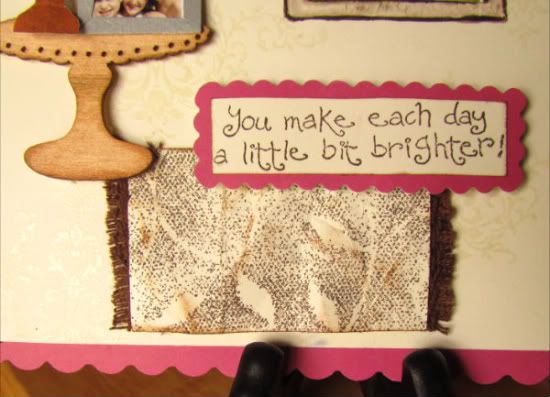 • • • • • • • • • • • • • • • • • • • • • • • • • • • • • • • • • • • • • • • • • • • • •
My Unibind PhotoBook Creator book using Add-on Sketch #4
Everyone has a list of the things they want, right? It might be in a mental notebook in your head or maybe you write them down or you could have a wish list online. It could be material things or it could be a lifestyle you want to live: make more money, eat healthier, lose weight, etc. Over the last year or so I've become a big believer in how setting goals and writing them down can really help you reach them. I started writing my goals down and was surprised on how putting them on paper and putting them in a place I look everyday made me work even harder to reach them.
For the Unibind book I made this week, I used the saying "save your money for a rainy day" as inspiration and did a fun twist on a goals list by creating a "For a Rainy Day" book.


"For a Rainy Day" book by Allison Davis
Supplies - Book: Unibind; Patterned paper: Cosmo Cricket; Alphabets: Cosmo Cricket

This is a book of some material "goals" that I've set for myself like:

• the vehicle I want
• places I want to travel to (take the boys to Disney, Italy, somewhere tropical)
• a new house
• clothes
• the way I want to decorate our home
By using pictures of the things I want and being able to visualize those things, I might be a little better about not letting money "burn a hole in my pocket" (which I can be so bad about doing!) and instead setting it aside for the things I really want.
This week I used the black 4 x 6 cover for my "For a Rainy Day" book and used the umbrella sketch to enhance the rainy day title.
I kept the inside pages fairly simple with just pictures that I edited and added frames to with a fun photo desktop application called Lo-Fi. Here's a look at some of the inside pages:


Inside pages
-
Tape:
American Crafts;
Alphabet:
Cosmo Cricket;
Sticker:
My Mind's Eye;
Photo desktop application:
Lo-Fi
;
Photo credits:
Cadillac Escalade
,
Disney
,
Bedroom and dinning room
;
giant wooden dominoes
,
Kitchenaid mixer
, and
cupcake apron
A great thing about the Photobook Creator is that I can keep adding to this book by heating and slipping in the new pages.
• • • • • • • • • • • • • • • • • • • • • • • • • • • • • • • • • • • • • • • • • • • • •
A Sponsor Giveaway from Unibind
Today, we've got another PhotoBook Creator from Unibind to giveaway!
There are so many possibilities with this machine and all the different books you can make! Trust me, you'll want to get in on this giveaway!
To be eligible for the giveaway leave a comment on this post and we'll randomly select a winner. You have the whole weekend to leave a comment and we'll post the winner on Monday.
Speaking of giveaways, on the
Nikki Sivils, Scrapbooker
blog there is a giveaway today for a Sketches for Scrapbooking book and her "It's Raining, It's Pouring" collection!
•••••••••••••••••••••••••••••••••••••