••••••••••••••••••••••••••••••
Add-on Sketch #5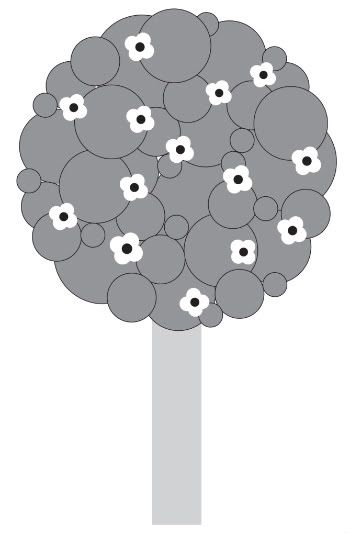 You can download and print this sketch by clicking on the add-on sketches link found under the "printable sketches" tab on the right sidebar.
"Our Little Family"
by Allison Davis
Supplies
-
Patterned paper:
Bella Blvd and American Crafts (clouds);
Alphabets:
BasicGrey (our), American Crafts (little), and Bella Blvd (family);
Rubon:
unknown;
Stickers:
Cosmo Cricket and Bella Blvd;
Jewels:
Kaisercraft
I thought the tree would be a fun way to embellish a page about my family. When I saw a super cute chipboard piece by Bella Blvd. that had a tree with a heart on one branch I decided to combine it with the add-on sketch for my layout.
Variation #1
- Instead of the trunk going behind the circles I added branches and kept mine in sight.
Variation #2
- Because I wanted the branches to show I didn't layer my circles on top of each other and instead have them spaced apart. I tried to keep the same overall circle look to my tree as the sketch.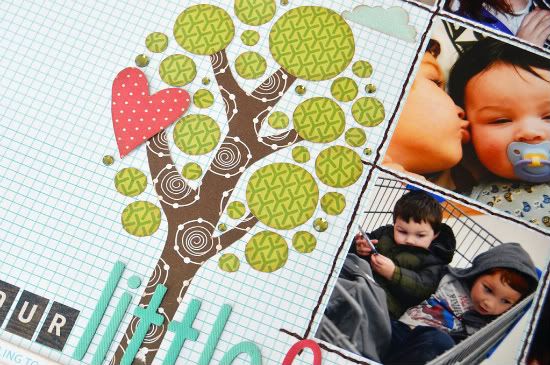 Variation #3
- I add a red heart to one branch. I loved the thought that it kind of represented our own little branch in our family tree.
Variation #4
- I used green jewels to help fill in the really small spaces.
• • • • • • • • • • • • • • • • • • • • • • • • • • • • • •
Bonus Sketch
Two-page Sketch #14
-
based on Add-on Sketch #5
•••••••••••••••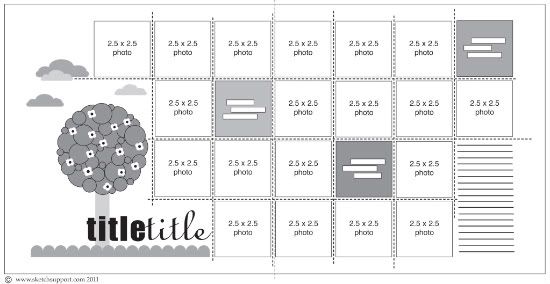 You can download and print this sketch by clicking on the two-page sketches link found under the "printable sketches" tab on the right sidebar.
This sketch is also based off of my layout, "Our Little Family". There are a few things I wanted to share with you about this sketch and the different ways you can use it.
Photos
- There are 19 photos on this sketch! That's a lot! The fun thing about layouts that have a grid design is that they are easy. I used wallet size photos so I could still have most of the picture in sight when I cropped them down to the 2 1/2" size.
•••••••••••
Most photo processing places offer wallet sizes but if the place you use doesn't you might check out
http://www.photility.com
They have a wonderful free software called Photo Sheet that allows you to group several separate images into a single image, like six 2 x 2 photos printed on a 4 x 6.
You can also use larger photos with the sketch, like 3 x 3 and adjust everything as needed. Obviously you won't be able to fit as many photos but it will still work. You can also add in a larger focal photo somewhere too, like a 5 x 5 (cropped from a 5 x 7) in place of four photos or a 2 1/2 x 5 in place of two. Another way you can add in a bigger picture is to put one in place of the tree and then use smaller embellishments beside it.
Theme - This sketch will work great with a collection of your favorite photos, like I did on my layout. You could do a month in review, birthdays, holidays, etc. And you can remove the tree and add many other larger embellishments in it's place like:
• a big birthday hat
• a wedding cake
• big splashes of water
• a Christmas tree
• tall flowers
• a house
• tall guitars
•••••••••••••
Stitching - I absolutely love stitching on my pages but I understand that not everyone is as big of a fan as I am. And I'll admit, the stitching was quite time consuming on this layout since there is so much. If you don't like stitching you can always do "faux" stitching with a pen or just add straight lines with a pen to get a similar look.
••••••••••••••••••••••••••••••••••••••