•••••••••••••••••••••••••••••••••
Today I'm sharing two different home decor projects I made based on the card sketch, one of which involves a rock. No, that's not a typo. I actually meant a rock. I never would have imagined that I would use a rock and scrapbooking supplies together.
Card Sketch #6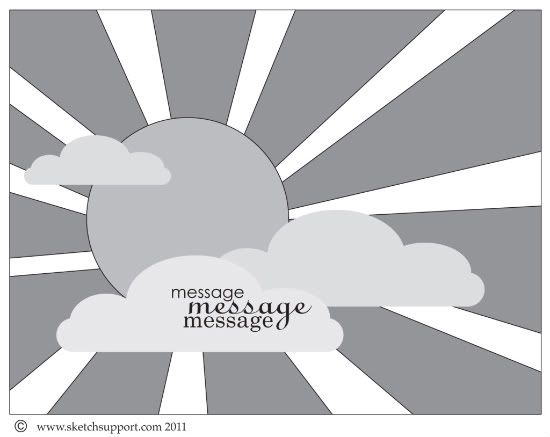 You can download and print this sketch by clicking on the card sketches link found under the "printable sketches" tab on the right sidebar.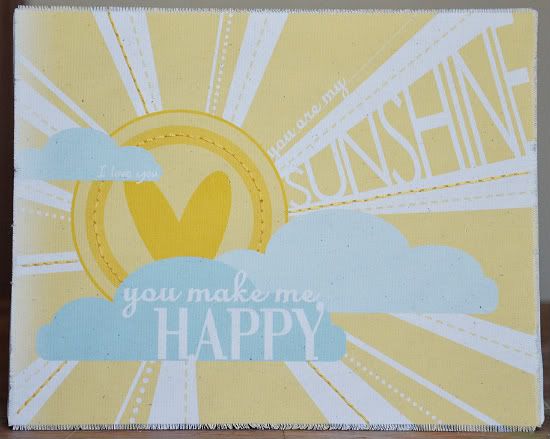 "You Are My Sunshine" canvas
by Allison Davis
Supplies
- Claudine Hellmuth Sticky Back Canvas
I have been singing the song "You are my sunshine" to my boys since the first day Drew was born. I've always enjoyed singing that song to them more than any other because it explains exactly how I feel about them. They are my sunshine. They make me happy. (This might explain my love for using suns and clouds on my scrapbooking projects!)
I wanted to make something that I could hang in their room since the three of us share a love for this song. (It's still the most requested bedtime song!)
To make the canvas I used the actual computer generated sketch I had created and increased the size to 8 x 10. Then I added the color, the phrases, more circles, a heart, and a few extra lines before I printed it onto the sheet of Sticky Back Canvas. After I printed it out I added some hand stitching to a few of the lines and around the center of one of the circles. Since I wanted this to hang on the wall I adhered it to an 8 x 10 canvas.
• • • • • • • • • • • • • • • • • • • • • • • • • • • • • •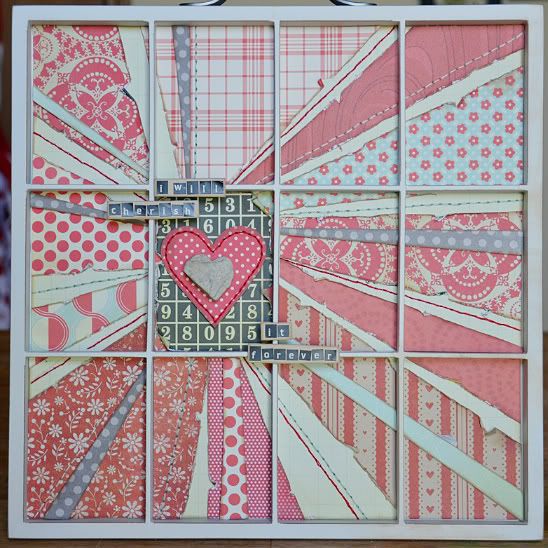 "I Will Cherish it Forever" by Allison Davis
Supplies - Printer's Tray: 7Gypsies; Patterned paper: Pink Paislee, My Mind's Eye, Jillibean Soup, KI Memories, October Afternoon, and Cosmo Cricket; Alphabet stickers: Cosmo Cricket
My youngest son, Jackson, has been enjoying finding things and giving them to me. (I won't go into detail about the time he found and handed me a spider.) A lot of the time it's flowers and I'm always so crushed that I can't keep them forever. There is just something about him walking up with a sweaty wad of flowers in his little hand and that proud look on his face that pulls at my heart strings. Not too long ago he walked over and handed me, what I thought was going to be more flowers but, instead, he had a heart shaped rock. He was so proud and I was so happy that this was something I could actually keep forever.
I used the card sketch as the guide for showcasing the heart shaped rock and thought the sun rays would be a great way to "frame" the rock. I would be lying if I said this project was easy. Because you have to make each individual square come together with the rest of the squares to create one big picture, it takes a lot of time and patience.
Instead of using a circle I used heart to help the rock stand out and so it would bring out the shape of the rock.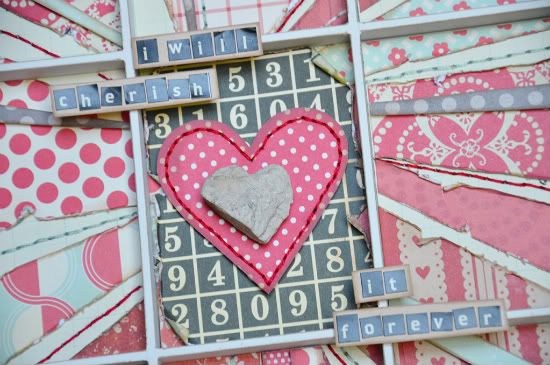 I love the look of
this canvas by Tammy Tutterow
and how she rolled the paper to expose the paper underneath it. I went for a similar look with this project and rolled the edges of the paper in random places all over.
•••••••••••••••••••••••••••••••••••••••