•••••••••••••••••••••••••
Add-on Sketch #8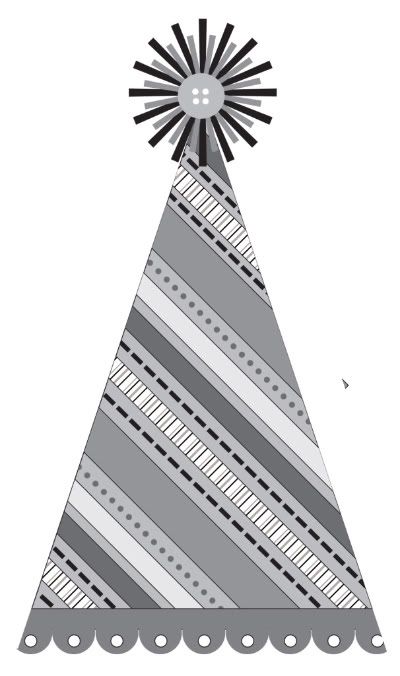 You can download and print this sketch by clicking on the add-on sketches link found under the "printable sketches" tab on the right sidebar.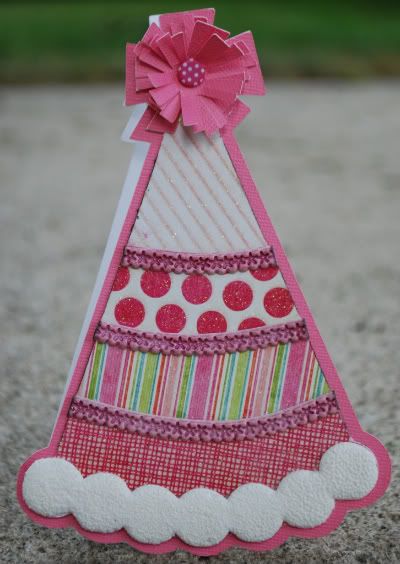 Birthday Hat card
by Mary Bezdicek
Supplies used
-
Paper and stickers:
My Minds Eye (Home);
Cardstock:
Bazzill and Coredinations;
Ink:
Versa Color (Chestnut Roan);
Mist:
Tattered Angels;
Cricut Cartridge:
Straight from the Nest;
Liquid Applique:
Marvy;
Embellishments:
Pink Paislee;
Brad:
Spare Parts
Variations:
• For this card I used my Design Studio to weld two party hats (using the Shadow Creative Feature) together from the "Straight from the Nest" Cartridge. I cut then cut a single of the Shadow in pink and five of the hats (Creative Feature off) one in white cardstock and four from a different sheet of the My Mind's Eye paper. If any of you would like the cut file I made for this contact me at my blog.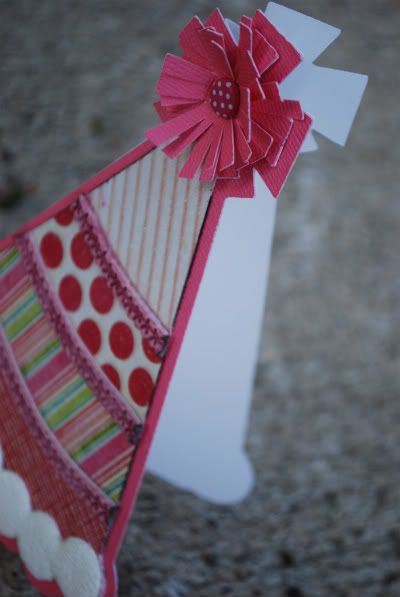 • Layering all of the patterned paper together, I cut the hats in fourths so my lines would match and adhered them to the white base.
• I cut four of the hat pom pom and layered them to create the "fluff". I layered the base and the pom pom on the pink Party Hat. The "fluff" was adhered by a brad. I then put this on top of the card.
• The Pink Paislee Artesian Element was sprayed with the Black Cherry Glimmer Mist and adhered over the paper seam.
• The Marvy Liquid Appliqué was applied on the hat trim and once dried I ran a heat gun over the top to create the dimension on the trim. It was then adhered to the bottom of the card.
• • • • • • • • • • • • • • • • • • • • • • • • • • • • • •
"Christmas"
by Mary Bezdicek
Supplies used
-
Paper:
October Afternoon (Very Merry);
Cardstock:
Bazzill;
Ribbon:
Offray;
Ink:
Colorbox (Chestnut Roan);
Embroidery floss:
We R Memory Keepers;
Cricut Cartridges:
George, Basic Shapes, and Beyond Birthdays;
Glitter Accent:
Stickles, Ranger (Gold and Icicle);
Other:
Thickers and foil accents
• I pretty much stuck to the sketch design.
• The pom pom was changed to a star and covered with Gold Stickles.
• The ornaments were made with the floss using a French knot.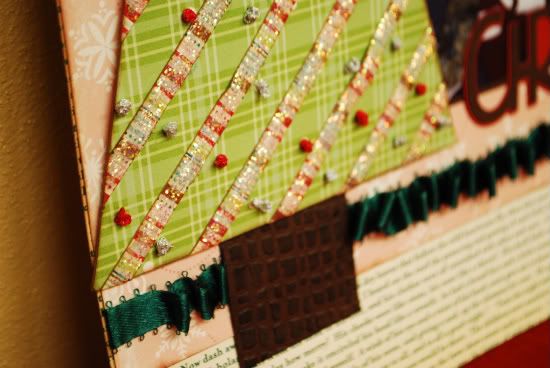 • I put Icicle Stickles on the striped strips of paper.
• The trunk was cut from cardstock and ran thru my Sizzix Texture Boutique.
•••••••••••••••••••••••••