•••••••••••••••••••••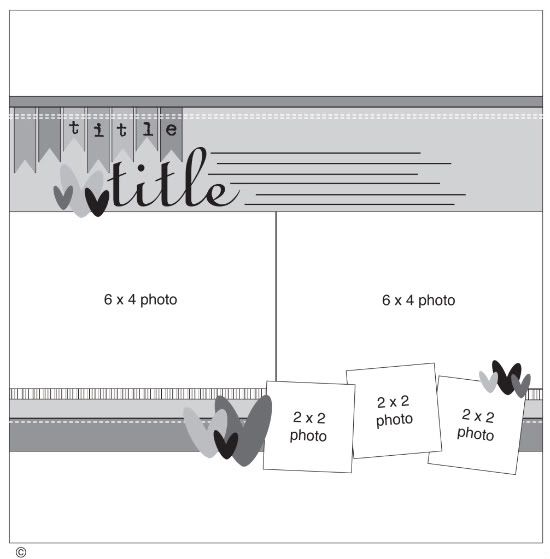 You can download and print this sketch by clicking on the one-page sketches link found under the "printable sketches" tab on the right sidebar.
One thing I love about sketches with a big photo block is the possibilities you have for adding more photos. It's always easier to add more when you have such a large area to play around with and you have that area as a guide. I look at the area and try to see what photo size combinations I can use to keep that same sized area but, with more photos. Here are some more photos options for the two 6 x 4 photo block on One-page Sketch #12:
• four 3 x 4 photos
• one 6 x 4 photo and two 3 x 4 photos
• three 4 x 4 photos
• two 4 x 4 photos and four 2 x 2 photos
You can also add more photos that end up larger than the two 6 x 4 photos and then adjust the papers like:
• three 4 x 6 photos
• six 3 x 3 photos
• three 4 x 4 photos with a row of six 2 x 2 photos above
This sketch is also very easy to convert to a two-page layout and we've got lots of examples to prove that! Check back on Monday to see the many ways our creative team put this sketch to use!
••••••••••••••••••••••••