•••••••••••••••••••
Today we are sharing the picks from creative team members Robbie Herring and Lynette Jacobs. Both of these two-page layouts are unique interpretations of the sketch and are eye-catching!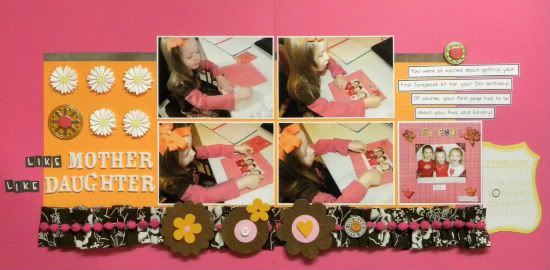 "Like Mother, Like Daughter"
by Ashley Horton
based on
Two-page Sketch #10
Picked by creative team member
Robbie Herring
This layout really jumped out of the gallery for me! I love these bright and fun colors. Putting pink and orange together gives this one such a happy feeling! I really love how the layout is grounded with the brown and black accents and the brown borders.
I also think that the pleating along the bottom is terrific! I really love details on layouts and this detail is awsome! Adding the pom-poms makes this look perfect for a little girl page!
I really like the idea of mixing alphabets for interest on a page and I like the way Ashley did it for this page.
The final little thing that i really like is the journaling calendar card with the date circled. Another little detail with a lot of impact!
Such a sweet page to match the sweet pictures! Of course, showing her layout in place of a picture is perfection itself!
• • • • • • • • • • • • • • • • • • • • • • • • • • • • • •
"Golden Girl"
by Michele Edwards
based on
Two-page Sketch #14
Picked by creative team member
Lynette Jacobs
I love how this layout tells a story. To me it is all about the photos...and she used beautiful photos. I love the stitching on the sun and the buttons she used for the sunrays. The tree is just the perfect touch.
••••••••••••••••••••