••••••••••••••
Add-on Sketch #9
You can download and print this sketch by clicking on the add-on sketches link found under the "printable sketches" tab on the right sidebar.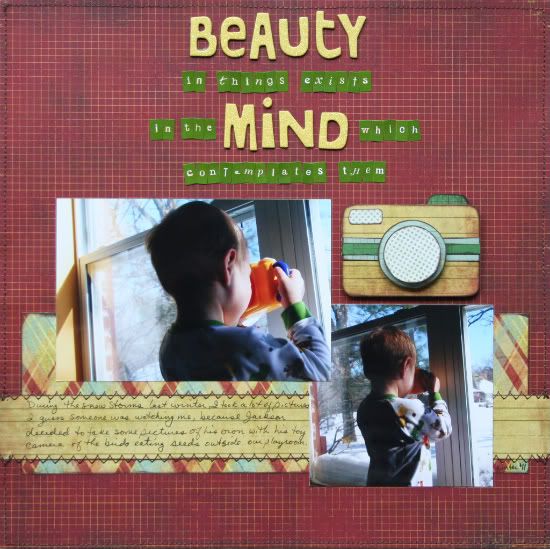 "Beauty in things..."
by Shari Thurman
Supply List - Patterned Paper: Pink Paislee; Alphabets: American Crafts and My Little Shoebox; Tools: Corner Chomper by We R Memory Keepers, Circle punches by Stampin' UP; Ink: Colorbox Chalk Ink in Dark Brown; Adhesive: 3D Foam by Thermoweb, ATG; Other: Machine Stitching
When I saw this months add-on sketch, I remembered that I had these photos of Jackson from last winter playing with his toy camera. How amazing is it that I actually had photos to go with the sketch? I was excited!
The overall size of this camera is about 2x3". I inked the edges of all the paper. I added 3D foam adhesive to the camera lenses.
The title is a quote that I loved, "Beauty in things exists in the mind which contemplates them." David Hume
Journaling reads, "During the snow storms last winter, I took a lot of pictures. I guess someone was watching me, because Jackson decided to take some pictures of his own with his toy camera of the birds eating seeds outside our playroom."
• • • • • • • • • • • • • • • • • • • • • • • • • • • • • •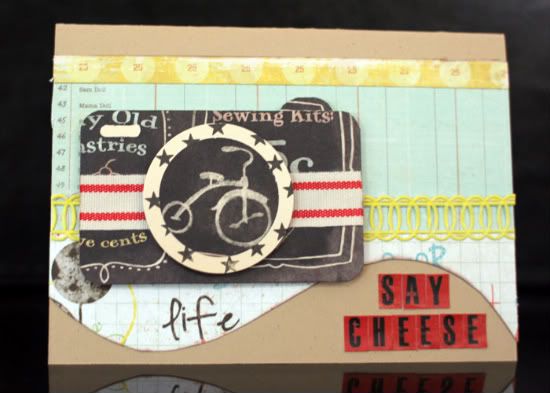 "Say Cheese" card
by Christine Chain
Supplies:
patterned paper:
Crate Paper, October Afternoon, and Bo Bunny;
letter stickers:
Echo Park;
ribbon paper:
Basic Grey;
punches:
Stampin' Up!;
sketch:
Card Sketch #7, Sketch Support;
Other:
ink, pop dots, ribbon from my
June Green Tangerine's kit club


As soon as I saw this sketch I thought it would be fun to put on a card. I altered the dimensions of the camera slightly; I printed out the sketch on a regular sheet of paper, and liked that size, so I used those dimensions (it's now 3"x2", roughly). I'm glad I made it a little bigger than the sketch because I think this size works nicely on a 4 1/4" x 5 1/2" card.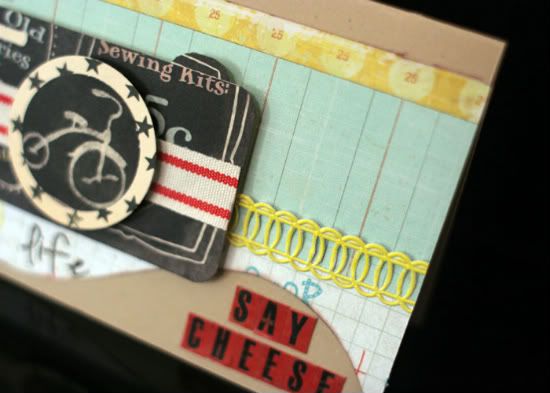 Once I made the camera, I needed to come up with a card design to put it on, so I went through the card sketches at Sketch Support and came across this one, which I thought would work nicely. I moved the sentiment to the "open" space on the lower right because it looked off-balance below the camera.
• • • • • • • • • • • • • • • • • • • • • • • • • • • • • •

Camera fabric applique
by Tammy Tutterow
Supplies
- fabric; cotton batting;
Glimmer Mist:
Yellow Daisy, Blue Skies, Black Magic, Slate;
Glimmer Glaze:
Pink Lady;
Glimmer Mist Chalkboard:
Charcoal;
adhesive:
Therm O Web Super Stick, Helmar 450 Quick Dry;
alphabet:
American Crafts Thickers (Subway);
sealant:
Creative Imaginations Super Seal
I really fell in love with the camera design for this month's add on and thought it would be a super cute fabric applique. I used white fabric that had a white on white design on it. I added color to each piece with assorted colors of Glimmer Mist products.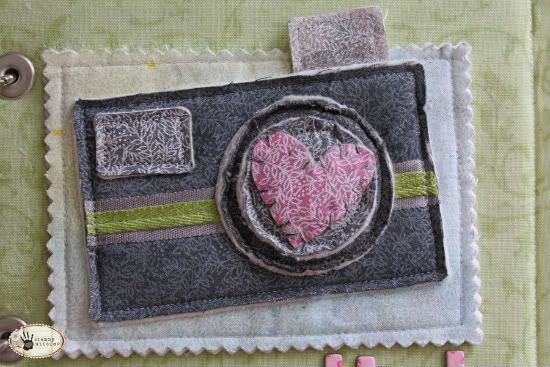 Each piece was cut following the design of the sketch (I didn't measure my pieces) and then colored. Once the color was dried, I cut batting pieces to match. I used Super Stick to adhere all the layers together while I sewed them.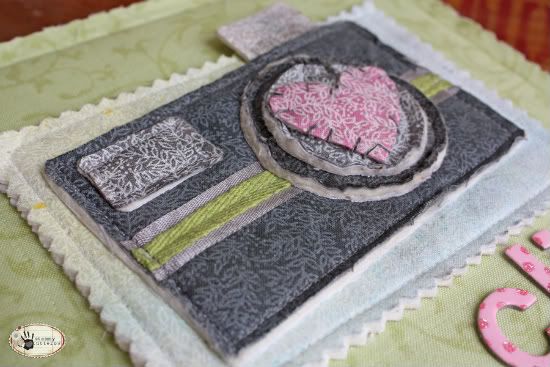 The assembled piece was adhered to the front of a fabric album using Helmar 450QD. I sealed the cover to resist water damage with Super Seal.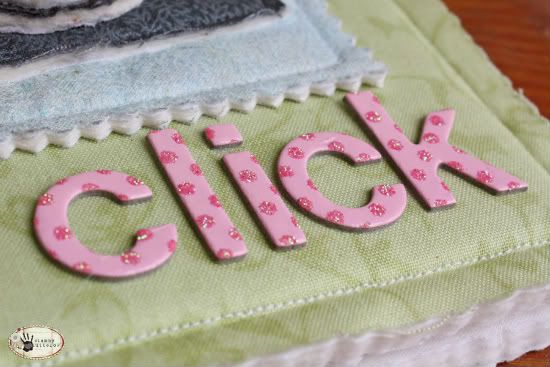 • • • • • • • • • • • • • • • • • • • • • • • • • • • • •