••••••••••••••
Add-on Sketch #9
You can download and print this sketch by clicking on the add-on sketches link found under the "printable sketches" tab on the right sidebar.
"Preschool Snapshots"
by Andrea Friebus
Supplies used
-
cardstock:
American Crafts;
patterned paper:
Cosmo Cricket, Bella Blvd, Sassafras Lass, Little Yellow Bicycle, Studio Calico;
letter stickers:
Creative Imaginations;
ink:
Clearsnap;
embroidery floss:
DMC;
brads:
Making Memories;
journal tags:
Jenni Bowlin Studios, Jillibean Soup;
die cut machine:
Slice, Making Memories
I just adore this little camera add-on. I mostly stuck to the sketch, just enlarging everything and turning the lens into a little mini album! By adhering an accordion folded circle, I made room for six extra photos.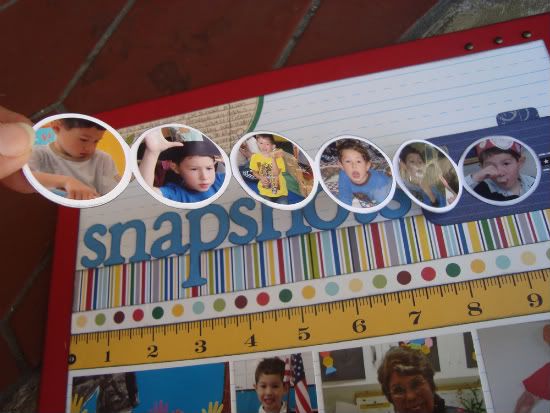 When my son graduated from preschool last June, his teacher handed me a stack of photos taken throughout the school year. Most of them were not great quality but I didn't just want to toss them out. Making this hidden spot was the perfect solution. The smaller size doesn't show the poor quality as much and I still included them on a layout.
•••••••••••••••••••