••••••••••••
One-page Sketch #13
You can download and print this sketch by clicking on the one-page sketches link found under the "printable sketches" tab on the right sidebar.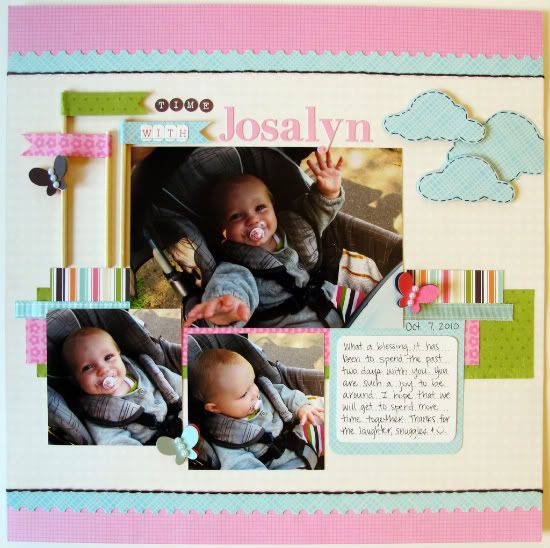 "Time with Josalyn"
by Melissa Bell
Supply List
-
Patterned Paper:
Heidi Grace Designs, KI Memories, American Crafts, Little Yellow Bicycle;
Letter Stickers:
My Mind's Eye and Heidi Grace Designs;
Journaling Spot:
My Mind's Eye;
Border Punch:
Fiskars;
Ribbon:
American Crafts;
Floss:
DMC;
Pearls:
Queen & Co.;
Pop Dots:
EK Success;
Other:
Wooden Skewers
This was such a fun sketch to work with! The minute I saw the flags I knew that I wanted to do something fun with them. I first planned on using toothpicks but found that they weren't long enough. I just happened to have some wooden skewers and cut them to size.
My plan was to pretty much stick to the sketch and follow all of the dimensions. I cut my first clouds out of my creamy background paper and then discovered that I thought the pics looked best against that paper than my first choice. Uh oh! So I trimmed off the part I had cut into and made it work by adding strips to the bottom and the top of it to make it 12x12. I am very happy with the outcome!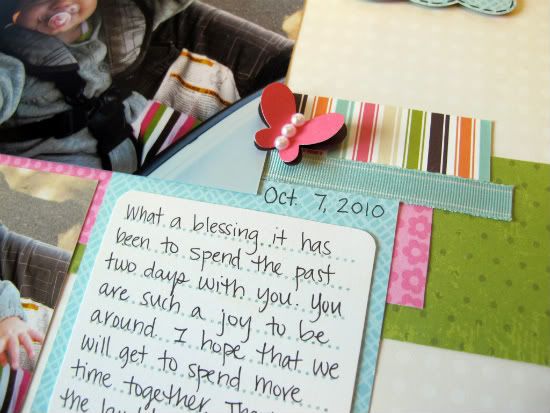 • • • • • • • • • • • • • • • • • • • • • • • • • • • • • •

"My Heart is Happy"
by Tammy Volland
Supplies
-
Digital Kit by:
Connie Prince / Happy Hearts;
software used:
Adobe Photoshop CS3
I just love the colors in this kit. Thought is was full of warms and love and worked well with these pictures.
Variation 1)
Instead of cloud shapes in the upper corner I would a film stripe and added paper instead of photos.
Variation 2)
Instead of stitching I used more ribbon.
Variation 3)
I used some flags but not alot and added flowers instead of butterflies.
Variation 4)
I added a frame around one of the pictures.
All layers were dropped shadowed at 8. As you all can tell I just love Connie Princes' kits.
• • • • • • • • • • • • • • • • • • • • • • • • • • • • • •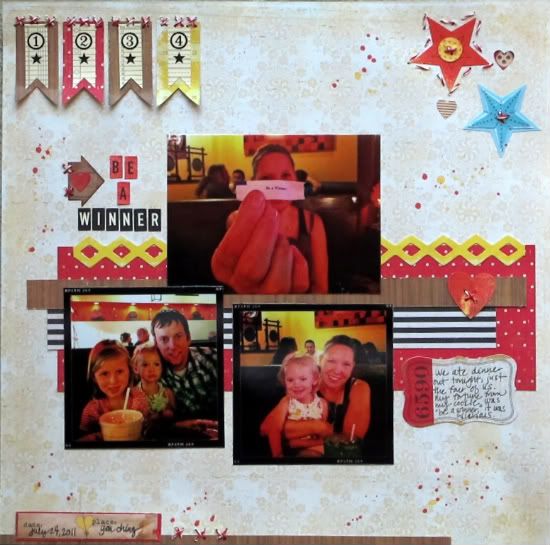 "Be a Winner"
by Christy Arthur
Products
-
Jenni Bowlin:
Flag Banner Numbers;
Crate Paper:
Emma's Shoppe - Books, Dresses, Playhouse and Phrase Stickers, Toy Box - Explore and Borders, Portrait Honeymoon;
Jillibean Soup:
Bean Stalks Twine;
October Afternoon:
Mini Market Stickers in Ledger and Black and Cream;
Studio Calico:
Mister Huey Lemonade and Schoolhouse;
Sassafras:
Mix, Indie and Bungle Jungle Sweet Treats
I used a similar placement for my photos as are in the sketch. My largest photo is slightly smaller than 5x3, but is placed in the same location.
I moved the title in my layout to the left of the large photo instead of on top of the large photo, like the sketch.
I moved my banners to the top left of the layout and used vertical banners instead of horizontal banners like the sketch.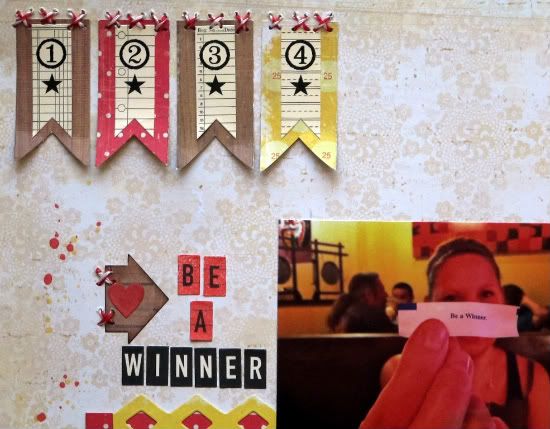 I used stars and hearts instead of the clouds in the top right corner of the layout.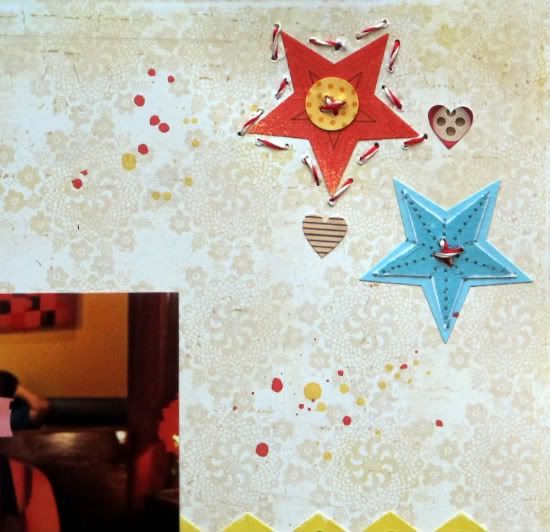 I added a few details along the bottom of the layout which is different from the sketch.
• • • • • • • • • • • • • • • • • • • • • • • • • • • • • •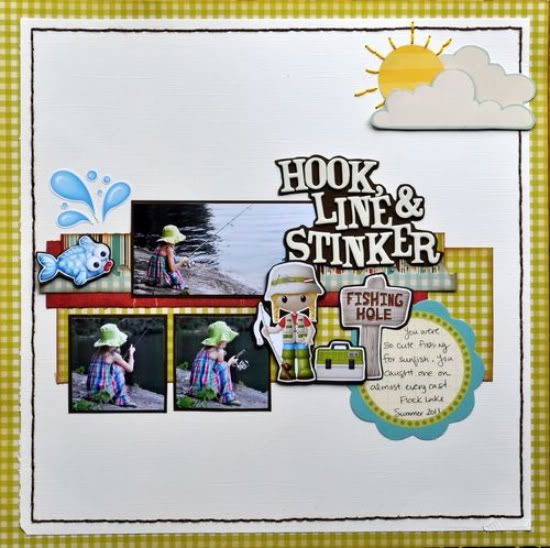 "Hook, Line and Stinker"
by Jill Sarginson
Supplies Used
-
Cardstock:
Bazzill Basics;
Patterned Paper:
October Afternoon, My Little Shoebox;
Tools:
Fiskars border punch;
Ink:
Vibrance;
Letters:
American Crafts;
Embellishments:
Kristin Aagard's Gone Fishing digital kit;
Floss:
DMC;
Tag:
Scenic Route
I reduced the photos to 2x2 (for the two smaller ones) and 4x2 for the larger one. I printed my embellishments from Kristin Aagard's Fishing Hole digital kit and mounted them on brown cardstock and then pop dotted them. The title was mounted on brown cardstock as well and then I cut around the letters, leaving a bit of a border. To help finish off the layout, I stitched a brown border around the edge.
•••••••••••••••••••