•••••••••••••
Two-page Sketch #19
You can download and print this sketch by clicking on the two-page sketches link found under the "printable sketches" tab on the right sidebar.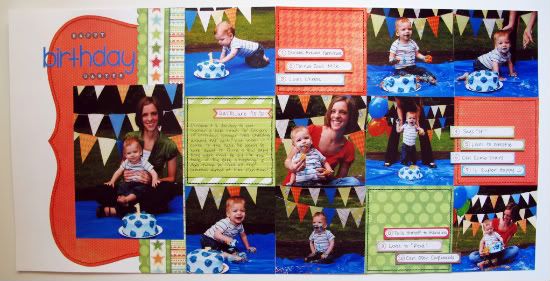 "Happy Birthday Sawyer"
by Melissa Bell
Supply List
-
Patterned Paper:
My Mind's Eye;
Ink:
ColorBox Chalk Ink and Inkadinkado;
Letter Stickers:
My Mind's Eye and Doodlebug;
Label Embellishments:
My Mind's Eye;
Border Punch:
Fiskars;
Floss:
DMC;
Other:
White Cardstock
I was so excited when I saw this sketch! I love sketches that allow you to show off lots of photos. This sketch was perfect to scrapbook my nephew's cake smash. You will notice that I didn't use any birthday related scrapbook products. I think the pictures tell the story best.
Variation #1
- Instead of stitching lines across the pictures and embellishment squares I just stitched around each embellishment square. That took more than enough time!
Variation #2
- I omitted the brackets on the embellishment squares. My paper strips take up quite a bit of room so the brackets would have been lost.
My strips list 10 things about my nephew Sawyer at age one.
Variation #3
- I stitched around the large bracket on the left side of the page. I think it adds some subtle definition.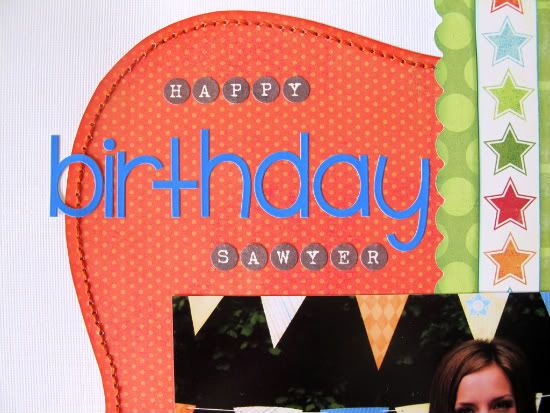 • • • • • • • • • • • • • • • • • • • • • • • • • • • • • •
"Coco Beach"
by Janette Kincaid
Supplies
-
Patterned Paper:
We R Memory Keepers (Granma's Kitchen, Dippity Dot, and Rich Ribbon),
7Gypsies
(Family Profile);
Cardstock:
Bazzill;
Iron On:
Donna Downy for Prima;
Flocked Stickers:
Making Memories (Travel);
Alphas:
Chatterbox Shadow Stickers (Scarlet/Burgundy) and American Crafts (Thickers);
Journaling Ticket:
Tim Holtz (idea-ology);
Adhesive:
Helmar Scrapdots and 450 Quick Dry;
Journal Pen/Marker:
Zig Black;
Distress Ink:
Ranger (Walnut Stain);
Floss:
DMC;
Other:
brown eyelettes, foam core
I loved this sketch so much that I created two, almost identical layouts with it. The colour scheme, photos and patterned papers change and make them look so different. Again with this layout, I followed the sketch almost to the letter with few variations.
Variation 1:
I moved the title to the bottom left for this layout. With my choice of the green iron-on embellishment, I didn't want to clutter up the top of the page with letters.
Variation 2:
I had to move the feature photo up a bit in order to allow room for the title and a bit of extra stitch detail.
Variation 3:
I repeated the same floss accents in the 4x4 grid to mimic the stitching detail in the sketch. As in my previous layout I added some eyelettes and threaded the floss through to create large loops of thread. To keep the floss straight on the inside edges, I cut tiny slots/notches for the floss to sit in.
Here's a closer look at more of the details: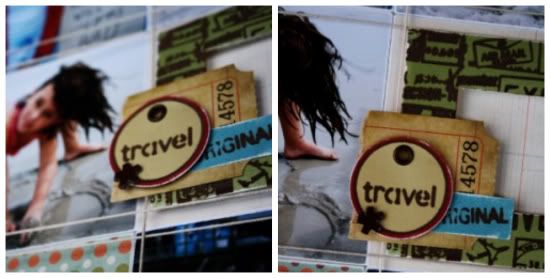 • • • • • • • • • • • • • • • • • • • • • • • • • • • • • •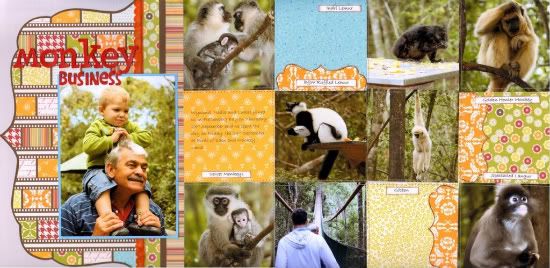 "Monkey Business"
by Lynette Jacobs
Supply list - Cardstock: Bazzill; Printed papers: Jillibean Soup (Pasta Fagioli); Scalloped trim: My Mind's Eye (Fine and Dandy); Alphas: American Crafts and Paper Trunk
• I kept to the sketch with this layout only replacing the scalloped paper with scalloped trim.
• I machine stitced all the stitching as per the sketch.
•••••••••••••••••