•••••••••••
One-page Sketch #14
You can download and print this sketch by clicking on the one-page sketches link found under the "printable sketches" tab on the right sidebar.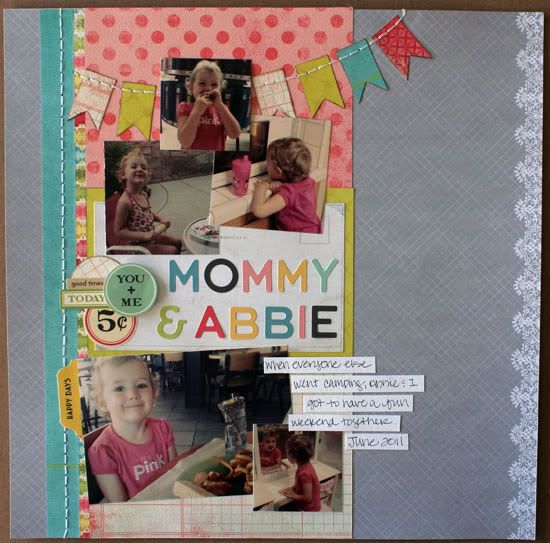 "Mommy & Abbie"
by Christine Chain
Supplies
-
patterned paper:
My Mind's Eye, Little Yellow Bicycle, Crate Paper, We R Memory Keepers, Fancy Pants;
letter stickers and stickers:
October Afternoon;
postcard:
unknown (in my Green Tangerine's kit club - September), October Afternoon;
other:
pop dots and embroidery floss
1)
This isn't really a "change" I made, but I'm proud of myself so I'll share:
I had this fun piece of gray paper with the lacy edge in my kit club box, begging to be used. However, I had already cut a big chunk out of one side that I'd used on a previous layout. Groan.
Then I noticed the big photo block covering a bunch of the background paper. Hmmm. So I cut my gray paper in half and flipped the side with a piece cut out. Then I taped the two halves back together, so there is now a hole in the middle of my page. Make sense? That hole is now covered up and I was able to use the gray paper! Yay!
2)
Since it's not a birthday layout, I didn't want to include birthday candles in my title block. I used a few circles and word stickers instead, popping up the "you + me" sticker (so perfect for this layout!).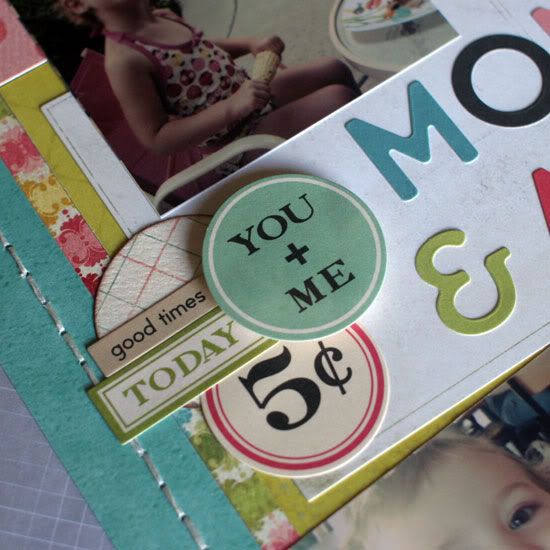 I also omitted the stitching, but the postcard embellishment I used had a light line defining the edge.
3)
I decided to stitch my banner to my layout rather than try to string the paper.
I used a ribbon scrap draped across the page to figure out where I wanted each piece of paper to go and then attached them. Then I used my Sew-Easy tool to punch holes. No pencil lines needed! Score!
• • • • • • • • • • • • • • • • • • • • • • • • • • • • • •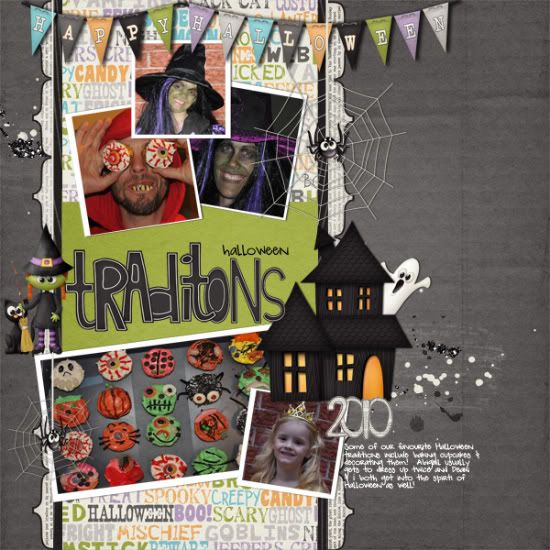 "Halloween Traditions!"
by Jill Sarginson
Supplies Used
-
Digital Kit:
Kristin Aagard's Jeepers Creepers kit;
Font:
DJB How Cute Am I?
Variations
:
1)
I added a horizontal border to the right side of the vertical strip of patterned paper.
2)
I added some extra elements to my page, including spider webs and "mist".
3)
All of my journaling was to the right side of the page.
•••••••••••••••••••