•••••••••••••••••••
Add-on Sketch #11
You can download and print this sketch by clicking on the add-on sketches link found under the "printable sketches" tab on the right sidebar.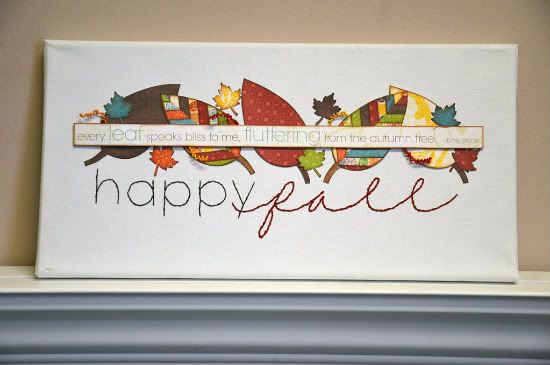 "Happy Fall" canvas
by Allison Davis
Supplies
-
Patterned paper:
Little Yellow Bicycle;
Memory Thread and embroidery floss:
DMC;
Fonts (used as templates for stitching):
Century Gothic and CK Carolyn;
Small leaf punch:
Martha Stewart
I absolutely love fall and all the beautiful colors that come with it yet don't have a single "fallish" decoration in my home. I thought the leaf sketch would be the perfect opportunity to change that.
Variation #1
- For two of the big leaves I followed the sketch exactly with the exception of the stitching.
For the other three on the canvas I used the same leaf shape but instead of using the strips, I used one piece of paper for the whole leaf.
To finish the canvas I accented with small leaves, a quote cut from a piece of patterned paper, a few small sprigs of Memory Thread, and added the hand stitched words.
Stitching Tip:
I used two of my favorite fonts for the stitched "happy fall" on the canvas. To use them as a stitching template I typed the words and enlarged them to the size I needed and then printed them. After I cut around each word I used removable adhesive to hold them onto the canvas so I could pierce the holes. When all the holes were pierced I removed the printed words and stitched with embroidery floss.
• • • • • • • • • • • • • • • • • • • • • • • • • • • • • •
"Free Fall"
by Suzanna Lee
Supplies used
-
cardstock:
Coredinations, Bazzill Basics;
patterned paper:
Imaginesce;
letter stickers:
American Crafts;
ribbon:
Websters;
punches:
EK Success, Martha Stewart, McGill;
ink:
Tim Holtz;
digital element:
Ormolu;
glitter:
Martha Stewart;
frame:
Making Memories;
bling:
Imaginesce;
misc:
burlap, antique book, Modern No.20 font, fabric and i-top
Variation 1:
I used strips of 1/4 inch Scor-Tape covered in glitter to make the leaves.
I used a McGill punch for my outline and lined it with the Scor-Tape in the manner of the instructions on the sketch. I then trimmed off the excess.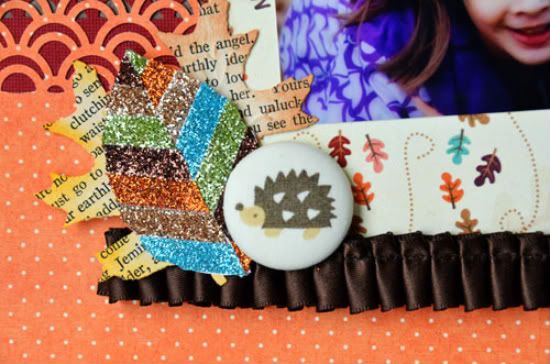 ••••••••••••••••••••••••••••