•••••••••••••••••••
Add-on Sketch #11
You can download and print this sketch by clicking on the add-on sketches link found under the "printable sketches" tab on the right sidebar.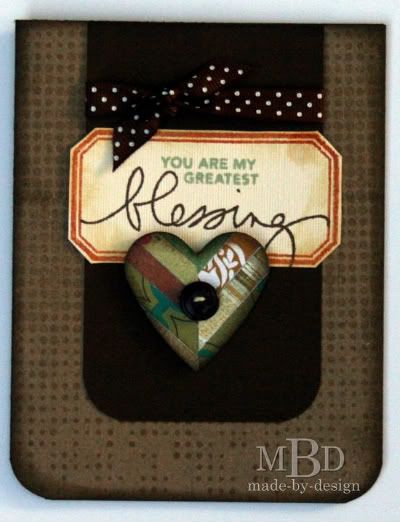 "Greatest Blessing Heart Card"
by Megan Bickers
Supplies Used
-
Cardstock:
DMD Inc (kraft), Bazzill (Brown, cream);
Patterned Paper:
My Minds Eye, Me and My Big Ideas, Die Cuts with a View, The Paper Loft;
Ribbon:
Bo Bunny;
Stamps:
Technique Tuesday (Loving Words), Jenni Bowlin (Labels), Stampers Anonymous (TH Psychedelic Grunge);
Inks:
Ranger Distress Inkpads (Bundled Sage, Gathered Twigs, Rusty Hinge), Ranger Distress Stain (Antique Linen);
Other:
Autumn Leaves (Button), Cream Embroidery Thread; Tools: EK Success Punch (Heart), WeR Memory Keepers (Corner Chomper); Adhesives: Scrapbook Adhesives (Foam Squares)
Variation #1:
Instead of using a leaf shape, I created a punched out heart with a chevron pattern paper design.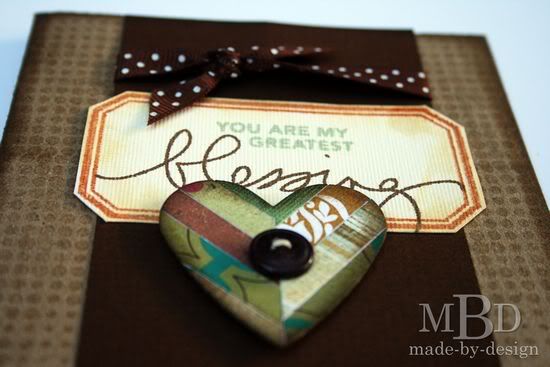 Other details:
I stamped the background of this card and created a multi colored stamped saying to coordinate with the various pattern papers I used.
• • • • • • • • • • • • • • • • • • • • • • • • • • • • • •
"Fall"
by Christy Arthur
Products
-
Cardstock:
Bazzill (Kraft);
Patterned Paper:
Studio Calico (Autumn Press Scarf, Classic Calico Woodgrain one), Crate Paper (Random Textile, Peppermint Ski Lodge, Farmhouse Cross stitch), Pebbles (Happy Go Lucky Carefree), American Crafts (Amy Tangerine Oh Happy Grey);
Tags:
Chic Tags (Fall and Chevron ATC's);
Stickers:
Crate Paper (Farmhouse Alpha Labels), Studio Calico (Woodgrain Tweet Rub on's);
Ink:
Colorbox (Chestnut Roan Chalk Ink)
Variation #1:
I used the exact size of the leaf from the add on. But, I decided to keep the leaf relatively simple and added stitching in the middle of the leaves instead of the chevron detailing.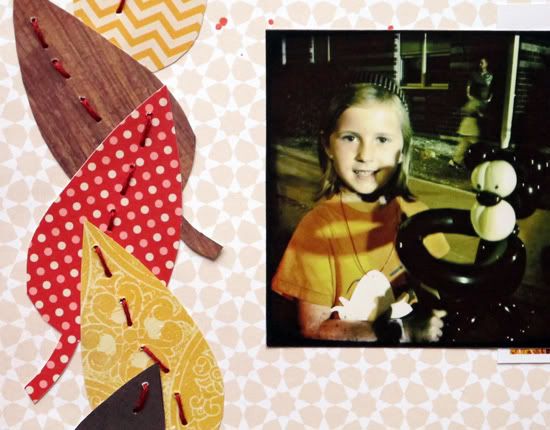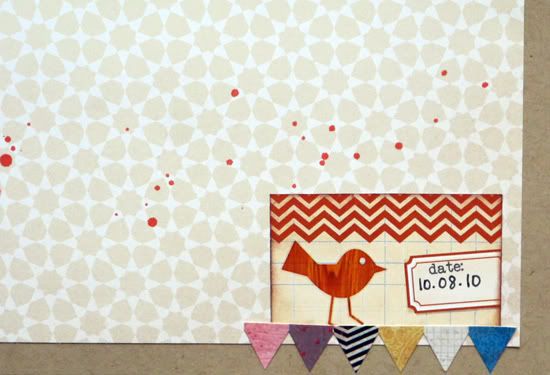 • • • • • • • • • • • • • • • • • • • • • • • • • • • • • •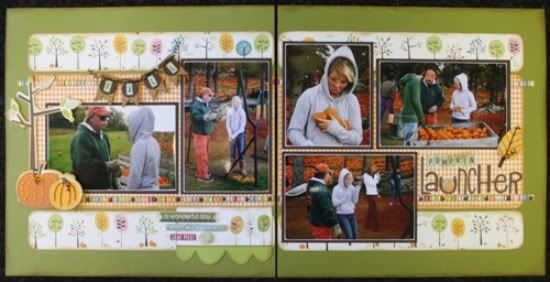 "Pumpkin Launcher"
by Carolyn Wolff
Supply List
-
Cardstock:
Bazzill;
Patterned Paper:
Bella Blvd;
Chipboard and Stickers:
Bella Blvd;
Floss:
DMC;
Alphas:
Bella Blvd and October Afternoon;
Sanding Tool:
Basic Grey;
Ink:
Ranger;
Wire:
Home Depot;
Brads:
Making Memories;
Sketch:
Sketches for Scrapbooking, Volume 8
Another awesome add-on sketch!
I used the add-on sketch as an embellishment on a two-page layout that I created from Sketches for Scrapbooking, Volume 8.
Tip #1
– To create my leaf, I used a cut-out from the Bella Blvd Hello Fall collection. I followed the instructions that Allison gave us on the sketch and covered the paper die-cut as instructed. I inked each of my strips before adhering them to create a more defined 'vein' on my leaf. I stitched up the center using brown floss. I cut a stem from brown cardstock and attached it to the back of my finished leaf. I also added a bit of wire that I had curled around a sanding file. The wire created some dimension and detail to my leaf.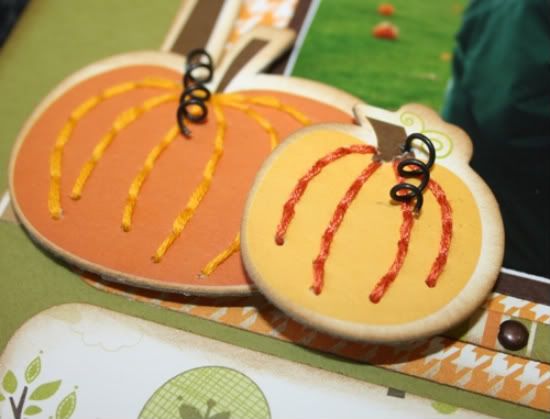 Tip #2
– I added some stitching to the chipboard pumpkins. This is a little harder on your fingers that stitching through paper, but well worth it in the end.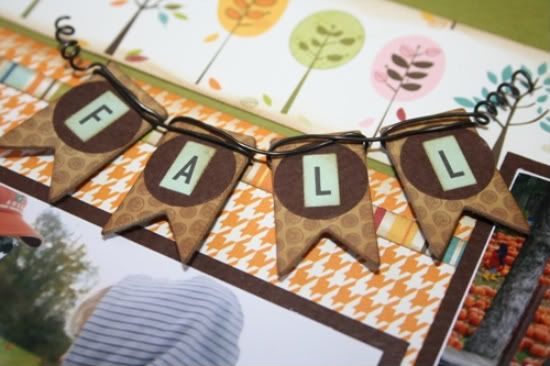 Tip #3
– I added some wire to the fall banner to tie in the wire on the pumpkins and the leaf. I curled and end and then wrapped the wire around each banner piece. After I had it in place I curled the other end and trimmed off any excess wire.
••••••••••••••••••