••••••••••••••
One-page Sketch #15
You can download and print this sketch by clicking on the one-page sketches link found under the "printable sketches" tab on the right sidebar.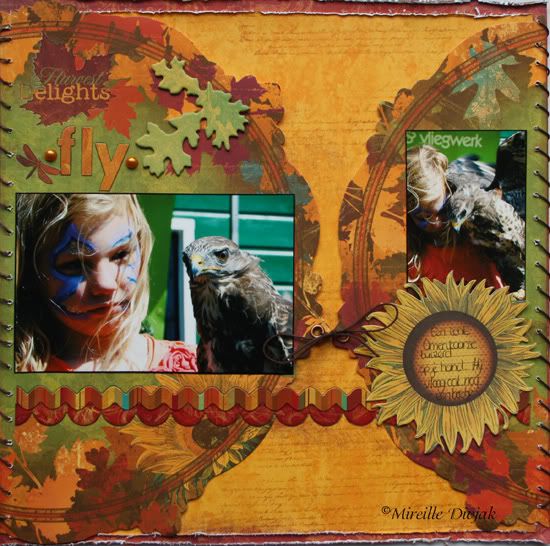 "Fly"
by Mireille Divjak
Supply list
-
Patterned Paper:
Bo Bunny (Forever Fall Collection);
Chipboard:
Bo Bunny (Forever Fall Collection);
Noteworthy:
Bo Bunny (Forever Fall Collection);
Jewels:
Bo Bunny (Forever Fall Collection);
combo stickers:
Bo Bunny (Forever Fall Collection);
Alpha's:
Bo Bunny (Forever Fall Collection);
Pens:
American Crafts and Sakura;
Ink:
Colorbox;
Sew Easy:
We R Memory Keepers;
Waxed Cord:
Blue Bird
Variation #1:
Instead of two smaller photos I used one large photo.
Variation #2:
I used a circle die cut patterned paper for the background.
• • • • • • • • • • • • • • • • • • • • • • • • • • • • • •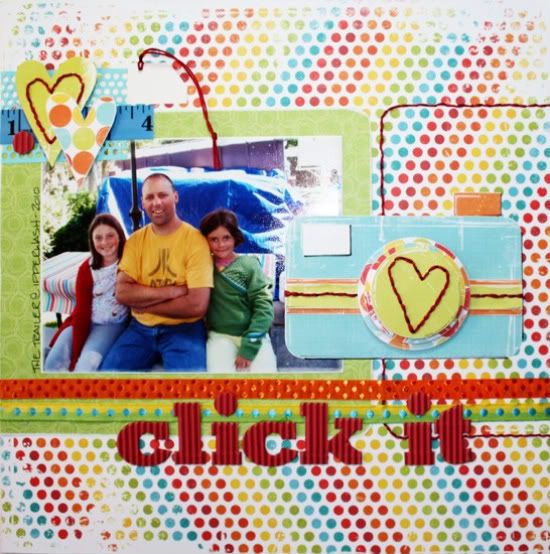 "Click It"
by Janette Kincaid
Supplies
–
Patterned paper:
We R Memory Keepers and Chatter Box;
corrugated alpha:
JillyBean Soup;
embroidery floss:
DMC;
ribbon, tape measure, white tag:
unknown
I took quite a few creative liberties with the sketch this week and I love the results. It just goes to show how versatile Alison's sketches can be – how they can inspire and take you in a direction you didn't even think about when you start.
Variation #1
– I replaced the three 3x4 photos with one enlarged 5x7 photo.
Variation #2
– I moved the title from the top to the bottom of the layout.
Variation #3
– I replaced the journal block with the camera. You might recognize the camera from the Add-on Sketch from a few weeks ago. I just LOVED Alison's take of this sketch with the stitched heart on the lens – I knew I had to scraplift it. I did scale my version of the camera up a bit; the blue base is 3x5 in size.
Note:
I added my journaling to a white tag that is tucked into a slot at the top of the page – behind the hearts and strung with red floss.
Variation #4
– I changed the embellishment cluster at the top left of the page and replaced the leaves with a repeat of hearts like in the camera.
Variation #5
– I love the colourful poka-dots in this patterned paper. I didn't want to cover any more of the background than I already had so I mirrored the shape of the left with some red stitching instead.
• • • • • • • • • • • • • • • • • • • • • • • • • • • • • •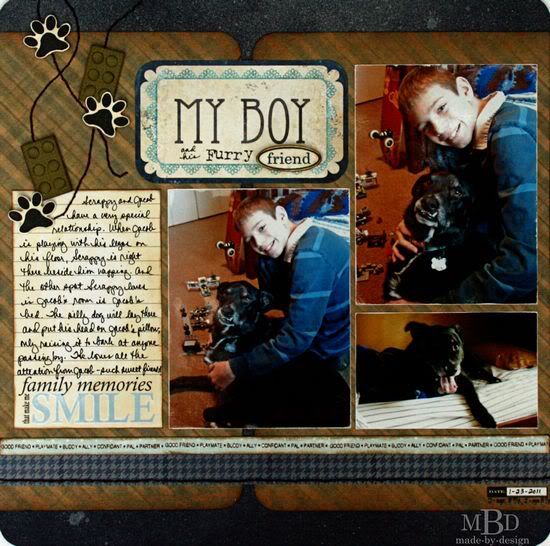 "My Boy and His Furry Friend"
by Megan Bickers
Supplies Used
-
Cardstock:
ANW Crestwood (Deep Sea), Close To My Heart (White);
Patterned Paper:
My Mind's Eye (Life Stories: Blue Plaid, "Be Merry" Polka Dot/Cream), Memories in the Making (Window Check Navy);
Inks:
Ranger Distress (Gathered Twig), Ranger Distress Stain (Antique Linen), October Afternoon Color Mist (Buttermilk), Marvy Uchida (Black Marvy Matchables);
Stamps:
Technique Tuesday (Borderline: Family Ties), Stampabilities (Pawprint), EK Success (Antique Typewriter Alphas, "Friend" word stamp);
Stickers:
7 Gypsies (Date Mini Label: Black), My Mind's Eye ("Hattie" Boy Title), Deja Views (Family Journal Card);
Pens:
EK Success (Zig Black Writer);
Tools:
WeR Memory Keepers (Corner Chomper), Ranger (Foam Blending Tool), Making Memories (Paper Piercer);
Other:
Office Hole Punch, Sandpaper, Brown Crochet Thread, Foam Squares.
Variation #1:
I substituted a photo in place of the journaling section on the layout; I just rearranged the layout to add my journaling in place of the left photo. I used two 4 x 5 ¼" photos and one 2 ½ x 4" photo.
Variation #2:
Instead of using a long title, I used a pre-printed title card that said "My Boy" and I stamped the words "Furry" and "Friend". The other words were handwritten.
Variation #3:
I omitted the small journaling strips on the layout and just added a date sticker on the lower right corner.
Variation #4:
For the leaf accents that were included on the sketch, I substituted some homemade legos and stamped pawprints to go with my page theme.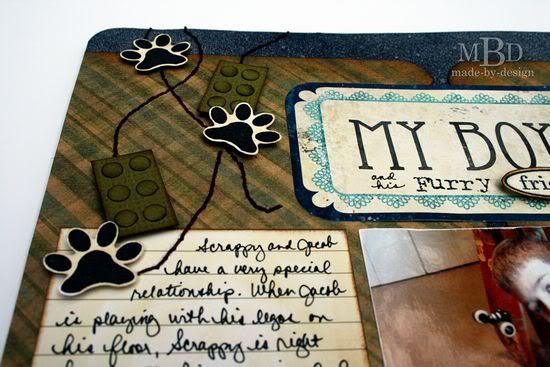 I created some hand stitched swirls to pull them all together. I also added some stitching along one of the thin strips below my photos. Along the other strip of paper, I added some stamped word borders.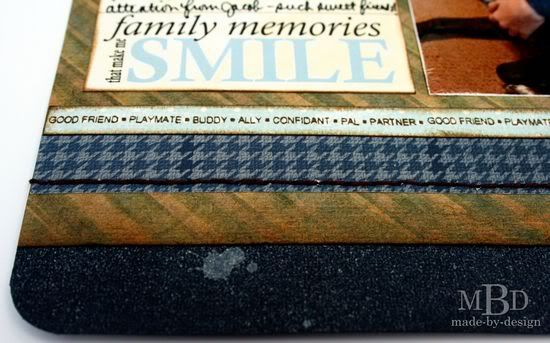 ••••••••••••••••••••••