••••••••••••••
One-page Sketch #15
You can download and print this sketch by clicking on the one-page sketches link found under the "printable sketches" tab on the right sidebar.
"Coastal Craze"
by Jill Sarginson
Supplies Used
-
Patterned Paper:
Echo Park;
Alpha:
Thickers;
Elements:
Kristin Aagard's Tropical Paradise digital kit;
Cardstock:
Bazzill;
Tools:
corner rounder
Variations:
• I reduced my photos to 2.5x3
• I aligned all of my photos horizontally
• I switched the journaling area from the bottom right to the top right and placed embellishments there vs. the journaling
• I replaced the leaves with a palm tree and other elements.
• I matted the entire layout onto cardstock and then matted the pattern paper onto cardstock as well.
• Instead of the horizontal strip of pattern paper, I put some waves in.
• • • • • • • • • • • • • • • • • • • • • • • • • • • • • •
"We Connect"
by Melissa Elsner
Products
-
Cardstock, Patterned Paper, Thickers, Stickers, Journal Spot:
American Crafts (Amy Tangerine);
Letter Stickers:
Sassafras Lass (woodgrain);
Flower:
Prima Marketing;
Pen:
Zig Memory System
Variation #1:
For the photos, I decided to do one large 4x6 instead of two 3x4's and two 3x2's where there was one 3x4.
Variation #2:
Instead of the stitched element on the left side of the layout, I did a cluster of embellishments to help balance out the layout and spread out my title.
Variation #3:
Because of the choice to do two smaller photos on the right, it left less room for the large journaling area so I used a journal spot so I could fit in my writing.
• • • • • • • • • • • • • • • • • • • • • • • • • • • • • •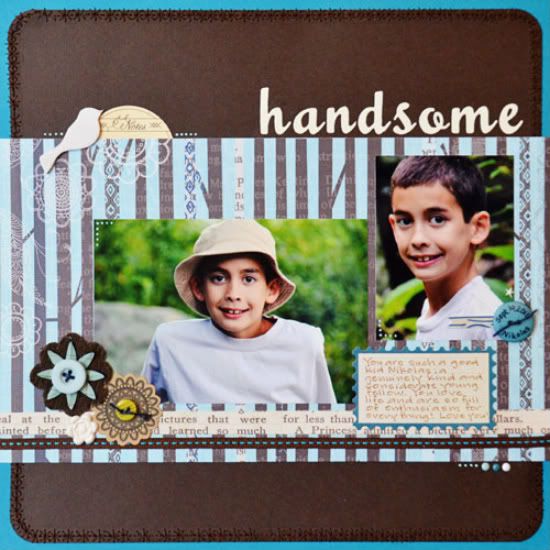 "Handsome"
by Suzanna Lee
Supplies used
-
cardstock:
Bazzill Basics;
patterned paper:
Little Yellow Bicycle, Lily Bee;
ribbon:
Pine Cone Press;
chipboard and doilie:
Maya Road;
buttons:
My Minds Eye;
flowers:
Making Memories;
die cut:
Quikcutz;
stickers:
Studio Calico, Pink Paislee;
journal spot:
Elle's Studio;
ink:
Colorbox;
twine:
Creek Bank Creations;
pens:
American Crafts, Sakura Souffle
Variation #1:
I only used one sheet moving horizontally across the page versus the the two with the break between. I felt that the stark contrast of the brown trees and light blue background created a visual break.
Variation #2:
I used different picture sizes to accommodate what I had.
Variation #3:
My title is in a different location. This is largely due to viability. It was difficult to read anywhere else.
Variation #4:
I still have the trio of embellishments, in this case flowers, that are on the sketch but slightly lower than mapped out.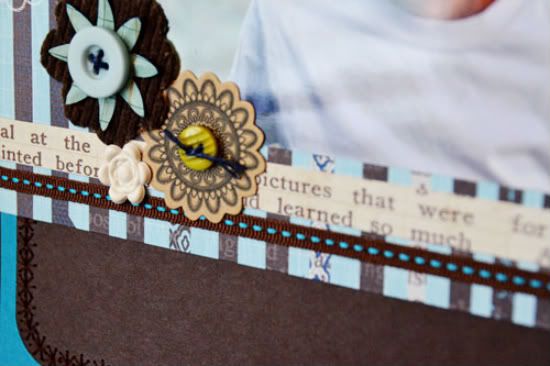 I LOVE the stitching of the fluttering leaves but it would have gotten lost on the background paper I chose.
Variation #5:
Extra background matting with stitching and cluster of goodies at the top of the patterned paper.
••••••••••••••••••••