•••••••••••••••••••
Two-page Sketch #22
You can download and print this sketch by clicking on the two-page sketches link found under the "printable sketches" tab on the right sidebar.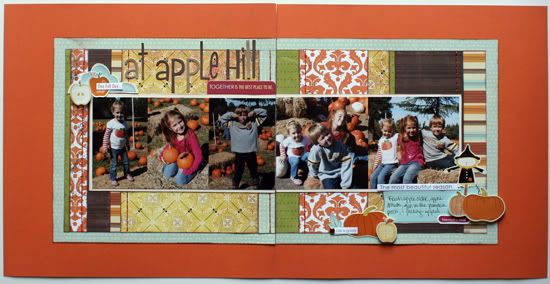 "51 at Apple Hill"
by Christine Chain
Supplies
-
patterned paper:
Echo Park, American Crafts, Imaginesce, Authentique;
letter stickers:
Bella Blvd;
stickers:
Bella Blvd. and American Crafts;
brads:
My Mind's Eye (Lush);
ink:
Tsukineko;
other:
pop dots and embroidery floss
1)
The first change I made was that I included an extra photo.
I always crop, edit, and resize my photos in PSE before I print them. This time I made the height of all my photos 4" and then I played around until I liked how the fit on a 8"x4" block. Originally I had them arranged differently, so I had my two group photos separated. Then I realized that if I wanted one of my kids to be in the center photo, I was going to have to cut their face in half to have their photo on two pages. That's why I love playing in PSE first!
2)
I used the pumpkin and apple stickers from American Crafts instead of a flower up near my title. I layered a phrase sticker from Bella Blvd on top.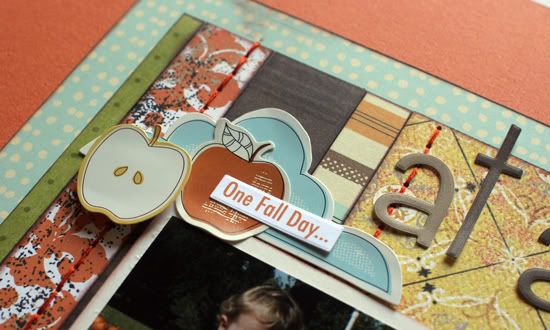 I added the cloud behind them because I thought a little blue would help the colors pop.
3)
Again I swapped out the flowers (and used more pumpkins, apples, and a scarecrow).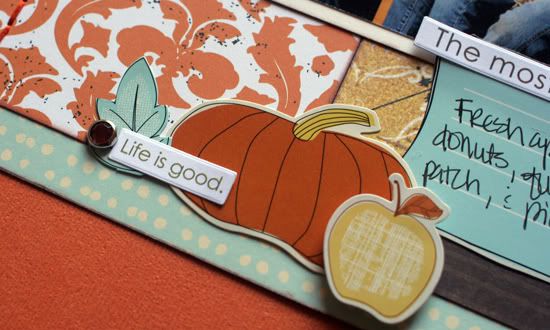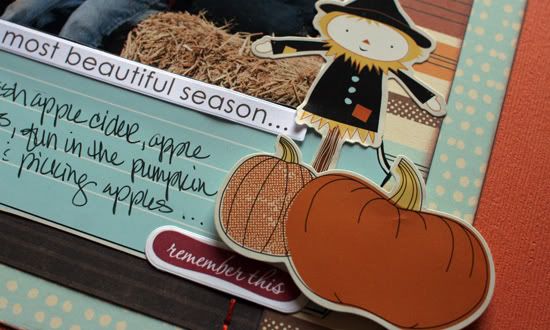 I used a few more phrase stickers from Bella Blvd. I'm so glad I got these! The phrases were perfect for this layout! I also omitted the swirls. My paper and pictures were busy enough and I think the swirls, as pretty as they are, would've been too much on this layout.
• • • • • • • • • • • • • • • • • • • • • • • • • • • • • •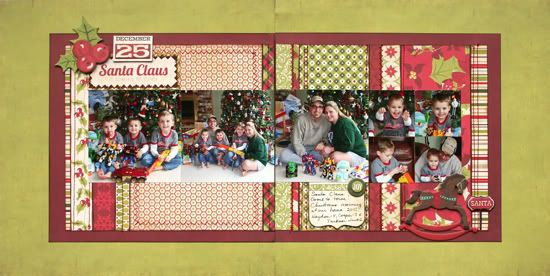 "Santa Claus is Coming to Town"
by Shari Thurman
Supplies
-
Patterned paper and Chipboard embellishments:
Echo Park;
Adhesive:
ATG by Scotch;
Ink:
Colorbox Chalk Ink (Dark Brown);
Thread:
Coats and Clark
Variation #1:
I adjusted some of the measurements of some of the strips to make it work with my pattern papers.
Variation #2:
My title is smaller. I wanted to use one of the titles that came with my paper collection, so I matted it, stitched around the edges and embellished with chipboard elements.
Variation #3:
I moved my journaling spot and adjusted location of my embellishments.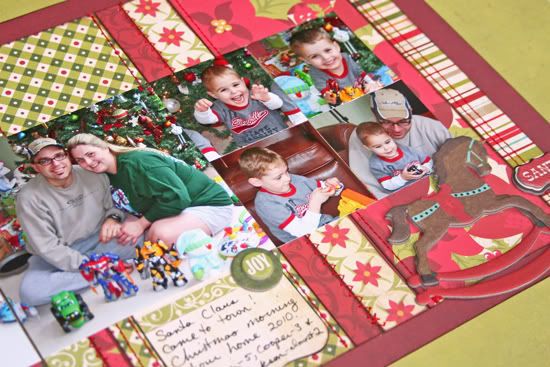 Variation #4:
I wanted to use some supporting photos, so I replaced one of the 4x4" photos with four 2x2" photos.
••••••••••••••••••