•••••••••••••••••••
Two-page Sketch #22
You can download and print this sketch by clicking on the two-page sketches link found under the "printable sketches" tab on the right sidebar.
"A Perfect Moment"
by Carolyn Wolff
Supply List
-
Cardstock:
American Crafts;
Patterned Paper:
Little Yellow Bicycle;
Canvas Banner and Border:
Little Yellow Bicycle;
Journal Die-cut:
Sizzix Die;
Alphas:
American Crafts and October Afternoon;
Sanding Tool:
Basic Grey;
Ink:
Ranger;
Brads:
Basic Grey
Another awesome 2-page sketch!
Variation #1
– I followed the background fairly close to the sketch. I may have slight variations in the strips because of the striped paper I chose. I added hand stitching where shown on the sketch as well.
Variation #2
– I moved my title more to the center of the left page and incorporated a canvas banner that matched the papers.
Variation #3
– I eliminated the embellishment shown on the sketch for the left page and I created a border using one of the patterned strips by adding hand-cut circles and popping them up with foam adhesive.
Variation #4
– I created two journal areas, one on the bottom of the right page and a second on the top.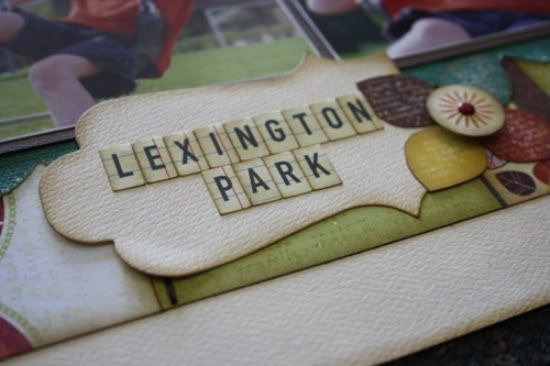 • • • • • • • • • • • • • • • • • • • • • • • • • • • • • •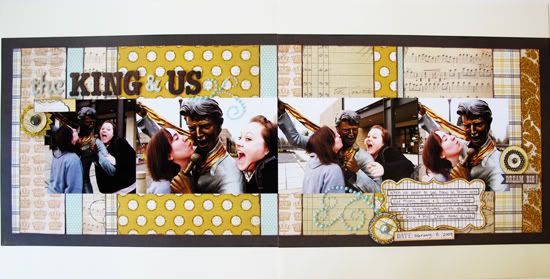 "The King & Us"
by Melissa Bell
Supplies
-
Cardstock:
Bazzill;
Patterned paper, Cardstock Stickers, Pearls, Circle Embellishments:
My Mind's Eye;
Alphabet stickers:
American Crafts;
Chalk Ink:
ColorBox
Variation #1
- I turned two of the 4x4 photos into two 6x4 photos.
Variation #2
- Because I used larger photos I added a strip of patterned paper to each side of the layout.
Variation #3
- I decided to have the background rectangles reach the sides of the layout.
•••••••••••••••