•••••••••••••••••••••
Add-on Sketch #12
You can download and print this sketch by clicking on the add-on sketches link found under the "printable sketches" tab on the right sidebar.
"Merry Christmas Wreath"
by Katrina Hunt
Supplies
-
Patterned Paper:
Nikki Sivils, Scrapbooker (Gingerbread Land and Something for Everyone Collections);
Cardstock:
American Crafts;
Die Cut Embellishments:
Nikki Sivils, Scrapbooker (Gingerbread Land Collection);
Adhesives:
Glue Arts, Fabri Tac, Ranger, and Hot Glue Gun;
Twine:
The Twinery (Baker's Twine in Buttercup);
Felt Bird:
Basically Bare;
Ribbon, Styrofoam Balls and Wreath Form:
Michaels;
Glitter:
Donna Salazar/Clearsnap;
Tools:
Cricut Expression with the Wrap it Up, Winter Wonderland, and Martha Stewart Seasons cartridges.
Variation 1
- I used the strips as suggested in the sketch, but I border punched the bottoms before cutting them.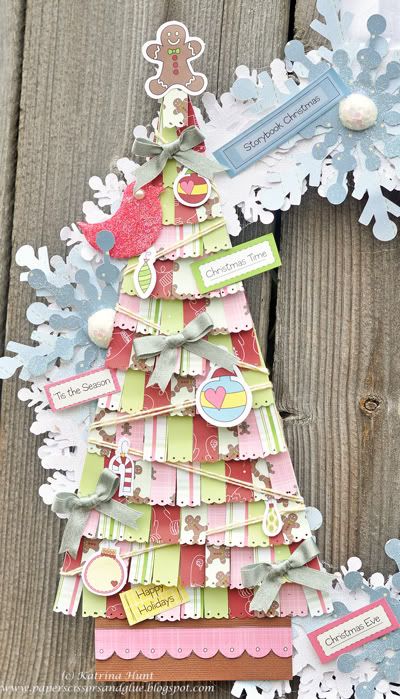 Variation 2
- The tree trunk was made to look similar to a pot by adding the die cut border strip.
Variation 3
- Added ornaments and bows to the tree.
• • • • • • • • • • • • • • • • • • • • • • • • • • • • • •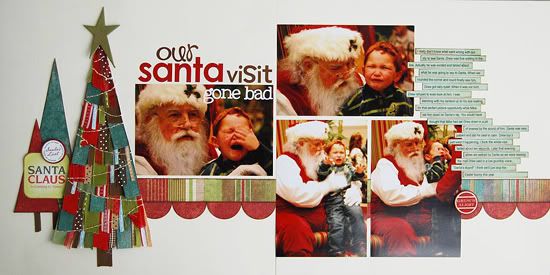 "Our Santa Visit Gone Bad"
by Allison Davis
Supplies
-
Cardstock:
Bazzill;
Patterned paper:
Basic Grey;
Alphabet stickers:
Doodlebug and SEI;
Stickers:
7Gyspsies;
Ribbon:
Offray and May Arts
This is actually the original tree that inspired the design of Add-on Sketch #12. I used both patterned paper and ribbon to construct mine and then added a hand stitched garland on it.
Hand Stitched Garland Tip:
Usually I would just draw the design that I want to stitch but since I had used ribbon on my tree I couldn't really do that for the garland. Instead, I made a duplicate of the tree base, a piece of cardstock cut to the exact same size of the tree. Then I drew my garland design on that. When I was happy with the look I laid the cardstock tree on top of the ribbon tree and pierced the holes along the pencil lines. It slips and slides of track often so you have to readjust a lot or you can use a removable adhesive and adhere it to the front and then remove it when you are done.
••••••••••••••••