•••••••••••••••••••
Two-page Sketch #23
You can download and print this sketch by clicking on the two-page sketches link found under the "printable sketches" tab on the right sidebar.
"An Annual Holiday Tradition"
by Carolyn Wolff
Supply List
-
Patterned Paper:
Little Yellow Bicycle;
Stickers:
Simple Stories;
Brads:
Little Yellow Bicycle;
Sanding Tool:
Basic Grey;
Ink:
Ranger
Another awesome 2-page sketch!
Variation #1
– I followed this sketch pretty closely, mostly because I loved it just the way it was. The layered trees were my favourite part. I did use more photos on the right page. I created a collage with 12 photos using Picasa 3 and then developed it in an 8x10 size. I cut the photos up and matted them on a dark green sheet of the pattern paper.
Variation #2
– I layered the trees as shown on the sketch but I moved my title closer to the top of my page and to the left side. I added snowflake stickers to replace the stars on the tops of the trees and I replaced the flourish with some present stickers.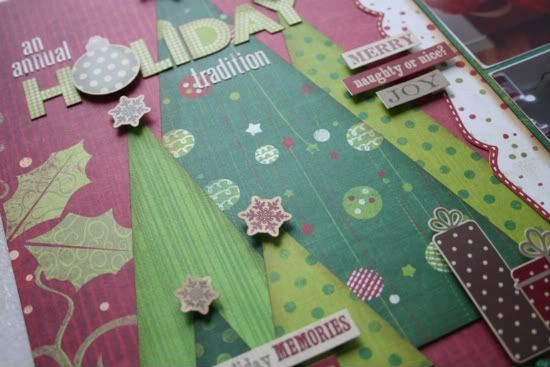 I used stickers for the journal strips and did not include as many as were shown.
Variation #3
– I added a couple of different strips along the bottom of the pages. I also added a row of stitching to separate the borders and give some dimension.
• • • • • • • • • • • • • • • • • • • • • • • • • • • • • •
"Kindergarten Christmas"
by Allison Davis
Supplies
-
Cardstock:
Bazzill;
Patterned paper:
We R Memory Keepers;
Alphabets:
Doodlebug and Little Yellow Bicycle;
Flourish:
Little Yellow Bicycle;
Stickers:
Crate Paper, 7Gypsies, and Scenic Route
Variation #1
- The biggest change I made was to my photos. I had a lot more photo that I wanted to include on my layout so I used a smaller size on the right page. The square photos are all 2-1/2 x 2-1/2" and then there are two larger 2-1/2 x 5-1/8" photos.
Variation #2
- I followed the measurements on the sketch for all of the trees on the left page but also added in some extra details. I used the designs on the patterned papers as a guide to add in some hand stitching.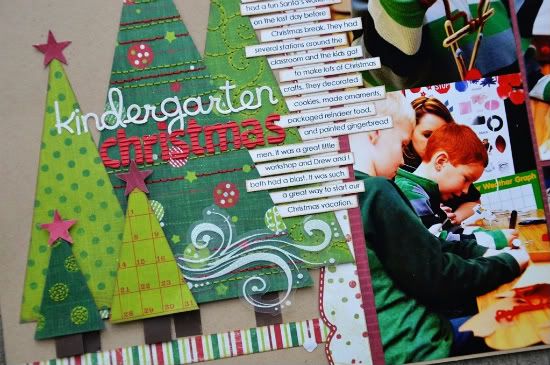 On the largest tree I stitched in red and green along the garland on the paper. On the tall tree behind the largest one, I stitched along the swirled pattern on the paper, and on the smallest tree I stitched small swirls following the pattern on the paper.
Variation #3
- Instead of using a scallop strip to the left of the 4 x 6 photos, I used a decorative edge that was on a piece of patterned paper. It is double the size of the scallop strip suggested on the sketch but since it goes behind the trees and journaling it didn't change anything.
••••••••••••••••••••••••••••