•••••••••••••••••••
Two-page Sketch #23
You can download and print this sketch by clicking on the two-page sketches link found under the "printable sketches" tab on the right sidebar.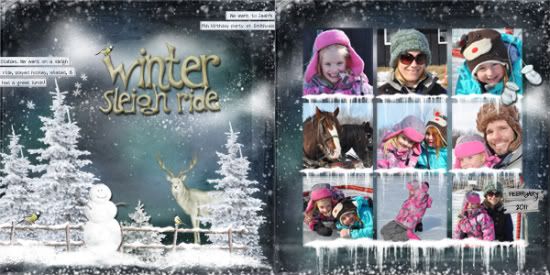 "Winter Sleigh Ride"
by Jill Sarginson
Supplies Used
-
Patterned Paper:
Irene Alexeeva's Amazing Snowland digital kit;
Elements:
Irene Alexeeva's Amazing Snowland digital kit;
Fonts:
DJB Tweeny Bopper, Irene Alexeeva's Candy Cane alpha, plain
Variations:
• I loved the trees in this sketch and opted to use them as inspiration to make a winter scene on the left hand side of my layout.
• I omitted the two 4x6 photos on the left hand side of the layout I moved the journaling on the left hand side of the layout so that it appeared on both edges.
• I used icicles instead of a horizontal strip of patterned paper on the right side of my layout.
• • • • • • • • • • • • • • • • • • • • • • • • • • • • • •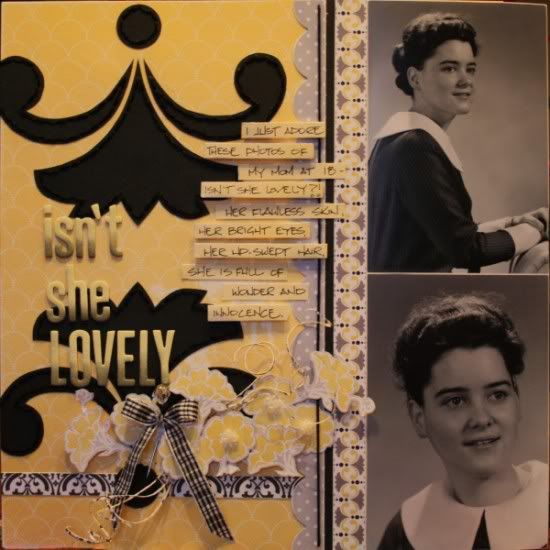 "Isn't She Lovely"
by Janette Kincaid

Supplies
-
Cardstock:
Bazzill;
Patterned paper:
Teresa Collins;
Alphabets:
American Crafts;
Floss:
DMC;
Trinket Pin:
Maya Road;
Ink:
Ranger;
Marker:
Zig;
Misc:
Ribbon, Beads
Variation #1
– I only used the first page for my layout; a one page rather than two.
Variation #2
– Since the trees didn't go with my theme; I replaced them with the large black flourishes which I cut from black cardstock. It's hard to see in the photo but all the edges of the flourish have been stitched with black floss.
Variation #3
– I replaced the flourish in the sketch with a grouping of flowers I cut from the patterned paper.
The centers have white pearl beads and have been adhered with foam squares to give some depth to the layout.
Variation #4
– I relocated the title to the left side of the page. The yellow chipboard letters were inked on the bottom with Black Soot before they were adhered to the layout.
•••••••••••••••••••