•••••••••••••••••••
Two-page Sketch #23
You can download and print this sketch by clicking on the two-page sketches link found under the "printable sketches" tab on the right sidebar.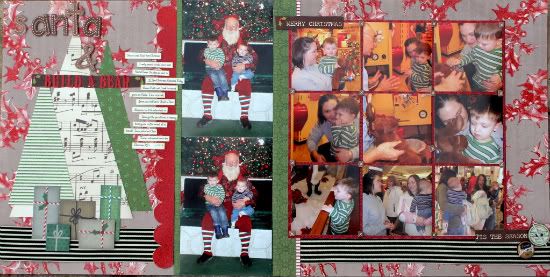 "Santa & Build A Bear"
by Samantha Taylor
Supplies Used
-
Patterned Paper:
Die Cuts With A View (The Homemade Christmas Stack);
Ribbon:
May Arts;
Alphabets:
American Crafts and Echo Park;
Buttons and Rhinestones:
Prima
I often try to grow my style by pushing outside of my comfort zone. I love using sketches to ease the transition into something new. For example, this sketch is just my style, however the paper I'm working with here is a bit outside my comfort zone. It's a bit darker than what I normally choose, and there is glitter worked into most of the pages...and with 2 boys, I just don't use glitter very often. Combining a sketch I'm comfortable using with some paper I'm not so comfortable using made this foray outside the box fun instead of stressful!
Variation 1:
Have I mentioned I like to layer? I layered my nine 3" x 3" photos on the right hand page onto a 9 1/2" x 9 1/2" piece of glittery red card stock before placing them on the 12" x 12" base.
Variation 2:
Instead of using a paper striped strip at the bottom, I used 1 1/2" wide striped ribbon.
Variation 3:
I placed my title up a bit higher.
Variation 4:
Instead of tree trunks, I placed packages at the bottom of my trees. Some of the presents were mounted with pop-dots to create more dimension.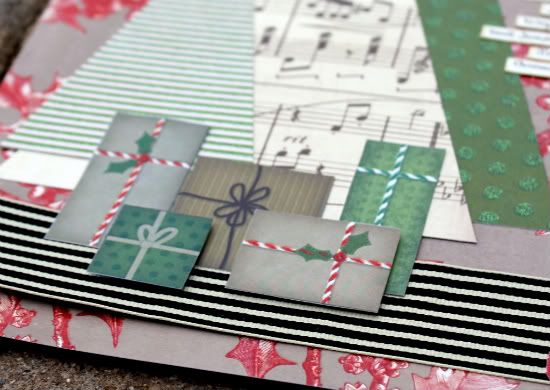 Variation 5:
I used three trees instead of five (omitting the two smallest trees).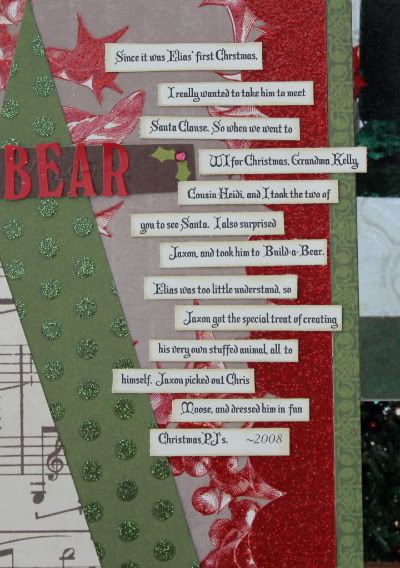 •••••••••••••••••••